Find A Fitness Gift For Him or Her!
Fitness gifts make great presents no matter what the occasion because you are giving the gift of better health. If he/she a fitness buff, for example it is hard to make for them to stand still when they could be exercising, then you have arrived at the right place for a fitness gift. Whether you are looking for a fitness present such as a treadmill, elliptical trainers, exercise bike, gym equipment, suspension training equipment, power yoga, biking, etc. you can find it right here. You can even find a total home gym!
Helpful Hint: Exercise will not only make them feel, and look better, but it has been proven to reduce the chance of getting cancer, Alzheimer's, and many more illnesses. Choose the type of equipment based on their fitness level, interest and to some degree age. A fitness equipment gift, for young and old alike, says you care.
If you can't find a particual fitness gift please use our search or drop me and email and I will find it for you. We are constantly updating our selection, by page and category, so be sure to bookmark us and come back often!
Father's Day is June 16th. Pick up his Father's Day Gift Today!
Be sure to check out some Personally Picked gift ideas towards the bottom of the page!
Exceptional Fitness Equipment
They offer top-rated treadmills, elliptical trainers, exercise bikes, home gyms and Smooth Fitness branded nutritional supplements. They also have great fitness accessories. I particulary like the aeroSling ELITE. Also check out their fitness videos and the virtual trainer.
Canadian Customers Shop Here.
NEW Smooth CE 5.5 Elliptical - This unit is a compact elliptical trainer. This unit features a 18 to 21-inch stride length, magnetic braking system, Blue Backlit LCD display, 26 challenging programs, 24 intensity levels, a deluxe sound system & water bottle holder. Only $1499! - Check It Out!
NEW Smooth CE 9.0 Elliptical - This unit is a compact elliptical trainer. This unit features a 19 to 23-inch stride length, magnetic braking system, Blue Backlit LCD display, 33 challenging programs, 24 intensity levels, a deluxe sound system & water bottle holder. Only $1999 - Check It Out!
Shop Smooth Fitness Today!
Check Out All Their Fitness Products Here.
Suspension Training
Featured in Men's Health, Outside, Self, Shape, Sports Illustrated, NY Times, WSJ, Today Show and Good Morning America, The TRX provides a total-body workout for men and women of all ages and fitness levels with just one piece of equipment that is easy to set up, use and store.
TRXtraining:
* Offers fast, effective total-body workouts with TRX suspension training-anywhere.
* Born in the U.S. Navy SEALS and developed by Fitness Anywhere®, Suspension Training®
* TRX suspension training is a revolutionary method of leveraged bodyweight exercise used in top gyms across the country, including the training rooms of the NFL, NBA, MLB, NHL, UFC, and NCAA.
* TRX trainers weigh less than 2lbs. so customers can get and stay fit at home, the gym, or on the road.
They offer a wide variety of exercise DVDs and online streaming video and education courses ranging in price from $250 up to $325.
They ship to the USA, Canada and internationally.
Shop Now!
Special Offer: Save 20% On Any TRX Suspension Or Rip Trainer + Get Free Shipping On All Orders Over $150 Now At TRXTraining! Use Code: AFFILIATED - Shop Today & Save!
Eco Friendly Fitness
Their line of exercise equipment includes both folding and non-folding treadmills, fixed motion ellipticals, and Variable Motion Ellipticals (VME). All products are designed and tested in the U.S.A and are made using recycled plastics, paint and other raw materials.
The New CardoCore Elliptical Machine
is used in the upright position, counter rotational movement and the ability to dial in the perfect amount of bounce makes this one of the most dynamic and comfortable abdominal machines available. We know how important core muscles are.  
They ship to the USA and Canada.
Shop Yowza Fitness!
MP3 Walkman
Stay motivated with a wire-free, hands-free MP3 player that's both water proof and super comfortable. Store more workout mixes with 4GB of memory and use quick charge to power up fast before hitting the gym.
They ship within Canada.
Workout, run and swim with the Sony wire-free, waterproof MP3 Walkman you can wear with total freedom - Shop Now!
Fitness Equipment & Workout Gear
They carry a great selection of fitness equipment, workout gear, exercise equipment, and everything else needed to get in shape this year!
* treadmills - Shop Here!
* Kettlebells - Shop Here!
* free weights and other fitness equipment - Shop Here!
They ship within the USA.
Shop Today!
Ab Belt Toning
The Flex Belt is the first Ab Belt Toning system cleared by the FDA for Toning, Firming and Strengthening the stomach muscles. With The Flex Belt, you can train you abs. Slip on the comfortable toning ab belt and the clinically demonstrated, patented medical-grade technology stimulates the nerves that make the abdominal muscles contract and relax. As a result, you get an effective abdominal workout that targets all the muscles in your abdomen; all in just 30 minutes a day.
They ship to the USA, Canada and most international countries.
Get 10% Off your Order of The Flex Belt - Use Coupon Code: "FLEX10OFF" at Checkout - Shop Today!
Gym Machine
The Total Gym provides an entire gym full of equipment in 1 machine. Their current top of the line model is Total Gym XLS. It just takes 10-20 minutes a day to reshape your body. They offer a 30-Day Trial with FREE Shipping.
Pay in Full on a Total Gym® Home Model and receive a Free Upgrade, which includes an extended warranty, priority processing and more!
They ship within the USA and Canada.
Save an additional 10% off at the Total Gym® Outlet Center. Discount automatic at checkout-Shop Today & Save!
Fitness Equipment
They offer a complete line of treadmills, elliptical trainers and exercise bikes. When you use your LIVESTRONG® Fitness treadmill, elliptical or bike, you're doing more than improving your health. Get Free Shipping and inside delivery on high end exercise equipment.
Buy LIVESTRONG Fitness Equipment and join the fight against cancer - Shop Today!
Exercise Equipment
Besides treadmills ProForm has unveiled a complete line of exercise bikes, elliptical machines, weight benches and more—all geared to provide the most effective workout available.
They ship within the USA.
Shop Pro Form!
Fitness Shoes
Whether standing, walking or running. Wearing any of their casual shoes or our elite athletic footwear you will experience the ultimate comfort. The shoes absorbs on inpact and the rebound propels you forward. Feel less of your own body weight on your feet and relieve the harmful stress that walking and running can put on your muscles, bones and joints.
With these shoes you can Walk more, run more, jump higher and stay on your feet longer with the ultimate in comfort and performance!
They ship within the USA and to Canada.
Gravity Defyer, Comfort Shoes - Shop Today!
The Compact Core Exerciser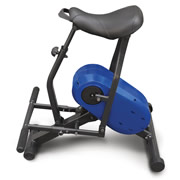 Using no electricity, this is the compact trainer that simulates cantering on a horse to strengthen and tone the core muscles. Exercisers sit on the padded saddle, rest their feet on a rubberized bar, and shift their weight backward to put the device's drivewheel in motion. As the saddle rotates at a moderate 40 rpm or less, it requires the rider to engage lumbar muscles, abs, glutes, and thighs, building core strength to help prevent back injuries and improve balance and posture. A 10-minute session can burn as many calories as 100 situps or a one-hour walk. Because it doesn't require a power cord, the device can be used anywhere, and it weighs half as much as many core trainers, allowing it to be moved easily between rooms or stowed away between workouts. The seat and footrest can be raised or lowered. Supports up to 250 lbs.
The All Day Fitness Watch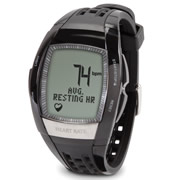 This is the watch that tracks resting heart rate, calories burned, and overall activity and rates your fitness. The device compares your current resting heart rate to the average reading from the past week and assesses a fitness score. As fitness improves resting heart rate decreases (athletes average 49-59 BPM) and the fitness score allows you to track progress and set goals. An integrated accelerometer detects all movement, enabling the watch to automatically track how much time you spend moving each day and calculates calories burned from exercise and daily activities. Also ideal for exercising, the watch provides heart rate readings simply by touching the face and it has a pedometer, chronograph, and countdown timer. The timepiece also displays the date and has an alarm. Stainless steel bezel and polyurethane band. Splash-resistant.
The Full Screen Pedometer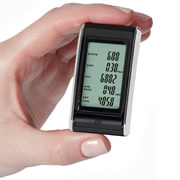 This is the pedometer that displays five data points onscreen at once, eliminating the need to navigate multiple menus and press numerous buttons. With a single glance at the backlit LCD screen, a walker can see steps walked, distance traveled, calories burned, time elapsed, and even an average pace, all without scrolling or fumbling with controls. One large button on the front is all that's required to operate this unit, making it a swift, uncomplicated way to begin each exercise session. The unit's advanced digital motion sensor is designed only to be carried in a pocket.
The Floor Protecting Gym Mat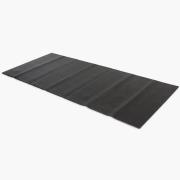 This is the non-slip gym mat that bears the brunt of impacts created by home exercise equipment to protect floors from damage. Suitable for use under stationary bikes, elliptical trainers, treadmills, and home gyms, the closed-cell foam absorbs impact and eliminates vibration to prevent marring of floors, and helps keeps gear-clogging carpet fibers out of equipment. The mat is comprised of seven 12" foldable segments, allowing it to be ideally sized for most fitness equipment without trimming. The textured non-slip surface wipes clean easily.
The Mechanical Core Muscle Trainer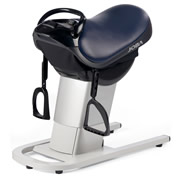 This is the low-impact mechanical exerciser that gently and thoroughly concentrates on developing strength in the glutes, upper thigh, abdominal, and lower back muscles, and is especially beneficial for novice exercisers or those unable to tolerate excessive pressure and stress on joints. It allows you to conduct a 20-minute exercise routine while seated, making it easy to perform at home while working on other tasks or watching television. The saddle supports up to 265 lbs., gently tilting back and forth, left and right in preprogrammed sequences that can be selected at the touch of a button. The gentle swaying of the saddle forces the core body muscles to expand and contract, keeping you upright in a relaxed, properly aligned sitting position which helps develop important muscle structure necessary to maintain good posture. The exercise routines also provide a beneficial aerobic workout ideal for those who need to maintain low target heart rates. Any of three basic programs and nine speeds are easily controlled from the panel at the pommel, and a set of stirrups and a handle help beginners maintain proper balance during the slow workout that simulates the gentle back-and-forth motion experienced while riding a horse at a lazy gait.
The Compact Vibration Trainer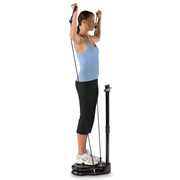 This is the compact vibrating toner that improves muscle strength and balance. Proven to help increase bone density, regular 10-minute sessions of vibration training have also been shown to improve the strength of the hip flexors, ideal for maintaining balance and posture. Its vibrating platform oscillates at five frequencies between 30-45Hz, a range shown in medical studies to improve blood and lymphatic fluid circulation. The textured platform freely rotates 360° to open the hips, shoulders, and rib cage, and combined with isometric movements, such as tightening the abdominals, and the included resistance bands, the trainer assists in toning muscles and burning fat without the microtrauma associated with typical weight workouts. Supporting users up to 220 lbs., the platform enables seated or standing use while holding onto the vibrating handles (handles can also be removed for operation using the handheld infrared remote). An included booklet of exercises targets massage, relaxation, balance, flexibility, and muscle conditioning.
Fitbit One Wireless Sleep + Activity Tracker with iPhone App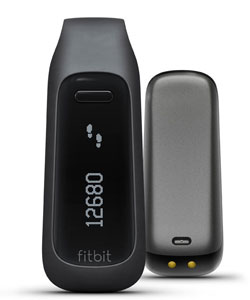 Fitbit One puts everyday activities to work toward your fitness goals. Bluetooth Technology wirelessly uploads real-time data to your online profile Running, biking, walking with your fitbit and phone, data is automatically uploaded to your fitbit.com personal profile G€" no subscription fee required! Syncs data for tracking either online or via iPhone app Keep track of steps, distance, floors climbed, calories burned, overall activity level and sleep data Built-in altimeter measures the number of floors you ve climbed Can be worn in your pocket, clipped to your pants or shirt, or even attached to your bra Tracks sleep with the included wristband Wakes you (and not your partner) with a silent alarm Check stats on your Fitbit
The Only Interactive Personal Trainer System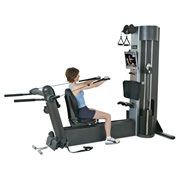 This is the only cable motion exercise machine that connects to the internet and downloads exercise routines from virtual fitness professionals demonstrating the correct exercise form and pace on a conveniently placed 17" LCD monitor. Eliminating the need for gym memberships, this system allows you to enjoy the benefits of exercise with the guidance of professional personal training in the comfort of your home. Once an exercise is selected from a library of 120 movements, the monitor shows the previous weight amount lifted for each exercise, ensuring a gradual increase in workout resistance, while the onscreen personal trainer allows you to mimic the correct movements as you workout. The LCD has a touchscreen that allows easy menu navigation, while the integrated computer suggests exercises based on your fitness goals (strength, muscle tone, basic conditioning, sports training, physical rehabilitation) or by specific body part, tracks the number of repetitions and sets, and graphs workout progress, ensuring maximum efficiency and effectiveness in your exercise routine. The leg press has 10- and 20 lbs. increments up to 460 lbs., the unilateral handgrips have 2 1/2- and 5 lbs. increments up to 115 lbs., and the bilateral handgrips have 5- and 10 lbs, increments up to 230 lbs.
The Standing or Seated Elliptical Machine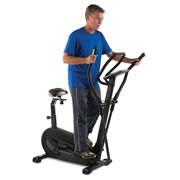 This is the elliptical trainer that provides a joint-friendly cardiovascular workout whether users are seated or standing. When used in the seated position, exercisers position themselves on the adjustable seat and pump the padded handlebars back and forth while operating the pedals like a recumbent bike. For an even gentler workout, users can forego the arm movements and simply hold the stationary handlebar for stability. For increased intensity, users can stand on the pedals as with standard elliptical trainers. The machine's comfortable 14" stride length reduces strain on the knees and hips. An LED screen tracks workout time, speed, distance covered, and calories burned. Sensors in the handgrips report a user's pulse and a side pocket holds a cell phone or MP3 player. Wheels on the base enable easy movement and storage. The heavy-gauge tubular steel frame supports up to 250 lbs.
Motorola - MOTOACTV GPS Fitness Tracker and 16GB Smart Music Player
Enhance your workout with this MOTOACTV fitness tracker and smart music player that features Accusense Technology and GPS to measure distance traveled, speed, pace, heart rate, steps taken and calories burned for easy fitness monitoring.
The Only iPad Integrating Recumbent Bicycle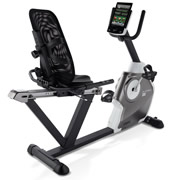 This is the recumbent exercise bicycle that integrates a pedaler's iPad to help make workouts more entertaining and challenging. A dock on the bicycle's monitor positions an iPad, iPhone, or iPod touch for optimal viewing while using one of the bicycle's 26 built-in programs that cover everything from warm-ups to endurance training. In addition to using your iPad to listen to music, check e-mail, watch movies, or play games as you pedal, you can download exercise apps that log your training sessions, storing workout results on the app's website. The bicycle's adjustable mesh-back seat, padded ergonomic handles, and large foot pedals ensure comfortable pedaling of the smooth magnetic resistance drive with 24 intensity levels. Sturdy tubular steel frame supports up to 275 lbs. and has integrated wheels for ease of portability.
Health Mark TR40001 Alumilite Trekking Pole Nonskid
Since trekking has emerged as one of the most preferred methods of fun cardio fitness in the world, why not trek with the most technologically advanced trekking pole on the market? The Health Mark Alumilite Trekking Pole combines the qualities of an environmentally friendly lightweight durable trekking pole with all the features of a high end pedometer. The non-skid rubber walking tip limits the disturbance to the ground when trekking across the terrain, and also allows you to take your trekking experience onto the cork or rubberized track, as well as indoors to the gym or mall. The patented sensor housed within the walking tip counts your steps each time the trekking pole contacts the ground, and the LED unit boldly displays the time, steps taken, total distance and your calories burned. And for your early morning or late evening workouts, the Alumilite Trekking Pole features a detachable dual function light to either illuminate your path or to blink and signal distress. So whether you're power walking, trail walking, camping, hiking, back packing or orienteering, relieve the stress to your knees, shoulders, hips and back while tracking your fitness gains.
The Five Axis Mechanical Core Muscle Trainer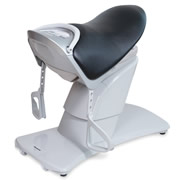 This is the low-impact mechanical exerciser that methodically tilts across five axes to strengthen your core muscles, helping improve your balance and posture and relieve back pain. The saddle tilts back and forth, left to right, up and down, and twists in preprogrammed sequences, strengthening your thighs, buttocks, back, and deep abdomen--core muscles that are neglected by traditional training regimens. The gentle swaying of the saddle changes your center of balance and, as you attempt to regain your equilibrium, your core muscles expand and contract. Ideal for both physically limited and experienced exercisers, the device allows you to conduct a 15-minute exercise routine while seated without creating excessive pressure and stress on joints. The exercise routines also provide a beneficial aerobic workout ideal for those who need to maintain low target heart rates. The seven programs (easy, light, moderate, advanced, waist, hip, legs) and nine speeds are easily controlled on the pommel's LCD panel that also shows calories burned and the muscles being worked during each routine. With a set of stirrups and handle to provide stability.
The Water Rower
This is the machine that uses the natural density of water to provide the most accurate rowing experience available. Unlike air system flywheels that only provide resistance at the beginning of a stroke and taper off, this rower provides consistent resistance for the duration of a stroke as its patented flywheel operates against water contained in its 4 1/4-gallon reservoir. Requiring no adjustment, the reservoir provides self-regulated resistance; the harder the pull, the more effort required. Adjustable footpads on the 45º footboard provide a custom fit while the ergonomically engineered padded seat smoothly and quietly glides on two rails. Workouts are selected from the monitor, including zone, distance, duration, and interval workouts; the monitor displays time, distance, and stroke rate. The frame is made of solid oak, sustainably harvested from Appalachian hardwood stands, and finished with Danish oil that enhances the natural wood grain.
The In Pool Exercise Glider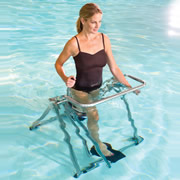 This aquatic exercise apparatus takes advantage of water's natural buoyancy and resistance to deliver an effective low-impact workout that's gentle on joints and muscles. The unit rests in water at least 3' deep, and users simply stand on its foot pads and glide back and forth in a motion similar to an elliptical machine. The device enables users to gain the benefits of regular aquatic exercise in their own pool, increasing range of motion, building muscle strength, and improving cardiovascular conditioning. Because the exercise is performed in water, users can maintain balance more easily and the force applied to joints is far less than that of land-based equipment.
The Virtual Mountain Bike Racing Simulator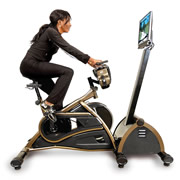 This is the exercise bike and video screen that simulate riding a mountain bike through outdoor courses. Users pedal and steer the bike to control a computer-generated cyclist on the 17" color LCD monitor and compete against other virtual cyclists on one of 80 outdoor courses, including a serpentine desert course and an undulating highland track. The bike's electronically controlled pedaling resistance automatically increases or decreases to replicate the terrain gradients shown on the screen and sensors in the bike saddle monitor whether the user is sitting or standing and the computer-generated cyclist assumes the same posture. Squeezing the bike's hand brakes or shifting its gears control the momentum of the bike on the monitor, simulating carving around a turn or braking to avoid a fallen competitor. Riders can develop their own exercise regimen or use the preprogrammed training mode and the LCD displays distance traveled, speed, calories burned, and exercise time for real-time reference.
Avari Oval Jogger
Compact, lightweight, and durable, the Avari Oval Jogger with padded handlebar, resistance tubes, and electronic monitor is a fun and effective way to build your cardiovascular fitness, tone your legs, abs, buttocks, and back! The large rebounding surface adds more exercise options while the resistance tubes tone and strengthen your arms, shoulders, back and chest. This oval exercise trampoline also includes a motivational multifunctional electronic fitness monitor that tracks jumps per minute, workout time, total jumps, and calories burned. And the optic blue outline on the edge of the jumping surface keeps you safely inside the rebounder's sweet spot. Perfect for small workout areas.
The Virtual Reality Treadmill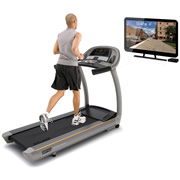 This is the treadmill that adjusts its incline to simulate the terrain you're watching on a television. The included video player transmits first-person, high-definition video of trails, hills, and city streets in the majestic landscapes of northern Italy and the southwestern United States to a television (not included). The treadmill automatically raises or lowers to simulate the incline of Venice's cobblestone bridges as you stroll past gondolas docked on the Venetian Lagoon, the video automatically speeds up or slows down to match your pace, and the dual 5-watt speakers play the ambient sounds from the virtual destinations. The treadmill has a durable 14-gauge steel frame and a large 20" x 60" running surface supported by a 1' deck and patented cushioning that reduces impact on joints. Includes 15 workout programs, an integrated heart rate monitor and chest strap, an LED control panel, and an audio port for connecting an iPhone or iPod. The video player connects to a television with the included HDMI and RCA cables.