DELICIOUS GOURMET GOODIES
7th Inning Stretch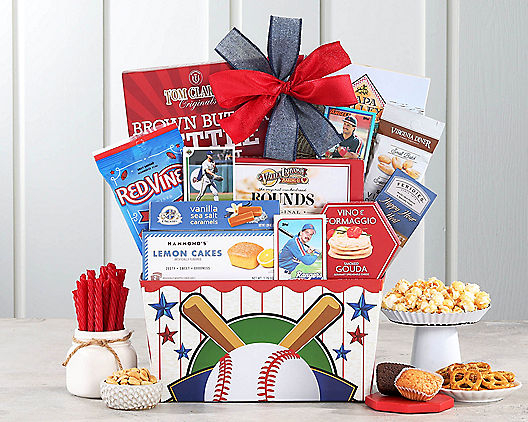 This collection is inspired by the great American pastime. Ballpark favorites include Popcornopolis kettle corn popcorn, David original sunflower seeds, Bavarian style pretzels, Big League Chew bubble gum, peanuts, Somersaults Snacks cinnamon sunflower nuggets, bite size Toosie Rolls and two reusable, double-walled cups with lids. Four assorted baseball cards add a playful and authentic touch to this new gift assortment that Dad would love.
Father's Day Gift Tower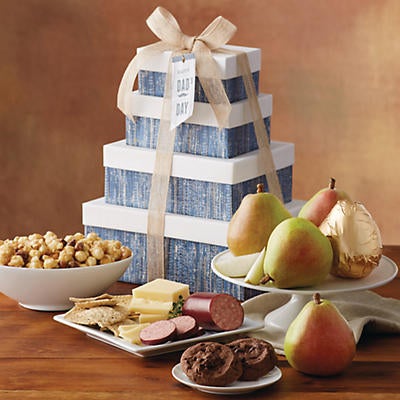 This gift features Royal Verano Pears and Moose Munch Gourmet Popcorn in addition to an array of goodies that give Dad the chance to satisfy his sweet tooth, indulge in savory delight, or share a wonderful afternoon with those he loves most.
Father's Day Hometeam Snack Box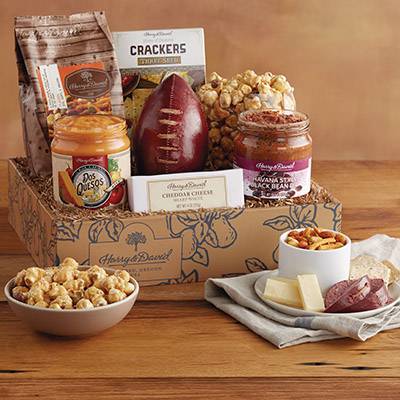 Celebrate Dad in style with a snack box filled with some of his prime-time favorites. We start with Moose Munch Gourmet Popcorn from our own candy kitchen, then add some surprises, including a hearty football-shaped beef sausage and savory Hoot 'n' Holler Snack Mix. This premium gift is an excellent choice for Father's Day, whether Dad's at home or at the game.
Summer BBQ Gift Box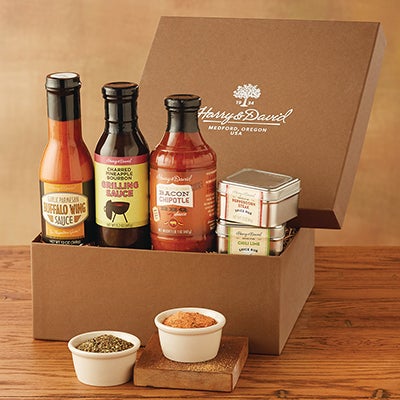 Dress a steak with style using our Pinot Noir steak sauce or spice it up with our special peppercorn rub. If you're preparing chicken, our charred pineapple grilling sauce adds the perfect hint of fruit and sweetness, while the chili lime rub adds a fanciful Southern flair. Completing this barbecue gift is our bacon chipotle barbecue sauce, a mixture of two enduring favorites-spicy chipotle and succulent bacon.
Favorite Mixed Nuts Collection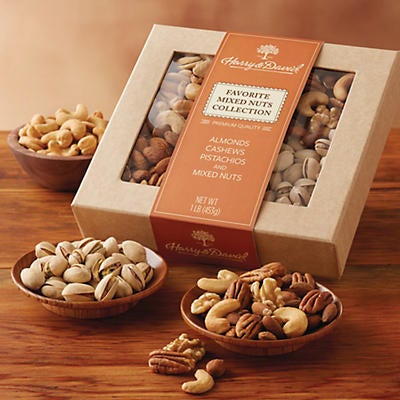 The Favorite Mixed Nuts Collection offers the finest hand-selected nuts. We've filled it with the perfect array, starting with roasted in-shell pistachios, cashews, and roasted almonds. Then we topped it off with a deluxe nut blend. This selection is a premium, gourmet delight for Dad.
View more gourmet gifts for him here!
Hole in One with Chardonnay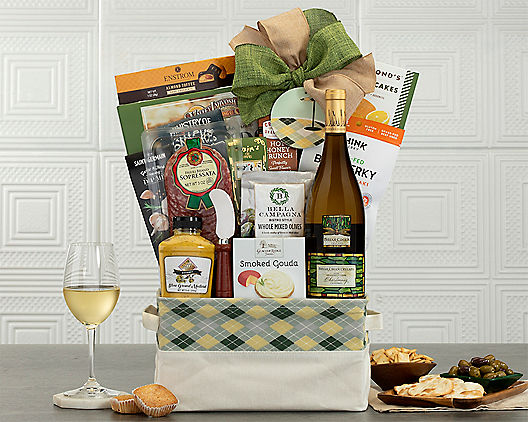 This golf cooler bag will stylishly keep their lunch cold all day long. Filled with Callister chardonnay with baked pear, apple and pineapple flavors. mustard, Sonoma Jacks garlic herb cheese wedges, honey mustard pretzel nuggets, Mama Mellace's dried fruit and nuts, Stonewall Kitchen roasted garlic and onion dip mix, a bamboo cutting board, cheese knife and wine stopper so Dad can enjoy this gift anywhere.
Houdini Napa Valley Red Wine Trio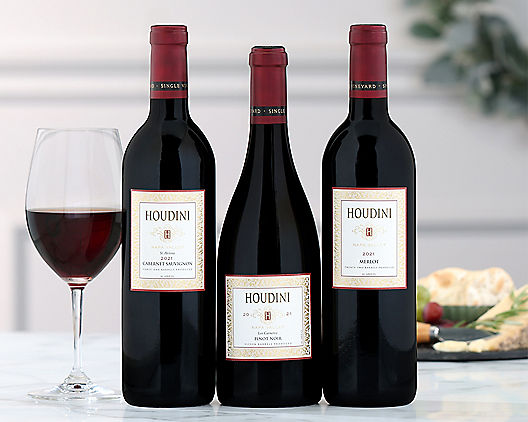 This award winning trio is perfect for red wine lovers. Dad will enjoy this great assortment of Houdini pinot noir which is medium in body and favor with aromas of red cherries and hints of chocolate, Houdini cabernet sauvignon is filled with flavors of cherry and blackberry, or a rich and full bodied Houdini zinfandel.
Mixed Wine Club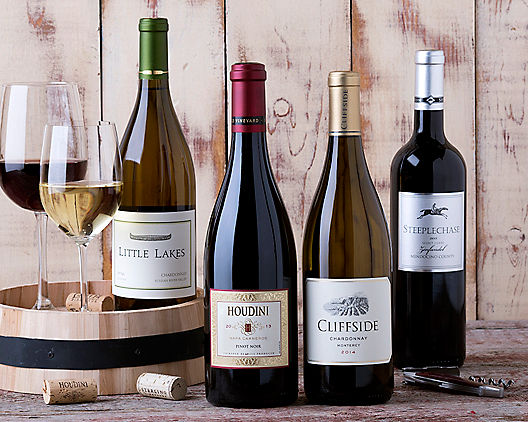 This Mixed Wine Club is the ideal wine club for both wine lovers and those who want to learn more about wine. Each month Dad will receive both a red and a white wine along with tasting and pairing notes for each wine.
NitroTap Wine Service & Preservation System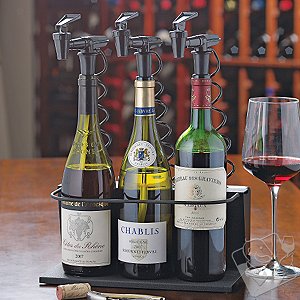 Instant wine service---3 bottles on tap! It takes less than 12' of space to create an everyday wine service center. Keep 3 bottles on tap at all times sealed fresh by the inert nitrogen gas system. Nitrogen replaces the air in opened bottles that causes wine to spoil over time sealing in fresh taste and assuring many happy refills!
EuroCave Wine Art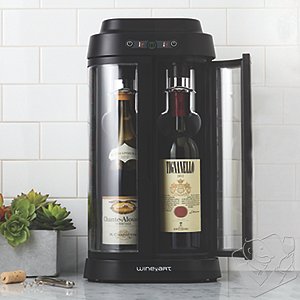 Preserve Your Happiness Open that rare red you've been saving and enjoy it at its optimal flavor for days ahead. EuroCave Wine Art enables you to perfectly preserve the flavors of an opened bottle for up to 10 days absolutely ensuring that the taste of your first sip will endure to your last. Dual compartments allow you to store either red white or both at the optimal serving temperature.
View more wine gifts for him here!
Mr Beer North American Collection Beer Home Brewing Kit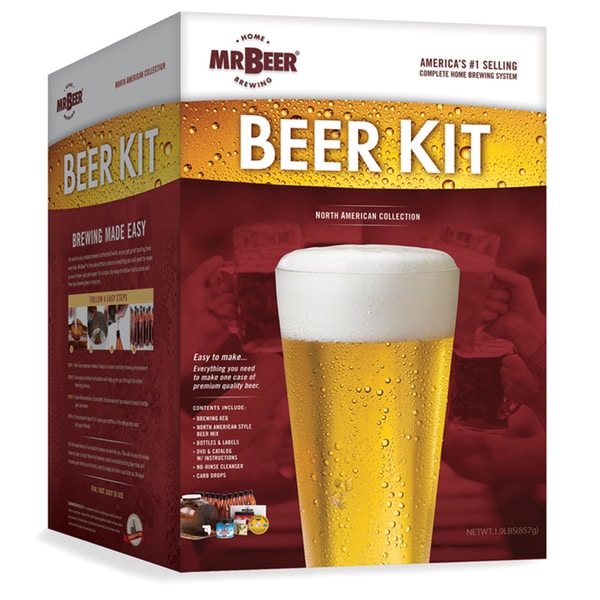 Mr Beer North American Collection beer home brewing kit gives you everything you need to brew beer at home. With all the ingredients and supplies needed to brew and bottle one batch of quality home-brewed beer, this kit is a great gift for the beer lover.
Craft A Brew Oktoberfest Ale Beer Recipe Kit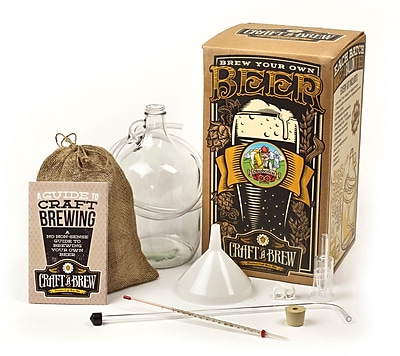 Made in the USA Compatible with a Mr. Beer brewing setup.
IPA Home Brew Box Gift
Whether he's a seasoned expert or simply wants to try his hand, this home brewing kit contains everything he needs to brew up a gallon of vibrant, zesty and tropical Citra IPA.
Flavor Enhancing Home Beer Frother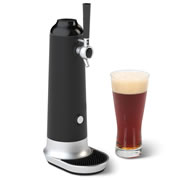 This is the home beer dispenser that unlocks the flavor trapped in canned or bottled beer by producing a thick, flavor-enhancing foam like draft poured fresh from the tap. Simply insert an opened can or bottle into the canister (placing the feeding tube inside), close the lid, and pull the tap to dispense beer. Once the glass is two-thirds full, pushing the tap generates ultrasonic sound waves that froth the beer's carbonation into a dense micro-foam that delivers enhanced aroma, flavor, and mouth-feel.
Home Beer Dispenser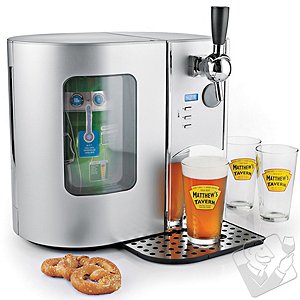 Best gift ever for the beer connoisseur. With its own CO2 cartridge it's designed to dispense any and all 5-liter kegs pressurized and otherwise. Keeps keg fresh at optimal serving temp for 30 days. Cool for tailgating RVs picnics and boats.
Personalized Beer Growler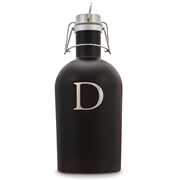 This is the personalized jug or "growler" that transports a beer connoisseur's take-out draft safely from craft brewery to home refrigerator. This sleek, modern-age growler is crafted of stainless steel with a swing-top silicone stopper that seals tightly to keep a cherished craft brew fresh for 5-7 days in the refrigerator.
View more beer gifts for him here!
Golf Swing Alignment Glasses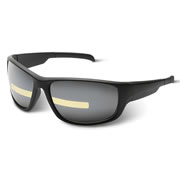 These are the glasses with patented lenses that help improve a golfer's short game by visually aligning the club, the ball, and its trajectory. Ideal for both aspiring Masters champions and those too green to qualify, the glasses provide a tinted line on the lenses that illustrate a straight path for long putts, chipping, and pitching, helping golfers maintain correct posture and a steady head position.
Golfer's Personalized Leather Clubhouse Bag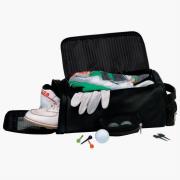 This is the napa leather bag with monogrammed initials that helps golfers organize necessary accessories with both grace and utility. The top grain leather's pebbled grain and soft hand impart a more rugged, contemporary look to the organizer than typical canvas or synthetic materials, accommodating all accouterments without compromising golfing mores.
Backpack Golf Clubs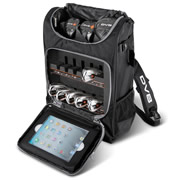 This is the backpack that holds a set of golf clubs. The set includes one shaft and 10 clubheads that simply slide into the shaft and lock into place in seconds via the patented stainless steel quick-coupling joint. The entire set is one-third lighter than a traditional set and all components have dedicated storage in the regular-sized backpack, allowing you to tote them around the course without needing a caddie or cart.
Evaporative Cooling Golf Cap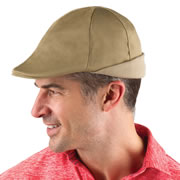 This is the golf cap that uses evaporation to keep your head up to 20 F cooler than outside air temperature. It is the only cap that provides cooling in both the crown and brim for birdie-seeking athletes.
Silver Creek Fly Fishing Set for the fisherman in your life
Bearing the namesake of one of the most legendary fly fishing destinations in the world, the genuine leather fly fishing log and book for storing hand-tied flies in this rugged, sophisticated gift are sure to become constant companions as he perfects his tight loop and dead drift.
Fish Catching RC Boat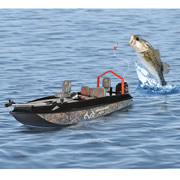 This is the remote controlled 17 1/2" boat that can catch up to a 2-lb. fish. Pre-rigged tackle—a hook, snap swivel, bobber, and 150' of nylon 2-lb. test line—secures to the boat's faux engine at the water line. The remote control moves the boat forward, backward, left, and right, enabling you to troll back and forth over a speculative patch of water or position it behind obstacles a conventional cast cannot reach, allowing your preferred bait to settle and tempt hungry fish. When the slip bobber indicates a bite, forward motion sets the hook, and once back near shore, an included 44"-long telescoping grapple fetches the boat from the water along with your catch.
Tournament Quality Dart Board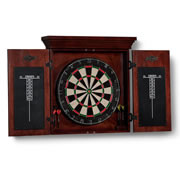 This is the tournament-quality dart board with a furniture-grade cabinet that lends a refined touch to your home game room. Crafted by a leading manufacturer of game room furniture, the cabinet is constructed from solid wood and select veneers and finished in a rich sierra stain. The included hand-crafted 201/2"-diam. bristle dartboard—the official size and style for tournament play—heals itself when darts are removed for years of friendly or feverish competition.
BAT Billiard Aim Trainer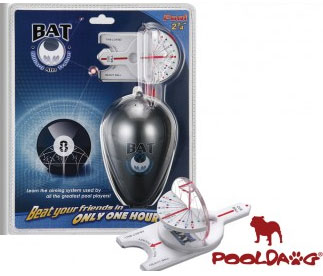 By removing the parts of the cue ball that never come into contact with the object ball and creating a cue ball that allows you to see right through it, the BAT provides an aiming tool that is easy to use and quick to master.
All Terrain Hoverboard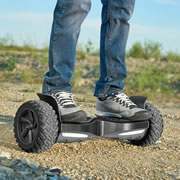 This is the all-terrain electric hoverboard that rolls over dirt, gravel, grass, and pavement with impunity, controlled entirely by the subtle movements in a rider's feet.
Foldaway Stepper Bike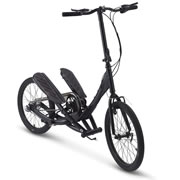 This is the bicycle propelled by stepping movements to provide a low-impact outdoor workout. Its footplate pedals move up and down like a standard step machine, toning one's quads, calves, hamstrings, and glutes while improving overall balance.
View more sports gifts for him here!
The Only DVD Playing Tablet Computer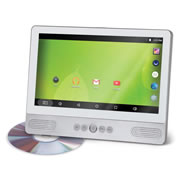 This is the only Android tablet computer that also plays DVDs. As a tablet, it possesses all the power and features a user expects: a 9" color LCD touch screen with 800 x 480 resolution; a 1.2 GHz Quad core processor, 1 GB of RAM and 8 GB of flash memory; an SD card reader, microUSB port, stereo speakers, and more. When one wishes to watch a DVD, simply pop the top of the tablet and place the disc on the platter. Controls on the tablet make it easy to play, pause, and stop DVDs without an app.
Smartphone Charging Pen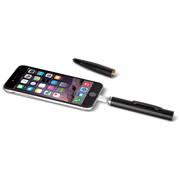 This is the ballpoint pen that recharges a smartphone. The pen can be used to sign off on delicate business matters and, at moment's notice, it converts into a cordless charger by simply twisting the barrel apart, revealing a Lightning or micro USB adapter.
Armchair Wireless TV Speakers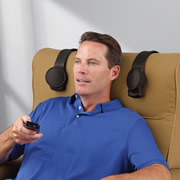 These are the wireless television speakers that set up on a chair or couch backrest to provide clear, easier-to-hear audio. The speakers are designed to contour to a backrest and the included transmitter sends audio wirelessly from a television to the speakers. The speakers are tilted inward to project audio toward the person sitting in the chair, allowing users to hear a movie more clearly without disturbing others.
Car Warning Light Translator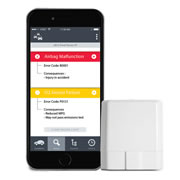 This is the device that solves the mystery of a lit check engine light. It plugs directly into a car's On Board Diagnostic System II interface (OBD II), translates the trouble codes that caused the warning, and sends the information via Bluetooth to a smartphone. A free app compatible with iOS and Android devices displays the problem and severity level, notifying one whether it's safe to keep driving or critical to call a mechanic.
Luggage Locator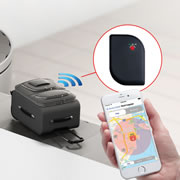 This is the device that helps travelers find lost or missing luggage. About the size of a deck of cards, the locator is placed inside a suitcase and uses GSM technology (Global System for Mobile communications) to narrow down the location of a misplaced bag to a city or airport. A SIM card inside the device sends signals to cell phone towers, enabling an app to locate and display a luggage's whereabouts on a digital map.
Star Wars R2-D2 USB Car Charger
R2's versatility into something small enough to sit in your vehicle's cupholder. You see, it makes R2-D2 whistle sadly when he sees a device that's run out of power. Make him bloop and bleep happily again by letting him use your vehicle's power to recharge your devices.
iFixit Essential Electronics Toolkit
With this iFixit Essential Electronics Toolkit, he will have all of the basic tools needed to repair a phone, tablet, or small electronic device.
View more electronic gifts for him here!
Lapis Lazuli Small Stone Men's Bracelet with Brass Golf Ball
Lapis Lazuli Small Stone Men's Bracelet with Brass Golf Ball is crafted in deep blue lapis lazuli a highly valued semi-precious stone since the age of antiquity which promotes communication and learning. This distinguished piece adds a modern edge to your formal or everyday attire. Featuring lapis lazuli and gunmetal beads with silver tone brass golf ball and slip-over closure.

Men's sterling silver cuff bracelet, 'Surging Surf'
From Komang Wijayana, this bracelet evokes surging waves that entice surfers. The sleek silver cuff for men is handcrafted in Bali. .925 Sterling silver
Silver pendant necklace, 'Honor Thy Father'
Crafted of Andean 950 silver, the celebratory pendant is inscribed with the words "Dad" and "Papa". It centers a sterling silver Cuban link chain.
Men's dark green jade pendant necklace, 'Jaguar Fang'
Hand-carved of dark green jade, a jaguar's fang symbolizes brave courage. Zandra Lorena Sajbin designs the sleek pendant for a black leather necklace with a sterling silver clasp.
Mens gold accent band ring Structures
This handsome ring melds pre-Hispanic concepts with styles from Mexico's modern architecture. He works in sterling silver to create the sleek band. A ribbon of dark "burnt" silver frames a rectangle bathed in 24k gold. .925 Sterling silver
Mens jade ring - Jade Fortress
Gabriel Silva showcases the verdant beauty of Guatemalan jade in this bold ring. Known as ya'ax chic to the ancient Maya, jade was prized over gold as it was associated with life, fertility and power. Jade was reserved for rituals, war and art. Silva crafts the masculine ring with sterling silver and a sage green gem. .925 Sterling silver
Sterling silver stud earrings, 'Silver Cubes'
Designed by Thai artisan Lalana, this pair of stud earrings gleams with a brightly polished finish. The artisan handcrafts the earrings into small cubes for an accessory that is simple yet unique.
Gear Shifter Cufflinks
These chrome-finished replica Gear Shifter Cufflinks feature enamel highlights. Stainless steel. Bullet backs.
View more jewelry gifts for him here!
NASA Strength Sun Hat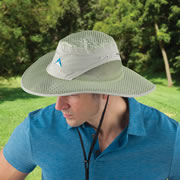 This is the sun hat that incorporates a NASA-developed radiant barrier technology that blocks damaging UV rays and repels the sun's heat. Harnessing the same technology used in space suits to shield astronauts from temperature extremes and dangerous radiation, the radiant barrier reflects up to 80% of the sun's heat from the body, unlike the woven fabrics used in typical sun hats that absorb and transfer heat to the skin. The barrier imparts a UPF 50+ rating to the hat, providing 99.89% protection from harmful UV rays and ensuring optimal sun safety.
BBQ Forever Father's Day T T-Shirt - Black
If your dad is the undisputed Master of the Grill, let him know with this t-shirt. Barbecue might be the source of many debates, but there's one indisputable fact - your dad's is the best!
7 Piece King of the Grill BBQ Set
Personalized Gift: 7 Piece King of the Grill BBQ Set. Heat Up Your Gift-Giving Game! Grill Lovers Will Drool Over These Cool Tools And Handy Apron That Doubles As A Storage Pouch.
Heated Shaving Lather Dispenser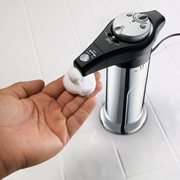 This is the heated lather machine that dispenses warm shaving cream or gel to enable a closer, more comfortable shave. The device heats shaving cream or gel in 1 1/2 minutes, producing a barbershop-worthy, soothing lather that opens pores and softens and raises whiskers so they are easier to cut.
Truck Driver's Pressure Relieving Cushion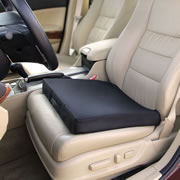 This is the seat cushion used by truck drivers to relieve point-of-contact pressure and reduce lower back discomfort inherent in long periods of sitting. Unlike foam or springs that apply counter pressure, the medical-grade elastic gel interior has a patented honeycomb shape that distributes weight evenly to adjacent columns, eliminating pressure points and providing support.
Leather iPad shoulder bag, 'Cyber Traveler'
This is minimalist design with a compartment especially designed for an iPad, and another for all else you want to take with you. Plus, there's another pocket under the flap. Jalid Daccarett crafts the chocolate brown tablet shoulder bag of quality leather and decorates it with bright orange accents. The bag features a detachable strap.
RC Zamboni Cooler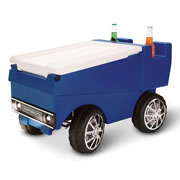 This is the remote controlled Zamboni that redefines cool while delivering frosty beverages. Ideal for hockey fans, figure skating spectators, or rink regulars with a fondness for the ubiquitous ice resurfacing machine, it's powered by an electric motor that transports up to 30 12-oz. cans inside its insulated interior.
Landscaping Robotic Lawnmower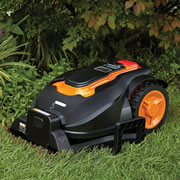 This is the robotic lawnmower that landscapes autonomously without any programming. Operating similar to household robot vacuum cleaners, the lawnmower cuts grass in a straight line and changes directions when it reaches an obstruction or virtual wall. Its sophisticated intelligent design enables the robot to generate random cut patterns, navigate narrow passages, and remember up to four outdoor areas.
View More Incredibly Unique Gifts For Him Here!