Mother's Day Gifts For The Woman Who Has Everything
Time to celebrate Mom!
Check out our personally picked unique gift ideas for Mother's Day. You will discover unusual jewelry, gourmet sweets, gourmet treats and gift baskets, incredible flowers and silk flowers, unique wine gifts and wine gifts baskets, fun and fabulous gifts and so much more. Give her a unique gift to show her just how much you appreciate everything she has done for you. We update often so do check back.
Mother's Day is May 14th!
14kt Yellow Gold Single Initial Byzantine Pendant Necklace with Diamond Accents
Framed in signature Byzantine links, this pendant necklace offers a custom touch. Featuring a diamond-accented bale, the drop cannot be removed from the cable chain. Includes a 2" extender and a lobster clasp.
.18 ct. t.w. Diamond Abstract Heart Pendant Necklace in 14kt White Gold
With this glistening .18 ct. t.w. diamond abstract heart pendant necklace, you can express your unique love. Suspends from a rope chain with a springring clasp.
14kt Yellow Gold Diamond-cut Heart Bib Necklace
This small, on-trend bib necklace glistens with each move you make. Diamond-cut hearts connect to form a shimmery cascade. Stationed on a slim cable chain with a lobster clasp.
1.00 ct. t.w. CZ Bypass Bangle Bracelet in 14kt Yellow Gold
Here's a sleek bangle with a touch of sparkle that goes a long way. Set in polished 14kt yellow gold, two round, brilliant-cut CZs, 1.00 ct. t.w., bypass each other in a sophisticated and streamlined bracelet that she will wear again and again.
Multi-Shape Turquoise Bracelet in Sterling Silver
An eclectic mix of smooth and veined stabilized turquoise gives this bracelet a one-of-a-kind uniqueness she'll treasure. On it, glossy and smooth sky blue stations alternate with multi-hued cabochons with metallic veining to create a chic design with so much charm. Each multi-shaped cabochon is set in polished sterling silver for a bright look with an earthy aura.
Gucci Gold loved Palm Cuff

Palm cuff in antique gold-tone. Carved lettering featuring multicolor crystal detailing at face. Logo engraved at back face.
6.5-7mm Cultured Pearl and .60 ct. t.w. Blue Topaz Double Oval Drop Earrings with Diamond Accents in 14kt Yellow Gold
Classic elements are presented in a fresh, elegant design! The outer 14kt yellow gold double oval drop is bedecked with .60 ct. t.w. of blue topaz, while the inner loop cradles a 6.5-7mm cultured freshwater pearl and boasts diamond accents.
.14 ct. t.w. Diamond Heart Earrings in 14kt Yellow Gold
It's time to have some fun with diamond studs. These earrings form hearts from .14 ct. t.w. round brilliant-cut diamonds and 14kt yellow gold.
14kt Yellow Gold Wired Heart Earrings
These big hearts go well with Mother's Day. A fresh take on hoops, our sleek 14kt gold earrings form stylized hearts with the elongated earwires.
Opal and .20 ct. t.w. White Topaz Ring in 18kt Gold Over Sterling
A beautiful celestial spirit lights up every corner of this sparkling work of art. At the center, a square cabochon opal is haloed by .20 ct. t.w. white topaz rounds and set in polished 18kt yellow gold over sterling silver.
3.70 ct. t.w. Swiss and London Blue Topaz Bypass Ring with 14kt Yellow Gold in Sterling Silver
Swiss and London blue topaz, 3.70 ct. t.w., alternate on curves of sterling silver. Adorned with scrollwork and 14kt yellow gold beading, this bypass ring is far from demure.
.26 ct. t.w. Diamond Heart Ring in 14kt Yellow Gold
A loving touch perfectly sized to wear in a stack or sweetly on its own. Polished 14kt yellow gold hearts alternate with .26 ct. t.w. diamond hearts in this sweet treat.
10-18mm Cultured Baroque Pearl and 1.50 ct. t.w. Rhodolite Garnet Flower Pin in Sterling Silver
One of nature's most beautiful elements has become a wearable work of art. A 10-18mm cultured freshwater baroque pearl flower presents a vibrant cluster of 1.50 ct. t.w. rhodolite garnets at the center of its full bloom. Set in polished sterling silver.
2.10 ct. t.w. Multi-Stone Swan Pin Pendant Necklace in Sterling Silver
Grace her neck with this lovely pin pendant necklace filled with 2.10 ct. t.w. of multicolored gemstones. The swan consists of sparkling blue topaz, amethyst, citrine and peridot, plus a smoky quartz accented eye. Pendant suspends from a rope chain with a springring clasp, and can also be worn as a pin.
Check out More Beautiful Jewerly for Her Here!
Mother's Day Orchid Gift Tower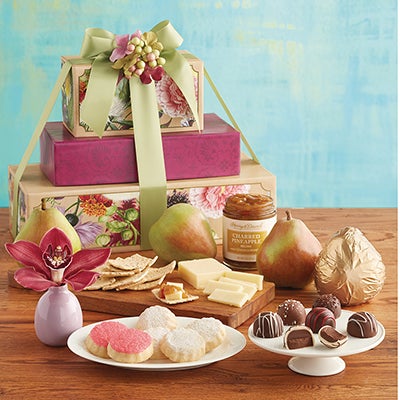 Thank Mom with a towering collection of delights topped with a hand-tied bow. She'll love opening this series of beautiful boxes filled with delectable Mother's Day treats, such as buttery shortbread cookies made in our bakery and signature chocolate truffles from our candy kitchen. This unique gift comes with a wearable orchid corsage that also comes with a sweet ceramic vase she can continue to cherish long after the day is over.
Classic Mother's Day Tower of Treats Gift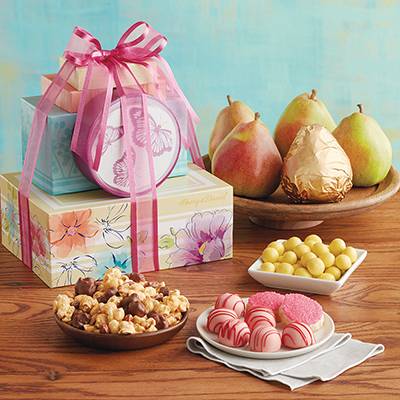 Surprise Mom with a beautiful tower of treats topped with a hand-tied rose ribbon. She'll love opening box after box brimming with delights, including Moose Munch Gourmet Popcorn, rich strawberry truffles, shortbread cookies, and more. Following in our tradition of gourmet excellence, our handcrafted tower is designed to become an extra special gift for Mom.
Mother's Day Pears and Tote Gift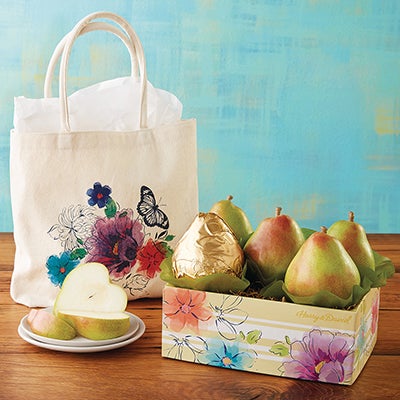 This exclusive Mother's Day pear gift combines our finest Royal Verano Pears with a cheerful tote. Delight Mom with an exclusively designed box filled with our deliciously juicy Royal Verano Pears, finished with a hand-tied bow. Our famous pears are buttery smooth and sweet enough for dessert. When paired with a reusable market tote, carefully crafted from natural fibers, these superior pears are sure to be Mom's favorite.
Mother's Day Brunch Gift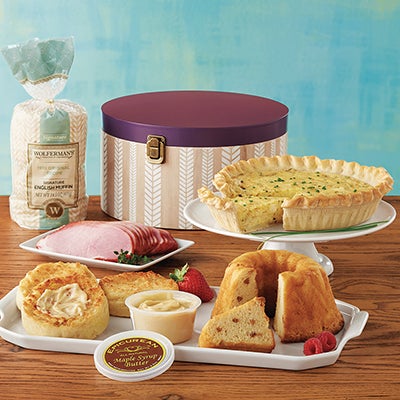 Discover everything you need for an easy and delicious Mother's Day brunch. We craft the gourmet triple cheese and caramelized onion quiche in our bakery with the finest ingredients, and this is only the beginning of the gourmet meal. It continues with slices of Canadian bacon, Wolferman's 1910 signature English muffins, and a delectable cinnamon toffee Bundt cake. Arrives in an exclusively designed wooden hat box that can be reused long after brunch is over.
Sweet Mother's Day Duo
Delight Mom's sweet tooth with this collection of luxury chocolates and delectable candies. Presented in a stylish two-box tower, she'll have just as much fun opening and unpacking it, piece by delicious piece.
Mom's Travel Mug and Cookies Gift
Frosted sugar cookies are perfect for dipping in hot coffee or tea, especially with this charming travel mug. With double walls and a built-in infuser, Mom will be sipping and savoring in style this Mother's Day and all year long.
Mother's Day Moscato and Macaron Pairing
Ruffino Moscato d'Asti, a light and sweet sparkling wine imported from Italy, is arranged in our signature gift crate arranged with a collection chocolates and six French macarons to sweeten up Mother's Day. Each gourmet item is carefully arranged and the gift is accentuated with a hand-tied satin ribbon. A free card is included with your personal message or greeting, as well as complimentary scissors so your recipient can easily open their gift.
Coffee, Tea and Cocoa Assortment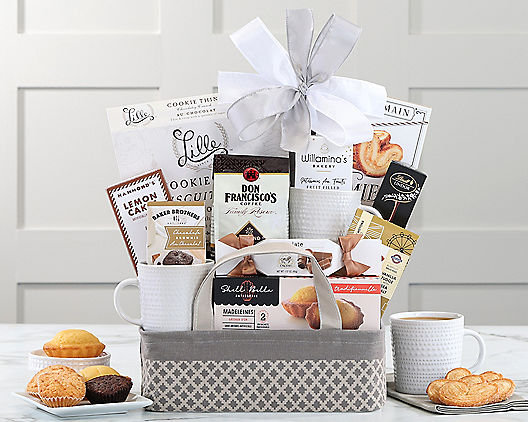 Send this cozy, comforting selection of Acorn Baking Company French roast ground coffee, English tea, Ghirardelli double chocolate hot cocoa, cookies, candy, biscotti and two large mugs, perfect for a Mom who enjoy relaxing with a warm beverage and snack.
Check out More Sweet Gourmet Goodies for Her Here!
Mother's Day Garden Walk
Roses, lush blossoms and vibrant greenery have a gresh look of floral elegance presented in a modern clear glass vase to create a sweet sentiment, ideal for Mother's Day.
Happy Violets Mother's Day Bouquet
The perfect pick for any purple-lover, this modern, monochromatic mix of roses and mums is artistically arranged in a glass cube. Its stylish photographic motif of African violets positively pops beneath this gorgeous bouquet.
Pink Dream Mother's Day Bouquet
Classically elegant in a way that will never go out of style, this fresh flower arrangement is truly a dream for every mom or leading lady on Mother's Day.
Unconditional Love Bouquet
Make a sweet statement of love and appreciation for Mom with this beautiful arrangement of yellow roses, pink asters, and white alstroemeria in a stunning couture vase.
Mother's Day Apple Blossom Amaryllis Gift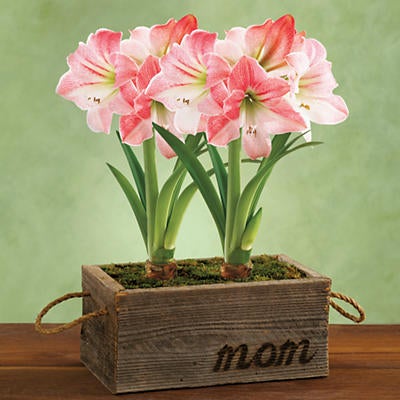 This stately and elegant Mother's Day gift is perfect for any mom who loves dazzling flora. Give the flowers water and sunshine, and four to six weeks after this exquisite amaryllis gift arrives, it will blossom with large white blooms brushed with a soft, blushing pink.
Mother of Pearl Rose Bush
This beautiful rose bush with shapely light pink blossoms and peachy overtones bloom nearly continuously on rounded, slightly spreading shrubs. Each plant is a beauty that is ready to bloom and one that can be proudly displayed indoors or out. This fanciful blooming rose gift is a hearty grower and meant to be planted for many seasons of enjoyment.
Darling Daisy Flower Basket
What could be more touching for Mom than this beautiful display of fresh roses and daisies tucked inside a quaint wicker basket? The precious blooms will arrive artfully accented with million star gypsophila and fresh greenery, making for a eye-catching display.
3-Month Gift Plant Club (Begins in May)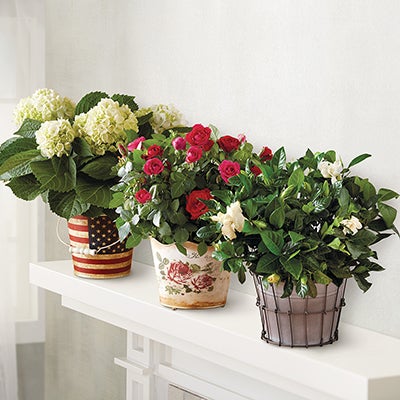 From the gorgeous, swirling beauty of a calla lily to the aromatic delight of mini roses, this Club offers a unique and beautiful floral gift perfect for every month.
Wrap and Grow
Now you can wrap your gift with a gift in itself with this Wrap and Grow set. The set comes with four 24" x 36" sheets, bundled like tamales to avoid creasing, and 6 To / From cards with instructions on the back so your recipient won't pitch the paper. With a little water and a little soil, they'll soon have Coreopsis, Indian Blanket, Mallow, Cosmos, Cornflower, Coneflower, Shasta Daisy, Phlox, Catchfly, Alyssum, and Gilia flowers. 
Check out More Beautiful Flowers for Her Here!
Relaxing Retreat Spa Gift
Each bath and body essential in this gift is specifically chosen to reduce stress, promote relaxation and provide time alone to unwind and rejuvenate. Mom would love this. Mineral aromatherapy bath salts from the Dead Sea feature anxiety-reducing essential oils of sage and tangerine, while the fine soaps, spa tools and glowing candle ensure a time of tranquility. The finishing touch is a 4'' x 6'' artisan journal with 144 lined pages to provide a creative outlet before, during or after the relaxing soak.
Opulent Spa Basket
An opulent, luxurious spa basket is the perfect way to pamper Mom. Soothing scrubs, fragrant soaps and lotions, spa tools and so much more overflow from this keepsake basket, creating an enduring gift that won't soon be forgotten.
Hydro® Luxury Spa Experience
Deep relaxation and lasting rejuvenation come together in this luxurious spa collection featuring eucalyptus shampoo and conditioners, herbal lotions, an exfoliating loofa sponge, massaging brushes, shower gel, and deep-cleansing soaps for the face and body, all in a keepsake spa bucket.
Beach Spa Crate
Pamper and soothe the body with a day at the beach, right from the comfort of home. Our exclusive GiftTree spa crate is overflowing with bath and body essentials that are inspired and derived from the sea, like enriching soaking salts, a natural sponge from the Dead Sea, and so much more.
Mother's Day Lollia Hand Creme Collection
The fresh botanical extracts in this six-piece hand creme collection make this Mother's Day offering one that will be treasured all year long. Six .33 oz tubes of individually scented shea butter hand cremes are presented in a luxury git box from Lollia by Margot Elena, presenting a gift of little luxuries to leave skin feeling soft, silky and radiant.
Savannah Bee Royal Treatment Gift Set
Savannah Bee Company presents a convenient travel collection of their finest health and beauty products. The original Royal Jelly Body Butter in its delicate blackberry scent, and the Tupelo Honey Royal Jelly Body Butter with the scent of warm vanilla, are perfect for quenching parched skin. Use the Beeswax Salve to penetrate cuticles and rough spots, moisturizing and conditioning with a renewing spearmint fragrance. Rolled up in a tiered, structured vegan leather travel case, this is the perfect gift to treat yourself or your loved ones the way nature intended.
Check out More Soul Soothing Gifts for Her Here!
Silk Robe Mom Would Love
Dazzling flowers and leaves cluster on tropical branches to bloom on a beige silk robe. By Arthur Karvan, the pale yellow and blue blossoms are painted by hand and nestle amid olive green foliage. The robe features long voluptuous sleeves, and wraps and ties with a belt.
A Beautiful Ornamental and Pattern Printed Satin Silk Stole
Ornamental and Pattern Printed Satin Silk Stole crafted in 100% silk is an elegant accessory that lends an eye-catching element to her formal attire. Featuring rolled edges.
Dolce and Gabbana White Rose Iphone 7 Plus Case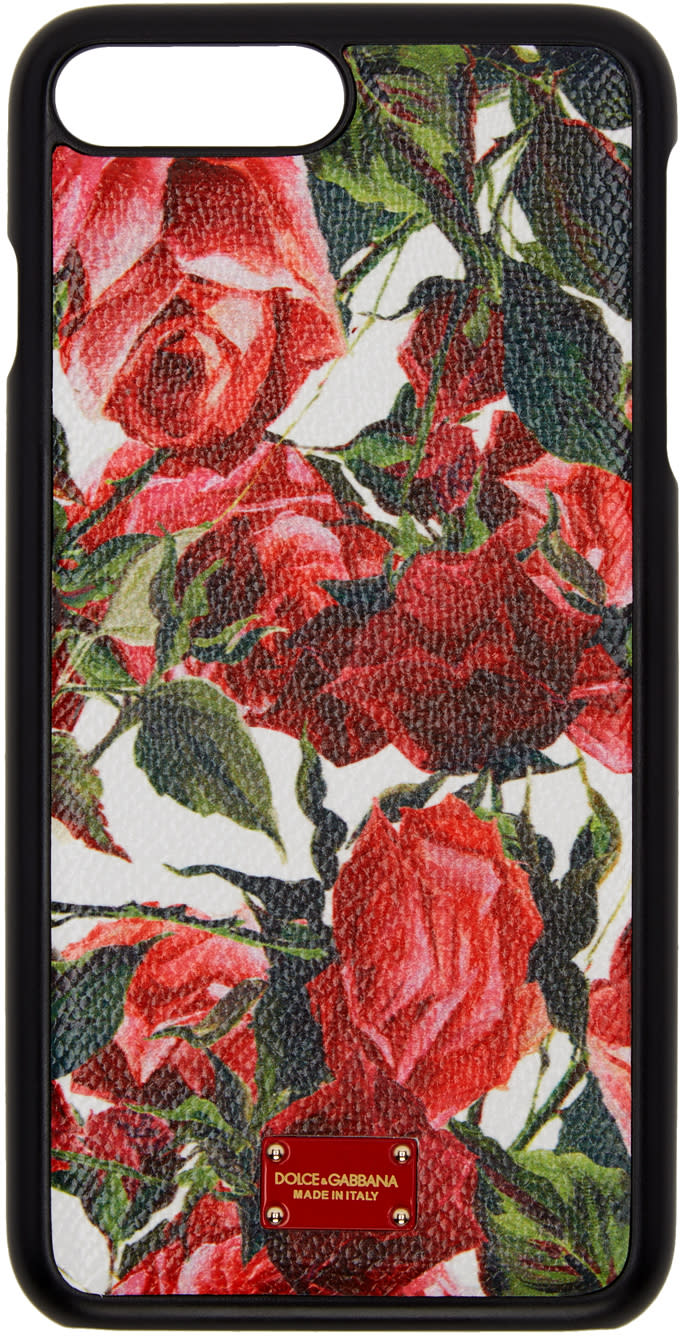 Rigid textured calfskin iPhone 7 Plus case featuring graphic pattern in tones of white, red, and green. Logo plaque in red at face. Suede lining in black.
Dolce and Gabbana Blue Floral Card Holder
Dauphine calfskin card holder featuring floral pattern in tones of blue, pink, and yellow. Logo plaque in pink and gold-tone at face. Card slots. Textile lining in black.
Hummingbird Tapestry Handbag & Cases Set
Jewel-hued hummingbirds and the blossoms they seek pattern this elegant Hummingbird Tapestry Handbag & Cases Set. Roomy enough for files, a tablet, or these matching travel cases, both the Handbag with detachable shoulder strap and the Cosmetic Case feature zippered closures and 2 inner pockets. The lined Glasses Case has a kiss lock closure.
William Morris Gardening Accessories
These fun William Morris Gardening Accessories feature an adaptation of an 1877 print by William Morris—a beloved English designer. The imported potting gloves (elasticized wrists) are 100% cotton. The matching fork and trowel, aluminum alloy.
Bathtub to Spa Converter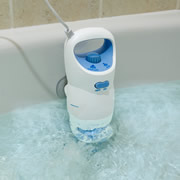 This is the device that converts any bathtub into a soothing spa tub in seconds. The device simply attaches to the side of a bathtub with its suction cups and circulates bath water through its dual nozzles, creating relaxing water streams that soothe the body and mind.
Genuine Teak Tub Caddy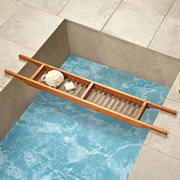 This is the tub caddy crafted from genuine teak that keeps bath essentials, a favorite read, and the obligatory glass of Chardonnay within easy reach. Kiln dried and sanded to a smooth finish, the caddy is naturally impervious to moisture, and sealed with a durable polymer coating that helps maintain its rich golden hue.
Mother's Day Tocca Diffuser Set
This Mother's Day, capture her heart with this luxury reed diffuser from Tocca, the fashion and fragrance house named after the Italian word for Touch. One of Tocca's best selling fragrances, Cleopatra is the fresh scent of grapefruit and cucumber, its namesake inspired by the Mediterranean seductress. Captivate the senses and delicately infuse your surroundings with this artful reed diffuser in a luxe gift box.
Gold Reserve Honey Flute
Sourwood trees bloom late in June through August and need copious sunshine and rain to produce enough flowers to yield a honey crop, so this Southern Appalachian favorite is a rarity indeed. When harvested, Sourwood honey has beautiful lavender hues that slowly darken to a dusky straw color as it ages. This award-winning honey is big and complex with hints of maple and spice. Sourwood honey boasts huge flavor and it's bright enough for basting grilled chicken or pork tenderloin. For a real Southern treat, drizzle some warm Sourwood honey on pancakes or french toast.
Cats in Paris Adult Coloring Book
It is filled with cats who lounge around all day, look cute, cause mischief, and pose for formal portraits. Then imagine leaving your apartment and embarking on walking tours of Paris. (Where there are more cats.) These are the scenes you will find in Cats in Paris: A Magical Coloring Book...
Be Sure To Check The Site For Unique Gifts For Her!