Find A Beer Gift For The Man Who Has Everything
Here you will find gift ideas such as beer clubs, specialty beers, craft beers or microbrewed beers delivered monthly, beer making kits, beer gift baskets and so much more. Any of these will make wonderful presents for a birthday, anniversary, Valentine's Day, or retirement present. Don't forget the woman who loves beer too!
Check out more Unique Beer Gift Ideas where you'll find some great sales & special offers.
First Class Beer Chiller
Features a unique collection of twelve sweet and savory snacks to match each beer's unique character, and arrives in a polished hammered metal keepsake container. Gift Includes: Stella Artois Pilsner, Guinness Stout, Molson Canadian Pale Lager, Red Stripe Jamaican Lager, and Heineken Lager Beer.
Leather Bike Six-Pack Carrier
Yes, he can take a sixer with him. Well, on his bike, anyway, with the help of this stylish leather six pack carrier. Adjustable straps attach to the top tube of his ride, and the caddy design secures each bottle on the sides and bottom for safe transport.
Beer Steamed Mussels
These Beer Steamed Mussels are so addictive and a must-have for shellfish lovers! Blue mussels steam in a garlic beer sauce, topped withcorn, red onion and tomatoes. It all simply steam-bakes right in the packaging. So easy and fast, no cooking is necessary - simply bake and serve.
The Fizzics Beer System
Fresh-from-the-tap taste from any can or bottle! Provides enhanced balance and sensational mouth feel of aromatics, body, and texture with all of your favorite beers Compatible with any size can or bottle, up to a 64 oz.
The Beer Machine
Our all-in-one beer making kits are the perfect gift for your favorite homebrewer. Brews 2.6 gallons (or 28 12-oz. servings) of hand-crafted beer in just 7 to 10 days.
The Star Wars Steins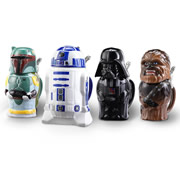 These are the steins that impart intergalactic intrepidity to one's imbibing. Made from high-quality ceramic and topped with hinged pewter lids, each 32-oz. stein is shaped in the likeness of one of four characters from the iconic Star Wars movie series. No stranger to serving drinks, R2-D2 keeps drinks on stable footing with his two flat feet while Darth Vader's helmet opens to accept even the darkest of stouts. Chewbacca's massive body cavity takes on Kashyyyk ale without a growl while Boba Fett's weathered, dinged body armor suggests this bounty hunter could use a cold one.
The Beer Gift Basket
The perfect gift for the beer lover! This fantastic basket features beers from around the world, plus an appetizing selection of gourmet treats. Inside a two-tone basket the recipient will discover Bass Ale, Heineken, Guinness Extra Stout, Murphy's Irish Amber, and Dos Equis. The gift is made complete by the addition of East Shore Pretzels, Macy's Romano Garlic Cheesesticks, Crunchie Munchie Snack Mix, Crown Jewel Popcorn, and Pacific Gold Pistachios.
Craft Beer & Snacks Gift Basket
The ultimate gift for the beer lover, this large hamper holds your choice of premium beers, all well known for their premium quality and delicious taste, as well as gourmet pub grub that highlight the distinct flavor of the beers. Choose between International Beers or American IPAs. Either way your favorite beer drinker will be amazed at your good taste!
The Chill Maintaining Beer Mugs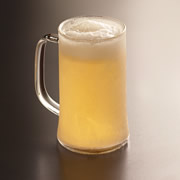 These are the beer mugs that keep beer chilled between 32\u00B0 F and 36\u00B0 F for 30 minutes. The double-walled mugs have a viscous cooling liquid between both layers that freezes after one hour in a freezer, enabling the mugs to chill a room-temperature libation to 36\u00B0 F in just 2 1/2 minutes.
Home Brewer's Complete Beer Kit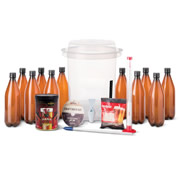 This is the kit that provides all of the tools, ingredients, and easy-to-follow instruction to make four gallons of home-brewed craft beer.
Beer Afternoon Sign
Light Up Tall Flashing Beer Mug (Set of 12)
These high-quality large acrylic mugs feature multi-colored LED lights that flash continuously. This set includes 12 super-cool glasses.

Personalized Wooden Beer Flight
Their name elegantly engraved on the handle of this finely crafted tasting board makes for a distinctive beer connoisseur's gift that's sure to impress. Each of the four heavy 6-ounce beer glasses is specifically engineered with a slight taper to develop the beer's head, keeping more of the beer's volatiles in the glass, and improving the aroma, appearance, and overall flavor profile of each beer. The board itself features four circular inlays 1/2'' deep to prevent glasses from tipping.
The Chill Maintaining Pilsner Glasses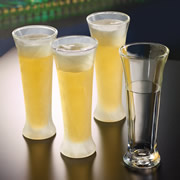 These are the pilsner glasses that keep beer chilled between 32\u00B0 F and 36\u00B0 F for 30 minutes. The double-walled glasses have a viscous cooling liquid between both layers that freezes after one hour in a freezer, enabling the glasses to chill a room-temperature libation to 36\u00B0 F in just 2 1/2 minutes. The glasses are made from durable, borosilicate glass that withstands temperature extremes of -22\u00B0 F to 482\u00B0 F, and their double-walled construction prevents hands from getting too cold.
Personalized Brewing Co Growler and Pilsner Set
Bring that brewmaster touch to your home with the Personalized Brewing co Pilsner Glasses. Serve your favorite beers just like the Beermasters at your next gathering. Show off with your name and year personalized on each 16 oz glass and growler.
Krups BeerTender
Fresh, pub-quality draft beer at home—DraughtKeg™ system releases CO2 each time the tap is opened, for crisp, perfectly chilled beer with the ideal head of foam. This innovative technology ensures beer remains fresh for up to 30 days. Patented system is designed to be used with Heineken®, Heineken Premium Light® and Newcastle Brown Ale® DraughtKegs. Ultra-quiet electronic cooling systems provides constant and consistent cooling of keg at the beer?s ideal drinking temperature of 37.4°F.
MR. BEER American Series Two Beer Pack
All the ingredients you need to make two new flavors of home brewed beerComes with Hopped Malt Extract, No-Rinse Cleanser, and dry brewing yeast for each flavorAll-malt varieties - different flavor and streamlined brewing processFlavors include Classic American Light and Patriot American LagerGet all the ingredients you need to try some new brews with the MR. BEER American Series Two Beer Pack.
Miami Pub Crawl Tour
Come along for a fun and refreshing stroll through Coral Gables as you visit some of the area's finest pubs.Coral Gables is a pedestrian-friendly area southwest of downtown Miami. The area boasts 140 dining establishments and gourmet shops, and is home to some of the area's finest watering holes.Your guide will provide you a great local tour as you visit 4 or 5 of Coral Gable's favorite bars for beer tastings and snacks. At each establishment you'll enjoy a refreshing & unique brew, with samples ranging from Belgian or Haitian to Irish or Jamaican beers.
Double Kegorator Twin Tap Beer Keg Fridge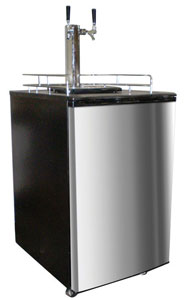 Double Kegorator Twin Tap Beer Keg Fridge Swivel casters make it mobile enough to roll around the clubhouse, pool area or anywhere you want to get the party started. The included 2.5-pound CO2 bottle is good for about four 15-gallon kegs. The fridge features a 13-inch chrome tower and guard rail, dual spring loaded top-mounted tappers and double CO2 regulators.
In-Home Beer & Artisanal Cheese
Host a customized craft beer and artisanal cheese tasting experience in the comfort of your home or a venue of your choice. Invite your friends and family for an unmatched, indulgent tasting. Your experience will begin with an introduction to brewing techniques and it will take you through the process from preparation to tasting. The goal of this private class is to not only learn how good beer can be with cheese, but to come up with some unexpected pairings that might even impress any non-beer drinkers in the party.
Dragon Tankard
Grab hold of a dragon in full flight! It forms the handle of this collectible tankard of antiqued, polished pewter. Handcrafted in UK.
Ceramic beer mugs, 'Barley Grains' (set of 4) (Mexico)
By Mexico's Javier Servin, these ceramic beer mugs are cheerful and modern. He designs the set of four with wide bottoms and cobalt blue trim. Painted by hand, the motifs are inspired by barley grains and complemented with flowers.
The Cold Maintaining Stainless Steel Beer Steins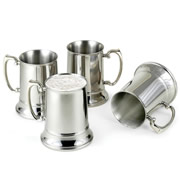 Made from 18/8 stainless steel, these are the steins that retain cold to keep beer chilled longer. The set of four steins have dual stainless steel walls that maintain the original temperature of beer longer than glass or stoneware and minimize condensation on the exterior.
Beer A Man's Best Friend Hoodie
Beer A Man's Best Friend, Designed for warmth and durability the 7.5 ounce, 50/50 blend fleece fabric with double-ply hood provides protection from a blinding snow storm at the North Pole or from blowing sand in the Mojave Desert. This hooded sweat is versitility plus. The convenient pouch pocket keeps hands warm or holds a water bottle.
Personalized Man Cave Mugs - Set of Four
Set of four beer mugs Each mug holds 13 oz. Can be personalized Claim and customize your space with this eye-catching set of four Man Cave Mugs! Each unique mug features a sturdy gripping handle and holds 13 oz. Personalize mugs with up to 9 characters. Makes a great personalized gift!
Beer Tasting Sail
Set sail on New York's largest sailing vessel with the craft beer experts from Urban Oyster, and get introduced to the wonderful new world of Craft or Micro Beer.With over 1,500 brewers now making delicious brews all over the country, choosing and appreciating beer has become an art form to rival its cousin wine.
Microbrewed Beer Club
With this beer club gift he will receive twelve, 12-oz. bottles of 4 different styles of beer in each monthly shipment. They will select premium hand-crafted microbrews from over 1,000 American and International microbreweries and brewpubs and ship them directly to his home each month! Their beer club makes a great gift if he appreciates lightly distributed, hard-to-find microbrewed beer.
They ship within the USA.
Valentine's Day Sale! Get $15 off at the Microbrewed Beer of the Month Club. On 6 shipments or more. use code VAL15 - Valid to Feb 16th - Shop Now!
Craft Beer Club
Every selection they make is produced by small-production, independent brewers who use only traditional brewing ingredients and time-honored brewing methods. They also embrace the hundreds of small craft brewers around the country that offer their hand-crafted beers in cans, so both bottles and cans are offered.They have beer club gifts that will fit any budget.
Give a gift from 1 to 12 months. He will receive - 12 World-Class Craft Beers 12 oz. beers; 4 different styles; 3 beers each. The finest craft ceers delivered each month direct to your him! This is a gift he will not only enjoy but he won't want to return.
They ship within the USA.
Free Shipping and Free Gifts with any purchase at CraftBeerClub - Shop Now!
Beer Club
This is the perfect gift for any beer lover! Each month they will deliver 12 full-sized bottles of hard-to-find, specialty microbrews from award-winning, regional breweries across the country. With each shipment they include four different varieties of premium, hand-crafted beer carefully selected by their experts and brewed in limited quantities by master brewers nationwide.
These unique beers can't be found in local stores which makes it even more special. Only the best-of-the-best become selections of this beer club!
The ship within the USA.
FREE SHIPPING every month for Beer of the Month Club - Shop Now!
Unique Bar Gifts
They are a family owned entertaining super store offering so many gifts he will love.
They feature unique home bar accessories and supplies, BBQ tools, fun golf gifts, man cave gifts and so much more! Their offerings are incredible and I know you will find a unique gift for him!
The ship within the USA, Canada and internationally.
VALENTINE DAY SPECIAL OFFER!! Use code "SAVE5" & Get $5 off on order above $70 or more. Valid to Feb 29th - Shop Home Wet Bar
If you are having trouble finding a beer gift for your man who has everything drop me a note on live chat or if I am online you can ask me directly. You can also email me and I would happily help you find that perfect present! We are constantly updating our selection so please bookmark us and come back often!