Beer Gifts For The Man Who Has Everything
We showcase great goodies for your beer lover. Check out the beer clubs, specialty beers, craft beers or micro brewed beers delivered monthly, beer making kits, beer mugs and so much more. Don't forget the woman who loves beer too!
IPA Home Brew Box Gift
This home brewing kit contains everything he needs to brew up a gallon of vibrant, zesty and tropical Citra IPA.
Unique Personalized Beer Growler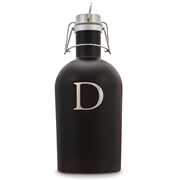 Transports a beer connoisseur's take-out draft safely from craft brewery to home refrigerator.
Expertly selected & award winning craft beers!
Your recipient will receive twelve, 12-oz. microbrewed beers from two different lightly distributed U.S. Microbreweries. Each shipment includes four different beer styles, three bottles or cans of each style. Each month they will receive quality, exciting, and innovative craft beers. Makes an incredible present for anyone who appreciates lightly distributed, hard-to-find microbrews
The beer club subscriptions, range from 2 months to open ended. Plus it's easy to customize an announcement for printing or emailing. Perfect for a last minute present.
Summer Sale! Get $10 off any prepaid 4 shipment order with code SAVE10 - Hand-Crafted Beer - Check out Monthly Clubs!
Combine/Design your own craft beer clubs! - Check it out Here!
Yummy Flavor Enhancing Home Beer Frother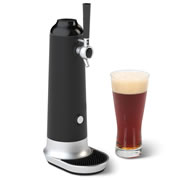 Unlocks the flavor trapped in canned or bottled beer by producing a thick, flavor-enhancing foam like draft poured fresh from the tap.
Fun Personalized Hopside Down® Beer Glass
Thick, hand-blown glass with dual-wall technology is precisely crafted to keep the beer chilled inside the glass.
Need it fast? Order Drizly now and have beer, wine, or liquor delivered
The leading on-demand alcohol delivery service. Purchase his favorite beer, wine and liquor easy and conveniently with delivery direct to his doorstep.
Shop now and save $5 on your next Drizly alcohol order. Use code DRIZLYFIVE - Check out Drizly
The BrewMaster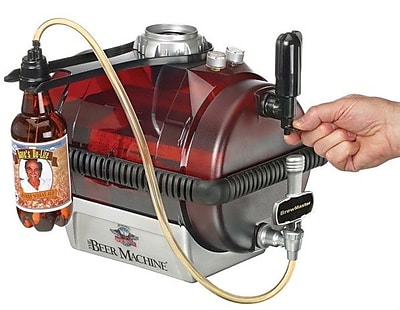 Home brewing kit.
Unusual Civilized Viking's Drinking Vessel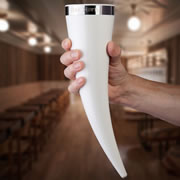 Encourages two-handed (or one-in-each-handed) quaffs, it holds up to 24 oz. of a prized mead, ale, or other worthy libation.
Exceptional craft beers from the country's best, small, independent brewers!
Embracing the hundreds of small craft brewers around the country that offer their hand-crafted beers in cans, so both bottles and cans are offered. Your recipient will receive 12 world-class craft beers, 12 oz. beers, 4 different styles, 3 beers each. You can select monthly, every other month or quarterly.

Craft Beer Club - Check it out!
Incredible Beer Lover's Refrigerated Outdoor Tap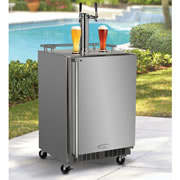 Delivers frosty drafts with creamy heads to please even the most discriminating craft connoisseur.
Rustic Personalized Pilsner Set
A rustic acacia wood gift crate opens to reveal two 12-ounce pilsner glasses, two real cork coasters and a stainless steel bottle opener.
All sorts of goodies.
You will discover a wide selection of baskets and totes, and so much more. They put their focus on the impact your gift will have when it's received so you can expect everything will be perfect.
Check out the goodies at Gift Tree!
Personalized Beer Glass Set
Monti-Taste Set glasses cater to the burgeoning craft beer market and holds each of their favorite beer-lover's bottles of beer perfectly.
Fun Beer Tasting Sail
Set sail and get introduced to the wonderful new world of Craft or Micro Beer.
Award winning beers every single month!
Every month your recipient will receive a selection of full-sized bottles (commonly referred to as longnecks) of hand-crafted, specialty beers from independent, boutique breweries across the nation. Offering 3, 6, and 12 month beer clubs. You are sure to find the right one.
Award winning beers - Check it out!
Mr Beer North American Collection Beer Home Brewing Kit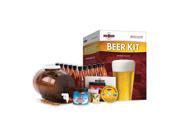 This brewing kit gives him everything he will need to brew beer at home.
Personalized Craft Beer Flight Set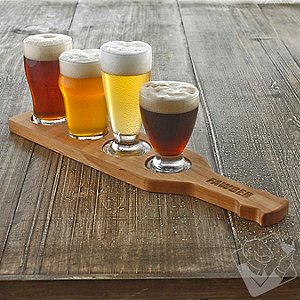 Set of 4 craft beer glasses with Engraved Beer Board in the different shapes of his favorite craft glasses.
Unique beer goodies, cool home bar accessories and fun bar decor!
Not only do they scour the globe for innovative products, they also create the designs, artwork, and personalizations that go on their home bar accessories and supplies, BBQ tools, unique golf accessories, man cave goodies, bar games, cigar accessories and so much more. Discover everything bar here.
Sale! Save $5 Off On Orders $70 or More. Use coupon code SAVE5 - Bar & Beer Goodies - Check out Home Wet Bar
Wine & Beer Experiences
Expand his knowledge about the wonderful world of wine and beer with this amazing wine and beer experiences.