Beer & Beer Accessory Gifts For The Man Who Has Everything
If he loves beer you will definitely find something unique for him here. Check out the beer clubs, specialty beers, craft beers or micro brewed beers delivered monthly, beer making kits, beer mugs and so much more. Don't forget the woman who loves beer too!
The Flavor Enhancing Home Beer Frother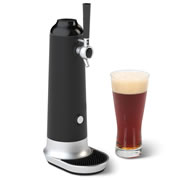 Expertly Selected, Hand-Crafted Beers! Your gift recipient will receive exceptional beers from the best craft breweries in the world. Unlike your average craft beer basket, their beer club subscription makes a great gift for anyone who appreciates lightly distributed, hard-to-find microbrews.
It's easy to customize a gift announcement for printing or emailing.
St Patrick's Day Sale! Get $10 off any 4 month prepaid order with code PAT10 - Hand-Crafted Beer - Check out Monthly Clubs!
Combine/Design your own craft beer clubs! - Check it out Here!
Personalized Brewing Co Growler and Pilsner Set
Exceptional craft beers from the country's best, small, independent brewers! They embrace the hundreds of small craft brewers around the country that offer their hand-crafted beers in cans, so both bottles and cans are offered.They have beer club that will fit any budget.
Craft Beer Club always has Free Shipping and NEW BONUS GIFTS! Every purchase gets you a free 1-year subscription to BEER CONNOISSEUR Web Magazine! Craft Beer Club - Check it out!
The Star Wars Steins.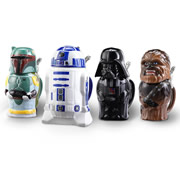 Award winning beers every single month! Every month they'll receive a selection of twelve full-sized bottles (commonly referred to as longnecks) of hand-crafted, specialty beers from independent, boutique breweries across the nation.
FREE SHIPPING every month for Beer of the Month Club
Award winning beers - Check it out!
MR. BEER American Series Two Beer Pack
Unique Beer Gifts & More. Offering unique home bar accessories and supplies, BBQ tools, unique golf accessories, man cave gifts, bar games, cigar acessories and so much more.
A beer club, specialty beers, craft beers or microbrewed beers delivered monthly, beer making kits beer mugs, and so much more, make a wonderful present for the man who has everything.
The Personalized Beer Growler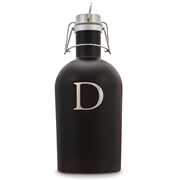 This is the personalized jug or "growler" that transports a beer connoisseur's take-out draft safely from craft brewery to home refrigerator. This sleek, modern-age growler is crafted of stainless steel with a swing-top silicone stopper that seals tightly to keep a cherished craft brew fresh for 5-7 days in the refrigerator.
Personalized Hopside Down® Beer Glass
This innovative beer gift couples the simplicity of a longneck bottle with the elegance of a high-quality pint glass. Thick, hand-blown glass with dual-wall technology is precisely crafted to keep the beer chilled inside the glass, while keeping the outside of the glass warm and condensation-free.
The Emperor Karl V's Bierkrug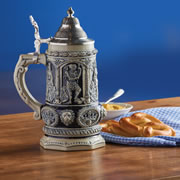 This is the beer stein handmade in Germany's famous Westerwald region that depicts the divison of Karl V's kingdom in the mid-16th century. Meticulously reproduced from Medieval original, it is crafted Hohr-Grenzhausen by Thewalt, the oldest stein manufacturer in the world (Est. 1893), using handcrafted artistry rooted in the region's earthenware tradition that began along the banks of the Rhine in the early 1st Century. The stein depicts the iconic German Emperor abdicating the throne of Spain and as Holy Roman Emperor in 1556—a milestone historic event that was the closest Europe came to a universal monarchy.
The Civilized Viking's Drinking Vessel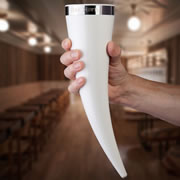 This is the beverage conveyance inspired by the romantic imagery of Viking conquests that affirms a modern jarl's celebratory yet civilized approach to life. Made from BPA-free plastic into a modern ergonomic form that encourages two-handed (or one-in-each-handed) quaffs, it holds up to 24 oz. of a prized mead, ale, or other worthy libation.
Dragon Tankard
Grab hold of a dragon in full flight! It forms the handle of this collectible tankard of antiqued, polished pewter. Handcrafted in UK.
Ceramic beer mugs
By Mexico's Javier Servin, these ceramic beer mugs are cheerful and modern. He designs the set of four with wide bottoms and cobalt blue trim. Painted by hand, the motifs are inspired by barley grains and complemented with flowers.
Personalized Man Cave Mugs
Set of four beer mugs Each mug holds 13 oz. Can be personalized Claim and customize your space with this eye-catching set of four Man Cave Mugs! Each unique mug features a sturdy gripping handle and holds 13 oz. Personalize mugs with up to 9 characters.
Beer Tasting Sail
Set sail on New York's largest sailing vessel with the craft beer experts from Urban Oyster, and get introduced to the wonderful new world of Craft or Micro Beer.With over 1,500 brewers now making delicious brews all over the country, choosing and appreciating beer has become an art form to rival its cousin wine.
Virgil's Special Edition Microbrewed Root Beer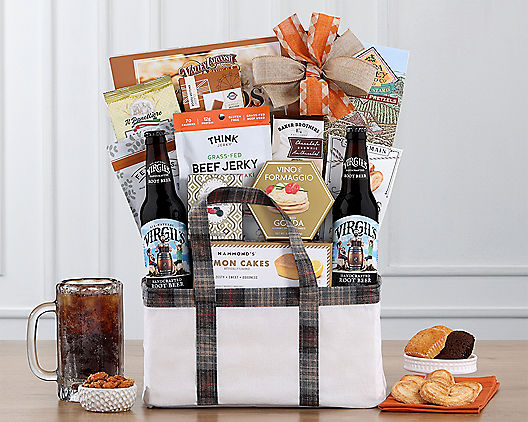 Virgil's Special Edition Bavarian Nutmeg root beer is microbrewed in a 400 year old Bavarian brewery, made with the finest all-natural ingredients from around the world: anise, licorice, vanilla, cinnamon, clove, sweet birch, wintergreen and other natural herbs and spices. Peanut brittle, Popcornopolis kettle corn, caramel lollipops, old fashioned root beer sanded drops, Lily O'Brien's chocolate chip cookies and two bottles of Virgil's award-winning root beer.
Wine & Beer Experiences. Expand their knowledge about the wonderful world of wine and beer with this amazing wine and beer experiences.