Personally Picked Electronic Gifts & Gadgets
Everyone loves electronic gifts and gadgets. We can't get enough of them! Here we offer a wide variety of electronics gifts for someone who has everything, or someone hard to buy for such as laptops, kindle, TV's, video games, ipad, ipod, gaming systems, digital entertainment gifts, speakers gifts, cameras, video gifts, or any of the latest high-tech or electronic gadgets right here for that special someone in your life. All of these are personally picked so I hope you like my taste! Since these are personally picked gifts be sure to check out more electronic gifts and gadgets here.
If you are having trouble finding a electronic gift for your someone who has everything drop me a note on live chat or if I am online you can ask me directly. You can also email me and I would happily help you find that perfect present!
The Only Read And Write iPad Flash Drive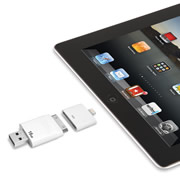 This is the only flash drive that enables you to transfer or view files from a computer on an iPad or iPhone. The device plugs into a Mac or PC's USB port, holds up to 16 GB of documents, photos, videos, or music, and connects to an iPad or iPhone, allowing you to transfer the files or simply view or listen to them on the mobile device. A free app enables simple file transfers and allows you to back up contacts or save email documents less than 10 MB directly from the app. Accommodates over 35 file formats including Microsoft Word and Excel documents, PDFs, JPGs, MP4, and MP3. Compatible with iPhone 5, 4S, 4, and 3GS; iPod touch 5th, 4th, and 3rd generations; all iPad models, and iPad mini. Requires iOS 6. 2 3/4" L x 1" W x 1/2" D. (4 oz.)
60" R520 Series LED Internet TV
Features: Full HD 1080p, Edge LED backlight, Motionflow™ XR 240, built-in Wi-Fi, wireless mirroring, Clear Resolution Enhancer, smartphone ready
The 14 hour iPad Power Case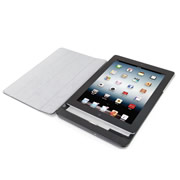 This is the protective iPad case that supplies up to 14 hours of backup power. The form-fitted case connects second and third generation iPads to a powerful 13,500 mAh lithium polymer battery that can sustain prolonged use for movie marathons or extended travel. The battery can be turned off so it is available only when needed. The ultra-thin case adds less than 1/2" to an iPad's thickness and its articulated leather-like cover folds under to prop an iPad in landscape mode. The soft suede-lined interior protects an iPad from scratches. The battery recharges in using the included USB cable. Four LEDs indicate remaining battery charge. For iPad and iPad 2 only. Black. 10" H x 7 1/2" W x 3/4" D. (1 1/2 lbs.)
The 100 Greatest Classics Audio Book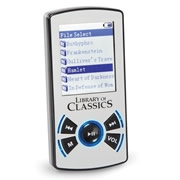 This palm-sized library contains audio versions of the 100 greatest classic books. Eliminating the hassle of downloading files, the lightweight player comes pre-loaded with unabridged texts by noteworthy authors including Charles Dickens, Mark Twain and Jane Austen. In addition to classic novels such as Moby-Dick and Treasure Island, the wide-ranging collection features short stories by O. Henry and Kipling, plays by Ibsen and Shakespeare, and philosophical treatises by Nietzsche and Aristotle (see Books tab for a complete list of titles). Its full 600 hours of entertainment also include 50 classical music favorites by Mozart, Chopin and other composers. The portable 1-oz. device makes it easy to catch up on the classics on the go; it even comes with an adapter so it can be played through a car radio. Battery lasts for up to eight hours after a three-hour charge using the included USB cable. Also comes with earbuds and AC adapter.
The Hand Crank Emergency Cell Phone Charger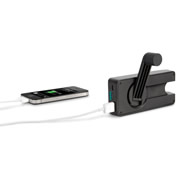 This is the charger that converts one minute of hand cranking into 30-second bursts of emergency power for a connected cell phone. Ideal for placing an essential call or sending a text when a cell phone's battery is nearly depleted, its fluid operation provides the same crank-to-power efficiency as dynamos used in larger emergency radios. Its integrated 2,000 mAH lithium-ion battery recharges fully from a 2 1/2-hour USB connection to a computer or a USB AC adapter using the included cable, providing ample energy to fully charge most smartphones (requires smartphone charging cable). An LED indicates the battery's charge level. The dynamo folds and stows into the charger's lightweight yet durable aluminum body for easy portability in a shirtpocket, glove compartment, or bag.
Scanner Mouse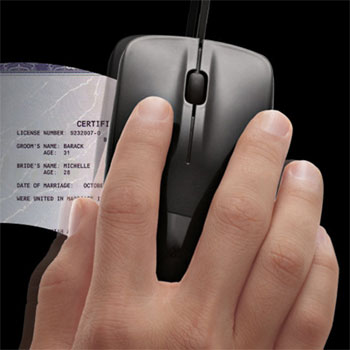 Create instant e-copies with only your mouse. Point, scroll, click¦ and scan too! Press the smart scan button and glide mouse over documents Scanner mouse automatically assembles image on your screen OCR technology converts scanned text for editing Edit images on your screen Save, send or upload documents Scans documents as large as 16.5" x 11.7" in high-resolution 320dpi Left- and right-click buttons, scroll, Smart Scan button and Back Track button Compatible with Windows XP/Vista /7 and Mac OS X 10.6 or above Scanner Mouse puts a scanner in the palm of your hand. Make instant digital copies of all your documents photos, artwork, recipes, articles, business cards, maps, receipts and more all with your mouse. Scanner Mouse lets you point, scroll and click just like a regular mouse, but it has a space-saving scanner built right in. All you do is click the Smart Scan button, swipe Scanner Mouse over your document in any pattern, and watch the image magically assemble itself in perfect alignment on your screen. It s that easy. Easy editing, saving and sharing. Scanner Mouse software lets you instantly edit the contrast, brightness, size, orientation, and zoom level of your scanned imagesG€"and even erase what you don t need. Image contains text? Built in OCR technology converts scanned text for editing in word-processing programs like Microsoft Word and Microsoft Excel . After you re done editing, you can save the images, send via e-mail, or upload directly to Facebook , Twitter , or Flickr
The iPhone Finder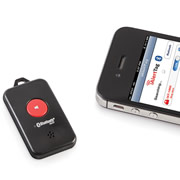 This is the keychain device that locates a misplaced iPhone from up to 25' away. The unit connects via Bluetooth to an iPhone running a free app and causes the phone to sound an alarm or vibrate at the touch of a button on the keychain device, revealing its whereabouts. The unit can also be set to alert you when you've unknowingly left the iPhone behind by maintaining a constant wireless connection with the phone and sounding the alarm when the devices are more than 25' apart. The app can also help you to locate the keychain device if it is ever misplaced. Included CR2032 battery lasts up to 8 months. Compatible with iPhone 5, 4S, iPad 3, or 5th generation iPod.
The Wireless Smartphone Photo Printer
This is the printer that connects wirelessly to an iPhone or Android-powered phone and prints vibrant color photographs. An iPhone running a free app transmits pictures over a home Wi-Fi network to the printer, allowing you to print from anywhere in the home. In less than a minute and without ink cartridges, it prints 4" x 6" borderless photographs at 300 dpi resolution in up to 256 gradations and 16.7 million colors. The pictures are printed on patented paper embedded with yellow, magenta, and cyan dye crystals, producing rich, vibrant photographs that are waterproof and resist fingerprints, dust, and scratches. Compatible with all iPhone (including iPhone 5), iPad, and iPod Touch models running iOS 3 and up and Android-powered devices running OS 2 and up.
Polaroid 7-Inch Android 4.0 Tablet with Dual Camera 7"
The Polaroid 7" Android Tablet makes life simple. Watch and share pictures and video, surf the web, play games, read ebooks, listen to music, and more on the go with 4GB of built-in memory, WiFi, and an easy-to-use touchscreen. Dual camera function (front and rear facing cameras) makes taking and sharing photos and videos of your world a snap. It even supports video chat via Skype.
Canon VIXIA HF R32 32GB Full HD Camcorder
Experience the compact, easy-to-use camcorder that has 32GB of internal memory to record up to 12 hours of breathtaking full HD video while offering impressive zooming power and exciting new creative options. Superb imaging is ensured with a new, more sensitive Canon 3.28MP Full HD CMOS Image Sensor and Canon's exclusive DIGIC DV III Image Processor. Video is steady and clear even at the large end of the 51x advanced zoom, thanks to SuperRange Optical Image Stabilization and Intelligent IS. The VIXIA HF R32 is equipped with flexible features to suit your shooting and sharing needs, and a new interface makes the large flat touch panel LCD display simple to use.
Nintendo Wii U 8GB - basic set (white)
Introducing the newest Nintendo video game console, the Wii U - featuring the Wii U GamePad™ controller that removes traditional barriers between you and your favourite games, as well as your TV! It gives you a window into a world you never thought possible, with features like motion control, a front-facing camera, built-in microphone, stereo speakers, rumble response, a sensor bar, a stylus pen and support for Near Field Communication (NFC) that lets you communicate wirelessly with objects in the real world that affect the gaming world. The NFC feature will allow for some exciting new possibilities for your favourite video games and activities in the near future! This Basic Set includes: Wii U console (8GB), Wii U GamePad, AC adapters, HDMI cable and Wii U Sensor Bar. Features Experience Miiverse, the brand new online gaming community that lets you share experiences and discover new content with gamers around the world View gameplay on your TV and the Wii U GamePad Hold the Wii U GamePad vertically, plus control your game via touchscreen with your fingers and stylus Use Wii Remote Controllers and the Wii U GamePad for up to 5-player gameplay The Wii U GamePad can provide another perspective into gameplay when using the Wii Remote Controller - like a bird's eye view over a battle you're engaging in Use the Wii U GamePad as a personal gaming console, no need to use your Wii U console and TV The Nintendo TVii feature enables you to find, watch and engage with TV shows, movies and sports programs directly from your Wii U GamePad.
Ultimate Ears 7 Pro Custom In-Ear Monitors
The Custom Ultimate Ears 7 Pro is the most robust and powerful Custom In-Ear Monitor available; ideal for live performances.
Lytro - 11-Megaray Light Field Camera - Graphite
Capture stunning interactive images with this Lytro camera, which features a light field sensor that shoots vibrant 11-megaray light field pictures. The 1.5" touch-screen LCD offers a clear view of images and allows simple control.
The Wireless iPhone Microphone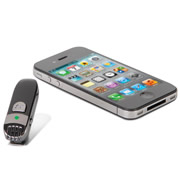 Winner of the Best Innovations Award at the Consumer Electronics Show, this is the wireless microphone that records sound to an iPhone from up to 33' away. The lavalier microphone connects to an iPhone running a free app via Bluetooth, allowing you to record conversations or presentations while the iPhone is in your pocket or on a desk without restricting your movements or diminishing audio quality. The lavalier microphone captures crisp, clear digital audio while integrated noise cancelation technology removes distracting background noise. About the size of a Bluetooth earpiece, the microphone clips unobtrusively to a shirt collar or lapel.
Country - Genuine Leather iPhone Case
The ideal companion to protect his iPhone, the Country case in hammered leather creates a youthful, casual style that just gets better with age. Signature box included. Made in Italy.
The iPad Internet Chat Handset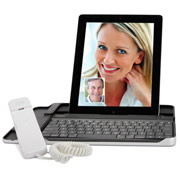 This is the iPad dock that provides a convenient built-in handset for conducting Internet phone calls. Ideal for users of Skype or FaceTime, the handset connects to an iPad using the included 3.5mm cable, eliminating the need to shout over an iPad's speakerphone while drowning out competing ambient noise for clear reception. The Bluetooth keyboard connects wirelessly to an iPad for easy typing while the iPad props up at a convenient angle in landscape or portrait mode within the case. The keyboard's rechargeable battery provides up to 40 hours of uninterrupted operation from a two-hour charge off a USB connection to a computer using the included USB cable. Folds to the size of a portfolio for transport and storage. Compatible with iPad2 and iPad3.
iConvert Scanner for iPad Tablet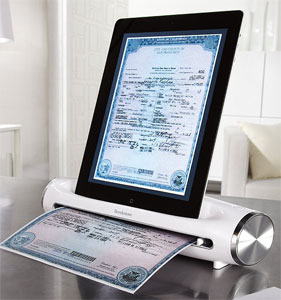 Get instant e-copies of your most important documents. Quick and simple way to scan documents to JPEG files Saves photos and important documents directly to your iPad tablet Scans high-resolution 300dpi for clear, crisp images Adjustable feeder adjusts 2" to 8-+" wide to fit many sizes, from small photos to full-size documents
Halo 4 - Xbox 360
As a long-time fan of the Halo franchise, you agree that it's time to continue the story. Keep the action alive as Master Chief returns to face his destiny and battle an evil that threatens the fate of the universe. Set out on a whole new adventure that kicks off a brand-new saga that promises more action, excitement and adventure. Continue the action of the franchise that has left its mark on the gaming world. Halo 4 continues the thrilling excitement of the Halo campaign. Join the action as Master Chief returns to face his destiny and an ancient evil that threatens the fate of the universe. Immerse yourself in the dawn of an all-new Halo adventure. Lock and load for explosive new battles alone or enlist the assistance of up to three friends in split-screen co-op gameplay. Go aboard the Infinity to experience expanded multiplayer action with new modes, weapons, vehicles, armor abilities, loadouts and the Spartan-IV player progression system.
Leather Case for iPad mini Tablet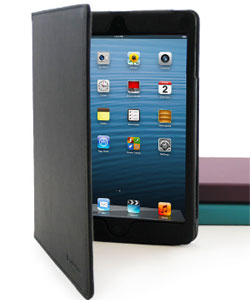 Wrap your iPad mini tablet in fine leather for sleek, professional protection. Classic leather case stores and protects your iPad mini tablet Provides easy access to all buttons, ports and controls Holds tablet at three convenient viewing angles Soft velour lining prevents scratches Store and protect your iPad mini tablet. When enclosed in the case s soft velour interior, your tablet s screen and back are safe from fingerprints, dust and scratches. Keep your tablet safe as you go to and from the office, meetings, schoolG€¦ or wherever life takes you. Plus the built-in stand allows you to use your iPad mini tablet hands-free at three comfortable, easy-to-see angles. Treat your tablet with care.
eComfort Tablet Pillow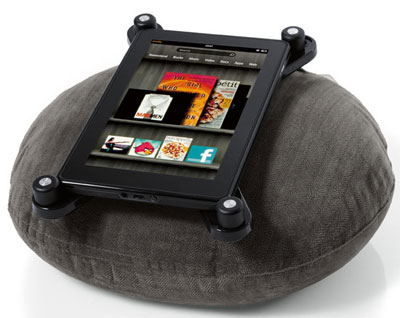 Frees your hands from holding your device. Plush pillow holds tablet at any angle Removable X-stand secures your iPad tablet, e-readers, Kindle device, and more for hands-free use Magnetic ball socket swivels so you can freely adjust the viewing angle X-stand rotates in the ball joint for vertical and horizontal viewing Remove the X-stand for propping your device on other surfaces or for in-hand use Cushion features a pocket for storing earphones and other small items The eComfort Tablet Pillow was specifically designed with comfort and functionality in mind. The X-stand is a durable, sturdy device for propping up your e-reader or iPad tablet while you read, type or watch a movie. And with your hands free, you can now answer your phone or enjoy a cup of coffee knowing your tablet is securely in place. .
Kindle Fire HD Tablets
kindle fire hd 8.9 4G
Kindle Fire HD 8.9 4G LTE Wireless, Dolby Audio, Dual-Band Wi-Fi, 32 GB - Shop Now!
---
Kindle fire hd 8.9
Kindle Fire HD 8.9, Dolby Audio, Dual-Band Wi-Fi, 32 GB - Shop Now!
---
kindle fire hd 7
Kindle Fire HD 7", Dolby Audio, Dual-Band Wi-Fi, 16 GB - Shop Now!
iCADE Mobile - Gaming System for iPhone
While we love the myriad apps and games in the App Store, there's one thing we definitely don't like about mobile gaming: our fingers going oddly numb or worse, cramping up. We'd love to play as long as our batteries will allow, but the form factor of the iPhone clashes with the limits our fragile human bodies. If we are going to get serious about claiming some worldwide high scores on our favorite games, we need a solution. And behold, the gods provided us with the iCade Mobile, the ultimate handheld game controller for iPhone and iPod Touch. With a classic controller configuration, iCade Mobile makes it easy to play modern and retro games the way they were meant to be played. iCade Mobile features a four-way directional pad, four front-facing action buttons, and four shoulder buttons. All will withstand your most furious button mashing. Your iPhone nestles in the cradle, which can be positioned in landscape or portrait mode. You'll get a full view of all the action on screen because your hands and gripping the ergonomic controller pad. No more cramps! No more numb fingers! Game until the cows come home... or you run out of battery life. Product Features Fun and fast mobile gaming for your iPhone or iPod Touch Adds physical buttons and d-pad to make your gaming experience better Rotating cradle allows for landscape and portrait viewing Connects using wireless Bluetooth technology (set up once and you're good to go!) Works with over 100 games and apps.
Star Wars Keyboard With LCD Touchpad
The galaxy is in turmoil and ripe for the taking, but are you quick and powerful enough to prevail? While the Force may be with you, we recommend a great gaming keyboard to truly kick some butt at Star Wars: The Old Republic (and any other MMOs you play). Ten dynamic adaptive tactile keys allow you to customize all your skills, macros, and hotkeys for faster accessibility. The multi-touch full-color LCD track-panel can be set to either respond to direct gesture input or display interactive information for an exciting new way to experience the game. (Or you can put your IMs on it so you don't have to tab out to chat!)
Whether engaged in deadly space combat in your starship or executing a critical mission on Coruscant, the rapid-actuating slim keys allow for shorter travel distance so you can reach key-binds and macros more efficiently. This keyboard features complete anti-ghosting of up to 10 key presses to let you further expand your repertoire of boss-killing, Flashpoint-destroying, and world-exploring macros and skills. With the ability to execute more than a single key command at one time, it's an absolute competitive advantage for taking your game to the next level. You'll be the fastest Jedi or Sith Master on the block.
Game controller fling joystick for ipad controller for ipad fling joystick game control for ipad ipad2 gamepad

Game controller fling joystick for ipad controller for ipad ipad2 Brand new ,high quality.
Internet Player with Google TV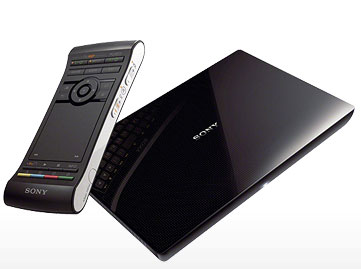 Find what you're craving with access to streaming content, made-for-TV apps and Google Chrome. Take control of your entertainment with an intuitive, new remote. Ready, set, go faster.
Shop Now!
The Only iPad USB Flash Drive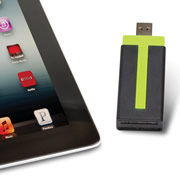 This is the only USB flash drive that wirelessly streams movies, music, photographs, and documents to an iPad. The size of a pack of gum, it accepts an included 8 GB SD card (supports up to 32 GB SD cards) automatically sharing files wirelessly up to 150' away, eliminating an iPad's need to dock with a computer or use e-mail to transfer files. Providing over five hours of stand-alone operation, it recharges via USB from any computer without the need for software, which also provides a convenient means of file loading and continuous file sharing. Up to six wireless devices can access the flash drive simultaneously using a free downloaded app, including iPhones, Android, and Windows smartphones. A digital camera's SD card can be inserted; holiday pictures and videos taken at family gatherings can be immediately accessed by family members. With built-in data encryption, it provides secure transfers between similarly configured devices.
The Illuminated iPhone Slide Out Keyboard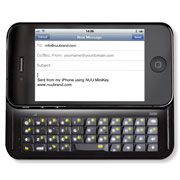 This is the iPhone case with a slide-out keyboard and illuminated keys that enable more tactile, accurate keystrokes in low ambient light. The lighted QWERTY keyboard has 42 keys (11 more than the iPhone's touchscreen keyboard). Its arrow keys allow faster cursor placement, the command and function keys provide easy access to editing shortcuts, and a shift button enables access to punctuation. When the physical keyboard is paired with an iPhone it prevents the touchscreen keypad from appearing, doubling the size of the viewable screen. The streamlined hard-plastic case enables unobtrusive storage and leaves the camera lens, volume and power buttons, and access ports uncovered. The rechargeable battery provides 6 hours of continuous typing after a four-hour charge using the included USB cable. Pairs with an iPhone via Bluetooth. Compatible with iPhone 4S and 4.
The iPad Docking Station
This is the docking station that converts an iPad into a desktop computer. Extending from the dock is a mounting arm that secures an iPad on three sides, rotating 90\u00BA to offer portrait or landscape orientation while providing 45\u00BA of tilt. Sound is played from two upwards-firing, 5-watt speakers inside the dock, providing crisp, clear reproduction of music, game or movie soundtracks; includes an auxiliary line input for additional audio devices equipped with a 3.5mm jack. The dock includes a remote for controlling volume, next track, stop, pause, and play. The station includes a Bluetooth keyboard for easy typing on an iPad; with dedicated search and slideshow keys. Plugs into AC. Compatible with iPad, iPad2, iPhone, or iPod.
Mass Effect Mimobot Flash Drives
Introducing cool new flash drives, featuring Shep and Liara. Each 16 GB flash drive contains desktop artwork, 1080p cinematic trailer, and codes for multiplayer bonus items. Fill them with your secret files and feel like a Spectre. Product Specifications Flash drives for fans of the Mass Effect video games Includes digital extras like wallpaper artwork, 1080p cinematic trailer, and codes for multiplayer bonus items (Xbox360 and PC only) Compatibility: Hi-speed USB, Mac/PC friendly Capacity: 16 GB Limited edition: Only 2000 individually numbered drives made.
Logitech UE Mobile Boombox
With Bluetooth® technology, you can use your phone or tablet to stream your music wirelessly. Take your Mobile Boombox everywhere you go, then pair it with your friends' phones and let them add their music to the mix. Switching between devices is as easy as pressing pause on one and pressing play on another.
MacBook Pro 15in Skin (High Gloss Finish) - Beatriz
DecalGirl skin kits allow you to protect your devices with style. Manufactured in the USA, these skins feature full-color digitally printed artwork on adhesive-backed vinyl that applies with no bubbles and can be removed without leaving any messy residue.
WOW Computer for Seniors w/20 Monitor
Have you ever said to yourself "I'd love to get a computer, if only I could figure out how to use it."? Well, you're not alone. Computers were supposed to make our lives simpler, but they've gotten so complicated that they are not worth the trouble. With all of the "pointing and clicking" and "dragging and dropping" you're lucky if you can figure out where you are.
The iPhone To Speakerphone Converter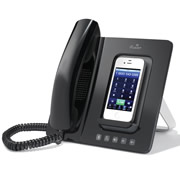 This is the telephone handset and speakerphone that connect to an iPhone for more convenient home use. The iPhone pairs with the unit via Bluetooth from up to 33' away, allowing you to take phone calls through the handset or via the speakerphone. The dock holds the iPhone upright to enable comfortable, hands-free video calls or convenient navigation of the iPhone's apps, and it serves as a convenient charging and synchronization station.
The Acoustically Tuned Bluetooth Stereo
This is the wireless stereo system that fills a room with acoustically superior sound. It plays music wirelessly from any compatible Bluetooth device, such as an iPad, iPhone, Android phone, or a Mac up to 33' away, allowing one to keep a device handy without having it tethered to a dock. Its 80-watt audio system uses two 3" full-range speakers with Kevlar-reinforced drivers that provide precise, unmuddied sound even at high volumes. Twin 3" subwoofers placed in a push-pull configuration cancel out unwanted resonance to produce powerful, deep bass response. Its acoustically tuned sound chamber minimizes resonance for unambiguous sound while its spatial separation technology provides a binaural, immersive listening experience.
Nintendo Nintendo 3DS - Cosmo Black
Handheld gaming is about to change forever. From humble beginnings with one simple screen and a few buttons, the handheld console transformed to become a window into other worlds. Vivid colors, brilliant action and 3D depth await you on the other side of the Nintendo 3DS's top screen. Created without the need for cumbersome 3D glasses, this game system provides an elegant way to enhance your viewing experience with only the naked eye. Decide how much 3D you want to see with the Depth Slider, from no 3D all the way to the wonder of maximum 3D. In addition to 3D visuals, the Nintendo 3DS offers a variety of other features to enrich your gaming experience. Operate the bottom touch screen with the telescoping stylus that can be stored inside the system. Change your perception of the world around you with fascinating augmented reality games and built-in applications. Take pictures and more with the inward-facing camera and dual outward-facing cameras. When you move the handheld system around, it knows: the built-in gyro sensor, motion sensor and pedometer detect movement to enrich your gaming experience. A wireless switch, circle pad and new input and controls complete the package.
Quick Links to Other Pages of Gifts For Someone Who Has Everything