Soul Soothing Gift For Someone Who Has Everything
Soul soothing gifts offer a gentle caress, or a lovely gentle experience, but all sooth the soul. These make great gifts for someone who is hard to buy for in your life. This is a particularly lovely gift for a stressed out Mom, a hard working Dad, seniors who need help relaxing or sleeping, a friend who has been ill, or just someone you want to feel pampered and loved. Whether aromatherapy, essential oils, a aroma diffusers, luxury toiletry, soft music, relaxation gifts, water fountain, bath bombs, candles, spa gift basket, a facial, you will find these gifts and more right here. These make great presents no matter what the occasion!
Be sure to check out some Personally Picked gift ideas towards the bottom of the page!
If you are having trouble finding a gift for your someone who has everything drop me a note on live chat or if I am online you can ask me directly. You can also email me and I would happily help you find that perfect present!
Lush Spa Gifts
The Lush creative team has been working together since the late seventies when they first started to hand-make their own cosmetics. In 1978 they sold our first product to the Body Shop and in 1988 they set up Cosmetics to Go, in Poole, Dorset, by the sea on the south coast of England, where they surprised the bathing public by inventing products such as Bath Bombs, Shampoo Bars and Massage Bars and built a hugely successful, catalogue-based mail order cosmetics company the like of which had never been seen before.
They ship in Canada and within the USA.
LUSH Bath & Spa Gifts
Traditional Chinese Wellness Products
They are the leading brand of health and wellness products. Their unique lines help restore a sense of balance, calming and relieving stress by combining ancient Chinese tradition with modern technology. They offer unique aromatherapy diffusers, black teas, Jun kiln porcelain, and essential oils that enable you to achieve equilibrium of body, mind, and soul while engaging your five senses…the spirit of ancient China for today's lifestyle.
Free shipping in the US.
* beautiful handcrafted ceramics - Shop Now!
Shop Today!
Luxury Beauty Products
Gilchrist & Soames is a leading provider of luxury toiletry collections for world-class hotels, exclusive resorts, and distinguished spas, inns, and bed & breakfasts. Specializing in servicing the luxury market.
They now offer the highest quality retail products to you! They combine health, beauty and well-being into every product they make
They ship to the USA, Canada, UK and Europe.
.
Shop Today!
Eco Friendly Gifts
They offer many gifts, and gift baskets, that are sure to sooth the soul, as well as warm the heart, of your gift recipient.
Great gifts for any occasion! Shop Gift Tree!
View all of Gift Tree's great gift offerings here!
Gifts That Make Her Feel & Look Beautiful
No other retailer provides women with all of the necessary accessories that they need to achieve a sense of calmness, peace, and beauty . Soft Surroundings is a world of pure relaxation for the body and soul. With skin-saving beauty care, beauty & fragrance, music, and more!
They ship within the USA.
Shop Soft Surroundings Beauty
Serenity & Stess Relief
You will find find some of the most extraordinary, beautiful, relaxation and stress relief products anywhere. They offerrelaxation products, stress relief products and feng shui fountains including a large selection of water fountains, wall fountains, patio furniture, natural awakening alarm clocks, hammocks, wind spinners, engraved stones and more that will truly calm, relax and bring serenity into your life.
Shop Now!
Candle of the Month Club Gift

The Candle of the Month Club is gift they'll enjoy time and time again! Each month they deliver a selection of two highly-scented, specialty candles - one standard pillar and one large pillar - each carefully chosen for its beauty, seasonality and intoxicating aroma. Each monthly selection is hand-crafted by skilled artisans and candle makers and is specialty-poured with premium waxes and fragrance oils for a slow, clean burn with long-lasting aromas and maximum sensory effect.
Candle of the Month Club - FREE SHIPPING! - Shop Now!
Hand Made Candles
They offer wonderful perfumes, but you can also choose from a wide selection of hand made scented candles. Scented candles give us the power to take control of our surroundings, creating the atmosphere that will lift us up or help us relax.
Find Candles at Discounted Prices at ThePerfumeSpot! - Shop Now!
FTD Fields of Lavender
This lovely Spring Gift Basket evokes fragrant fields of lavender and relaxing afternoons at the spa. A beautiful white slat basket holds everything needed for a perfect spa and tea getaway. This special gift includes: A box of Tazo Passion tea, lavender shower gel, soothing lavender body lotion, a luxurious lavender bath bar, Refreshing Lavender body mist, loofah, a candle, Godiva wrapped dark chocolate Truffles and Lacey's toffee cookies. This gift is soothing and sensational!
Warm Whiskers Small Microwaveable Bunny Slippers with Lavender
A warm and fuzzy fun gift she will love!
FTD Orange & Grapefruit Spa Sensation
Send Springtime wishes for ultimate relaxation. This colorful gift will transport you to a Spring orchard full of citrus delights. This natural faux-wood basket overflows with fresh navel oranges. Immerse yourself in a citrus spa with Grapefruit and Orange fragranced soap, all over body moisturizer, and bath & shower gel that will refresh body and soul. Sip a glass of mixed citrus tea and finish off the experience with shortbread cookies with just a hint of sweet orange. It's the perfect Spa gift.
FTD Orchid Sensation Spa
Make someone special on your list feel beautiful with the scents of vanilla orchids. This floral-inspired basket is filled with spa products to please, including: body butter, body lotion, shower gel and body soap, together with a shower loofah, Springtime floral box of snickerdoodle cookies, soothing tea and a body loofah. Pamper someone special!
Cozy Comfort Spa Blanket
This microwavable Cozy Comfort Spa Blanket will wrap you up in delicious aromatic warmth, while you snuggle in its cuddly comfort. Filled with peppermint and lavender flowers, this blanket releases delicious aromatic warmth to uplift and delight your senses. Let the warm heat therapy penetrate into sore, tight muscles. Chill in the freezer and let the cold therapy soothe a sports injury or cool you down on hot summer days.
Honey Spa Treatment Gift Basket
Give the gift of pure relaxation with this exquisite collection filled with upscale honey-themed products so luxurious that they rival the offerings in the most exclusive spas. Gift Includes: Golden Bee Lavender Filled Eye Pillow (Microwavable) Bee Shaped Luxury Bath Beads Beeswax Candle Spa Care Accessories: Body Massager, Hair Brush, Nail Brush, Pumice Stone, and Bath Sponge Royal Jelly Soap, and more Features: Items are packaged in a gorgeous suede keepsake hat box This gift contains all-natural products These products have been featured in InStyle, Oprah, People, and Vogue Gift arrives decorated with a satin ribbon with optional personalization
The Menstrual Cramp Relieving Compression Belt - She will love this & make here feel so much better!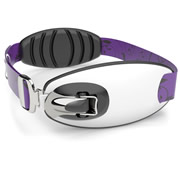 This is the compression belt that provides relief from menstrual discomfort in minutes without medication or hot water bottles. Invented by a chiropractor who treats elite female athletes, the ingeniously simple device requires no electricity or batteries. After fastening the belt, the user simply lies on her side and uses an adjustable mechanism to increase the tension of its two compression pads against the hips. By placing steady pressure in this area, the belt relaxes tense pelvic ligaments that can tighten uncomfortably during a woman's menstrual cycle, thereby reducing or eliminating abdominal and back pain. A fifteen-minute session provides hours of relief and can be repeated as often as needed. The adjustable belt fits most sizes and comes with a fabric drawstring storage/travel bag.
FTD Amber Soothing Spa and Gourmet Basket
The Amber Soothing Spa and Gourmet Basket is a perfect way to tell those you love that they are special! This luxurious basket features a box of soothing Davidson tea, organic hard candies, organic roasted almonds, and a beautiful ceramic mug. Also included: Be Well organic spa products including massage oil, hand lotion, body moisture cr?me, body soap, and a loofah. Ahhhhh....
Spa Booties with Lavender Aromatherapy Gift Set
Treat your feet to instant, soothing warmth made even more enjoyable by lavender aromatherapy. These luxurious spa booties are perfect for the aches and pains of daily life. The secret lies within the lavender-filled inserts. Once warmed in the microwave, the inserts provide up to 45 minutes of toasty warmth and fragrant lavender scent. Combine the booties with the optional basket of aromatherapy essentials, which includes Lavender Shower Gel, Hand Cream, Bath Bar, and a loofah, for a full spa experience. Perfect for an instant pick-me-up.
Multi-tier Large Rock Pond
This Multi-Tier Rock Pond Fountain is beautiful with the lights illuminating the stone-like waterfall.? This fountain is constructed of fiberglass, giving it the look of natural stone with the strength
Teardrop Candles - Short
Each short teardrop candle set is a color theme of 3 candles with 3 different but related colors,with stunning crackled textures. Hand made from high quality, slow burning waxes.
The Human Touch Massage Chair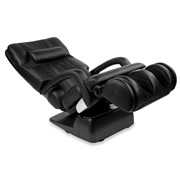 This massage chair's two-pronged rollers replicate a masseur's index finger and thumb as they grasp, kneading your neck, shoulders, and back for the most faithful robotic recreation of actual human hands. The rollers automatically reposition to accommodate users of all sizes, contouring to your back to target acupressure points, ensuring the most precise and effective mechanical massage available. Recommended by the American College of Chiropractic Orthopedists, the leather chair elevates your feet above your heart--a supine seating posture identified by NASA as being the least stressful for astronauts during take-off--while relieving stress on the back and facilitating oxygen and blood flow throughout the body. The leg rest rotates to reveal a calf and foot massager with two wells that expand and contract to accommodate all leg widths. For a less intense massage, heated air bags in the backrest expand to cushion your back against the rollers and improve blood flow to the back muscles. The memory foam seat pulsates to soothe the sciatic nerve and upper hamstrings, the headrest contours to your neck, and the tethered remote allows you to select eight different massage programs, adjust the chair's positioning, and choose massage intensity.
The Optimal Intensity Light Therapy System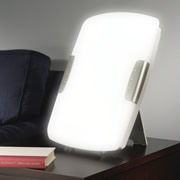 This light therapy system delivers the optimal 10,000 lux of therapeutic light to counteract the effects of fatigue, jet lag, and Seasonal Affective Disorder (SAD). Just 30 minutes in front of this slim box--rather than hours spent with lesser units--provides daylight spectrum light in the amount recommended by the National Institute of Health to block the release of melatonin, a sleep hormone. With less melatonin, people find they have increased energy levels and alertness. The light uses two special 36-watt fluorescent bulbs rated for 10,000 hours, electronic ballast to ensure buzz-free operation, and flicker-elimination technology that prevents electromagnetic fields so it can be placed near computers and video equipment.
Tranquil Moments Advanced Sleep Sounds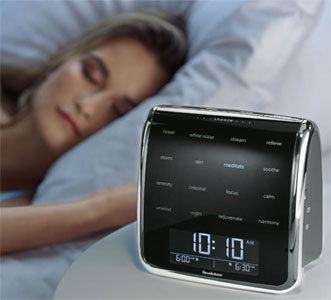 Let Tranquil Moments help you get a great night's sleep. 16 digitally mastered sound programs designed to help you sleep, relax and renew. Exclusive Sleep Enhancement Technology gradually slows playback speed of each sound program over a 30-minute period to gently lull you to sleep.
Aromatherapy Neck Wrap Animal Pillow
Filled with the finest natural herbs, these ultra-comfortable neck pillows release soothing, aromatic fragrance while providing relaxing warmth. Heat therapy may be used to help ease muscle tension, stress, headaches, arthritic pain, or simply provide relaxation at the end of the day. To use, microwave the entire animal pillow in one minute intervals until the desired temperature is achieved. Your choice of pillow design makes this a great gift for your favorite animal lover or anyone who needs natural pain relief. Each pillow measures approximately 14'' x 4''. Outer animal shells can be removed and are machine washable.
Around the World Exotic Tea Collection
A globetrotting adventure awaits the recipient of this boxed collection of 12 international teas. Each tea is hand-selected by tea experts who visit the growing fields, inspect the working conditions of the laborers, and ensure that the teas are both of the highest quality and representative of that culture's unique tea-making tradition. The teas are packed in illustrated vials, each brewing a six-cup teapot. Also included is The Theophile Guide, a 128-page book providing a tour of the planet's great tea-drinking civilizations.
The Ultimate Facial
The name says it all- experience for yourself, the Ultimate Facial! Get out-of-this-world results with a series of cleansing, steaming, exfoliation, extractions, micro-dermabrasion, customized serums and unique envelopment mask, all designed to increase elasticity, clarity and health. We will conclude this experience with a lip and eye revitalizer as well as a hand and foot massage.
The Reflexology Foot Massager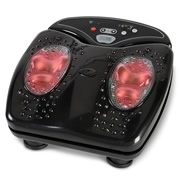 This is the reflexology massager that uses soothing infrared heat and invigorating vibration to stimulate pressure points on the feet, melting away pain and soreness. The device sets up like a footrest at the base of any chair and is activated with a convenient remote control. The molded footbed has 112 nodules strategically placed on its surface that target reflexology points to rejuvenate tired feet and loosen knots. While the high-frequency vibration penetrates tense muscles, the warmth can boost circulation and ease stress. It comes preprogrammed with relaxing 5-, 10- and 15-minute sessions, or users can manually select from 12 vibration speeds (from 2,000 to 2,500 rpm) and eight levels of infrared heat. Flexible rubber feet on the unit's base provide stability and prevent marring of floors.
Organic Spa Basket
Help them to achieve the harmony and well-being they so deserve with this complete spa experience. Relaxation and cleansing await the body with Organic Rosemary Mint Body Cream, Earth Gems' Ginger Leaf & Palmetto Bath Salts, Wild Mint Lime Wholesome Bar Soap, and all-natural bamboo linens. Recipients will sip The Republic of Tea Fair Trade Certified Teas and Serenity Herbal Tea from a unique ceramic mug. A jar of healthy and delicious Orange Blossom Honey is included to perfectly complement the tea. Finally, a boxed set of beautiful nature-inspired stationary will allow them to write down their innermost thoughts or correspond with friends.
Quartz Crystal Lamp
So romantic, and soothing. When illuminated, the quartz crystals of this petite spiky orb gleam and glow. 8-20mm. Sustainable pine wood base.
Single Crystal Wind Spinner
The hand crafted copper plated Single Crystal wind spinner will keep you mesmerized. As the outer copper spinner spins, the inner crystal ball also moves. Even a small breeze makes it all spin and dan
Flowing River Copper Tabletop Fountain
In this magnificent tabletop fountain, the water flows out of the copper spout, onto 3 levels of slate, and tumbles into the pool of water (with colorful stones) in the copper basin.
Amazing Grace Engravable Wind Chimes
These delicate wind chimes play the first six notes heard in the opening measures of ''Amazing Grace,'' one of America's best-loved hymns. The wooden wood catcher is personalized with a name, date, or message. As the evening breeze caresses the wind catcher, the recipient can revel in the memories the beautiful melody brings to mind. The wooden parts of the chime are made of laminated bamboo for long-lasting, weather-resistant durability.
The Stress Minimizing Inversion Chair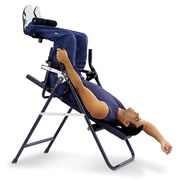 This is the inversion chair that avoids placing stress on the hips or knees, unlike other models that tug and pull on joints. Helping to alleviate back pain by decompressing the spine, inversion therapy relieves pressure on nerves and realigns the ligaments that support the back. The chair provides a maximum inversion angle of 70\u00B0 while you are held safely in-place by a lap belt, placing the knees above the hip flexors in a more ergonomic position that eliminates the need to hang completely upside down by the ankles, resulting in less stress on the knees and hips. The chair also enables you to perform a variety of back-strengthening exercises, such as crunches, oblique crunches, and v-ups. The padded handlebars, chair's backrest, knee, and ankle supports adjust for comfort. Its durable powder-coated steel frame supports up to 300 lbs.
Quick Links to Other Pages of Gifts For Someone Who Has Everything