Find A Fun Gift For The Woman Who Has Everything
Fun gifts are the kind of present that will not only make her happy but will also let her know that you really know, or you are trying to understand who she is. Any of these will say you understand what she likes, her passions and her quirks. A fun gift also tells her you really care about who she is.
Some of what we have listed are wildly extravagant, while others are more suitable as an extra gift. I have covered them all here. These will make wonderful gifts for her birthday, anniversary, Mother's Day, or just to let her know you are thinking of her.
I am a woman and have personally picked these gifts for anyone looking for fun gifts for her (yes, you can buy her more than one :-) Whether you are looking for a fun life experience gift, fun bling gift, fun jewelry gift, wild adventure gift, unusual clothing gift and more, you will find a unique fun gift for her right here.
Lacy Ruffle Scarf
Any way you style it, this dainty, hand-knit Lacy Ruffle Scarf plays to every woman's softer side. Squish-ably soft, yet restored with a fluff, its incredible lightness of being will take you anywhere. 100% acrylic. Handmade in the U.S.A.
Sasquatchfabrix Black Opaque Slit Punk Sunglasses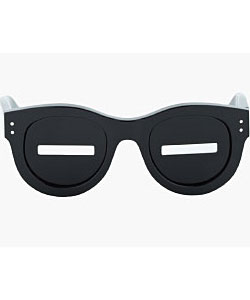 Opaque plastic rounded wayfarer_style sunglasses in black. Silver tone hardware. Thick frame. Rectangular slits at opaque lenses. Logo print at temple interior in gold.
Leopard Print Handbag Mug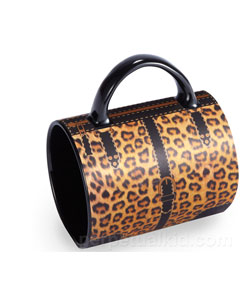 This stylishly-printed mug is perfect for the purse and coffee lover who has everything! Turn the mug on its side and it looks like a really cute handbag!
Ceramic. Dishwasher safe.
Kiss Me Shoe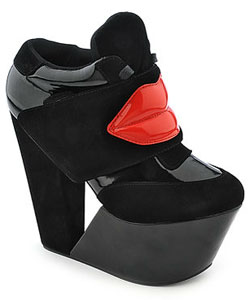 A sneaker wedge that is sure to make a statement where ever she is from the Privileged collection. The Kiss Me wedge features a patent and faux suede upper, round toe front, lace up shaft along with a thick velcro strap for a snug fit with an added detail of red lips. Patent/Faux suede Round toe front Lace up shaft Thick velcro strap Lips detail on strap Cut out wedged heel Padded collar and tongue Platform height: 3 in. Heel height: 6 in.
Cookie Bouquet Gift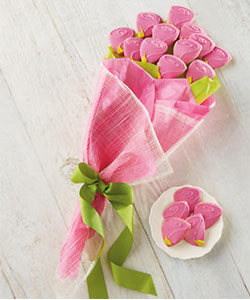 Some people think the way to a woman's heart is with roses. Other people think it's sweets. We think it's both. This unique cookie bouquet is made of a dozen handmade sugar cookies arranged in an elegant wrap and finished with a hand tied bow. Each cookie is hand decorated with gourmet frosting to resemble a pink rosebud. Roses and cookies. Can't go wrong.
Tayla Multicolor Print Key Ring
Bring a touch of sunshine and playfulness to your set of keys with this vibrant key ring! Fresh and summery, it features a multicolor printed calfskin tassel with a Fuchsia Crystal Mesh cap. A stainless steel ring and Swarovski medallion finish this on-trend design.
Golden Shades What Fun!!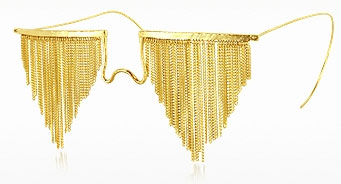 Gold plated bronze eye wear piece with fine detail. Handmade. A truly unique imaginative design.
I so want these!
Shop These Incredible Shades Now!
Make-Up Lesson & Application
Learn from a professional make-up artist the basics of make-up that will make your face shine in any occasion. You will learn how to choose the right make-up for any time and any place. Your specialist will teach you the proper application techniques and which colors work best for your skin. Experience a glowing beauty day and night as you learn the basics of make-up!
Design Lengths Remy Straight Clip-In 18" Light Blonde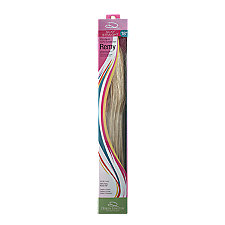 Design Lengths Remy Straight Clip-In 18" are made with 100% Remy Human Hair. Snap them in & out of natural hair for added length and volume in just seconds. Design Lengths Straight Hair Clip-in Extensions allow you to add length and volume with ease. Match to your own hair color or mix a different color to create highlights.
Tracey Multicolor Print Tablet Zip Case
Vibrant and summery! Designed for the iPad® , this zip case features Swarovski'™s exclusive tropical pattern on printed polyester satin adorned with multicolor crystals. It comes with a wristlet strap in fuchsia calfskin, purple faux fur lining, and a stainless steel Swarovski medallion. iPad® is a trademark of Apple Inc. Dimensions: 1 1/2 /8 / 10 3/8 / 3/4 in x in
Koolaburra - Zola (Women's) - Chestnut Leather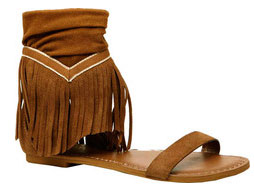 Zola is a zip-back scarf sandal with suede and fine fringe detail. Available Colors: Black Leather, Chestnut Leather.
Disguise Me Sunglasses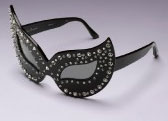 This ultra cat eye shaped frame in black acetate comes with a solid grey lens and is adorned with stainless stell stud detailing. A guaranteed showstopper, the 'Disguise Me' sunglasses are perfect for poolside glamour and night time adventures. This style features a UV 400 protection filter.
Stained Glass Butterfly Umbrella
Rain-or-shine portable art inspired by a Louis Comfort Tiffany art glass lamp shade. Sturdy fiberglass ribs, polyester pongee, auto open/close.
Leopard Beach Towel (Pink/Black)
Indulge in pure luxury and holiday in style with this super soft cotton beach towel. Featuring a black leopard print on a pink background and red logo embroidery. The measurements of the towel are 102cm x 178cm.
Tampico Multicolored Pierced Earrings
This on-trend pair of pierced earrings offers two different looks in one! Each one features a real, bright fuchsia feather and a smaller feather in rhodium-plated metal decorated with colorful crystal pavé. The real feathers are removable.
Little Black Dress Jewelry Organizer
Hanging double-sided polyester dress-shaped organizer features one side with 24 Velcro® tabs to hold necklaces, pendants, scarves, headbands, belts, etc.; and the other side with 39 clear plastic pockets for earrings, pins, bracelets, watches, hair clips, etc. No more searching through drawers or jewelry boxes--everything is visible and accessible.
Weightless Flight
Your heart beats a little faster in anticipation for the plane's first arc...the countdown begins...5...4...3...2...1... "Welcome to zero gravity" says the pilot...Slowly you feel your legs and arms start floating up. Then your entire body follows and you can't help the fact you're smiling like a little kid. You are completely and totally weightless experiencing zero gravity. You work your way over to the front of the plane and then push off to fly through the cabin like Superman. Regaining control you pick-up a water bottle and give it a squeeze. The liquid balls up and dances towards your face but you're laughing so hard it's hard for you to catch it in your mouth.When your flight lands - you're still all smiles as you tell the stories of flipping, turning and floating around in Zero-G.Truly incredible.
The Hanging Cocoon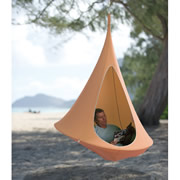 This is the hammock that cocoons its user within a private suspended sanctuary, ideal for reading, relaxing, or reflecting. Inspired by the hanging, tapering nests of weaver birds, its semi-enclosed design provides a haven for children and adults alike who enjoy solitude while engrossed in a story or replenishing the spirit. Supporting up to 440 lbs. when hung using the included 15' nylon rope and steel carabiner, it is equally at-home in a backyard, woods, beach, office, or den, and is currently enjoyed in luxury spas in England's West Country. An eight-section aluminum ring that assembles in minutes forms the hammock's circular base. The shell is a 350-gram cotton/polyester blend—the same material used to cover an ocean-going yacht's sails—providing the soft feel of canvas with the durability of a technical fabric. Treated with polyurethane for water resistance, the shell also provides UPF 50+ sun protection.
Love Moschino Saffiano Eco Leather Wallet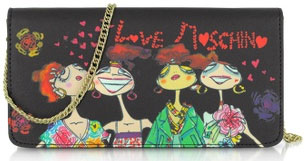 Love Moschino fashionistas adorn this bright handbag and wallet and let her carry only the necessities. Ample space for cash, credit cards and change. Detachable chain shoulder strap.
Gold and Black and White Diamond Mini Lips Earrings
You can kiss her ear lobes, and she will love these gold and black and white diamond mini lips earrings. One earring features white diamonds and one earring features black diamonds. It's a versatile look she'll reach for over and over again. Earrings have a post closure
FTD Monthly Orchid Plan - She will love this & what fun to receive every month!
This monthly Orchid program makes an impressive gift. They have selected only the best growers who take great pride in demanding only the finest orchids for you. Your recipient will receive their first bouquet with a classic glass vase on the delivery date you select. Future bouquets will be shipped via FedEx next day service in the third week of the following months. January - Candy Stripe, 10 stems (purple )February - Mokara, 7 stems (yellow) March - Jade, 10 stems (green) April - Calypso, 10 stems (fuchsia )May - Jaguar, 10 stems (pink) June - Wonder, 10 stems (white )July - Madame, 10 stems (purple) August - Red Lip, 10 stems (purple) September - Twilight, 7 stems (orange) October - Mistine, 10 stems (lavender) November - Annie Black, 10 stems (reddish-brown) December - Dendrobium, 10 stems (white)
Biker Babe Garden Gnome
Great Outdoor Statuary! Rev up your garden or porch with this rough and tumble gnome, decked out in biker gear and shades! Our Biker Babe packs a lot of attitude and is covered with fun details like her bustier. A perfect gift for bikers! Made of painted resin and are suitable for indoor and outdoor display. 15" tall.
Love Letter Necklace
For the Incurable Romantic. Everyone adores a love letter. As a gift to or from someone you love (or even to yourself) it is a tender gesture to cherish for a lifetime. Hidden inside the envelope pendant of this Love Letter Necklace is a removable note with this quote from W. Shakespeare: "My heart is ever at your service." Sigh. This dreamy American design is artisan crafted by master silversmiths.
Black Sasha Wrap Bracelet
No trend is hotter than wrap bracelets - and this black Sasha wrap bracelet is so gorgeous that it's bound to quickly become your favorite piece. Between the two faux snakeskin straps sits a strand of feminine gold chain.
Womens Delight - These are incredible shoes!
The Delight-676 d-orsay style platform by Pleaser features a pleatedsatin upper with a PU base, ribbon accents with ruffle lace trim,adjustable ankle strap, 1 3/4" platform, and a 6" stiletto heel.
I Love You Because Inspirational Stone Set
The I Love You Because Inspirational Stone Set is a simply fantastic way to capture your beloved's heart, setting the tone for love and romance. 6 Polished stones arrive in a velvet bag, each engraved with "I love you because.." on one side and one of the following on the other side: "You are so giving", "You are an inspiration", "I just do", "You rock", and "of your great smile". The gesture of this gift will create a moment they will always cherish, giving them a keepsake they can hold onto throughout the good times and difficult ones, making this a great gift for anniversaries, weddings, or engagements.
Bottle Babe Wine Cover Leopard
Slip a fancy sleeve over her bottle of wine (or liquor) and turn it into a fashionista.
Shoe Fuchsia Silver Flap Card Holder
Perfect for carrying credit cards, business cards, or travel tickets! This fuchsia and silver calfskin design features a ballerina shoes motif adorned with Crystal Silver Shade. Inside is a flat pocket, gusset pocket, and transparent pocket revealing a fuchsia Swanflower® pattern lining.
USB Heart, Indian Siam
Trendy and innovative, this funky accessory is both a necklace and a USB key! Hanging on a stainless steel chain, the red silicon heart holds a heart-shaped USB key embellished in 54 Indian Siam crystals. For the perfect romantic gift, why not save a special message or photo on the 4GB USB key?
Laptop Skin (High Gloss Finish) - Black Lace Flower
You can get these skin for other devices too!
This skin will protect her devices with style. Manufactured in the USA, these skins feature full-color digitally printed artwork on adhesive-backed vinyl that applies with no bubbles and can be removed without leaving any messy residue.
Romantic Fuchsia Smartphone Case
Keep your iPhone® 4S safe and trendy in this fuchsia calfskin case! It features a heart motif embellished with sparkling Indian Pink crystals, and makes a greatgift. iPhone® is a trademark of Apple Inc.
Peace Love World I Am Love L2L Sweatpants in Berry
The Love motif wraps around the side and an inspirational Love quote sits at the center upper back.
Set of Three Pearl, 1.70ct t.w. Multi-Gemstone Rings in 18kt Over Sterling
An RS exclusive. Geometric trio features a .60 ct. white topaz, a 1.10 ct. morganite and a 6-6.5mm cultured freshwater pearl. Textured 18kt yellow gold over sterling silver rings.
e.l.f. Studio Complete Set of 3 Makeup Palettes

She can become her own makeup artist with the Complete Set of 3 Makeup Palettes! These convenient and complete makeup collections for your eyes, lips and face al
White and Black Diamond Cat Pendant Necklace - This is so cute and a great gift for a cat lover (like me)!
Listen for the cats meow with this black and white diamond pendant in 10 karat white gold with 1/3 carat of bold black and sparkling white diamonds. This animal cat pendant includes an 18 inch white gold chain.
Westbuitti Mini - She can wear this inside our outside & are so much fun to wear!
Refresh your style with this cool and hippie rounded toe bootie. It features a combination upper, double layer fringes and fun patterns on the top. Available Colors: Black, Wine, Blue, Orange, Mustard.
Breakfast Club - May - 3, 6 or 12 Months
What's for breakfast? Check the calendar. With monthly arrivals of favorite breakfast treats, it's sure to be delicious. It's true that nothing starts the day off better than a satisfying breakfast, so why not send the best? Our Breakfast Club delivers the quality to satisfy the most demanding tastes.
Tayla USB Key Ring, Silver Shade - Great key ring with a purpose - she will love that!
With a mega-trendy tassel silhouette, this must-have accessory is both a key ring and a USB key. It glitters in Crystal Silver Shade Mesh and silver calfskin on a stainless steel key ring. The tassel can be removed to reveal an 8 GB USB key.
ZAD Feather Chain Dangle Hairclips - The new trend in hair flair!
"Hair clip 12 long It features a graduating link chain with brown and black feathers Natural spiked feather dangles Gold metal hook entry" - Be sure to give her more than one so she can make a bold statement!
'Party Like An Animal' PJ Bottom - pure fun!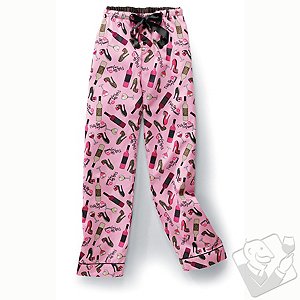 Uber-hip in a witty 'party animal' leopard stiletto and bottle print. Comfy in the softest cotton sateen with a satin drawstring closure. Made for long winters nights cozy catnaps lazy Sunday mornings and fabulous stocking stuffers.
Gemstone pyramid, 'Empowered' (Peru) - An artisan gift that she will love.
Sculpted of semiprecious gems, the classic pyramid takes on extraordinary beauty. Cesar Gonzles presents the polished statuette of black onyx, serpentine and chrysocolla. He adds aragonite and white calcite along with leopard jasper to this gemstone sculpture.
Hello Kitty Gothic Pierced Earrings - These are so much fun!
This sparkling pair of ruthenium-plated hoop earrings features a dangling 3D Hello Kitty. With a moving head, she sparkles in clear crystal Pointiage® and wears a new black outfit.
Galaxy Leggings - I have so many tops I can wear this with and I bet she does too!
This set of tights features an all-over print of a false-color image of space. The location of the print will vary depending on what piece of fabric your tights were cut from, but we promise there will be no moons on the butt. 90% nylon / 10% spandex. Opaque. One size fits many bipeds.
FEATHER MINI SKIRT BLACK- Oh Yah Fun!
FEATHER MINI SKIRT BLACK
Private Yoga Class - Great for all of us!
Private yoga classes are a great way for her to focus on her mind, body and soul. This session will teach her various stretching techniques and methods that will allow for increased flexibility and complete connection with her entire being. Her instructor will suggest a desired yoga variation that will give her maximum benefits by focusing on her specific needs. After completing the session, she will truly embrace the benefits of this wonderful practice.
Belly Dance Skirt (You can get her the top too!)
The Rhythm Method. What whirling dancer would be caught without her finger cymbals? Antiqued brass with elastic loops slip onto thumb and forefinger and adjust to fit.
Rhinestone Leggings
Exclusive! Floorshow Bling! Guaranteed to catch the eye, the sparkle and glitter of hundreds of rhinestones make these the flashiest leggings ever. Elasticized waist. Cotton/spandex. Machine washable. Made in USA.
Flower Girl Vase Large
Whimsical Flower Girl Vase is designed by Fred Garbotz. Vase is made of marine grade brushed/textured aluminum with a glass holder for flowers.
Rykiel Writing - Soft Glasses Case
She can store her favorite pair of glasses in a stylish soft case from the Rykiel Writing collection decorated with crystal outlined frames. The detachable strap measures 82cm. Signature dust bag included.
Bling Strands 25 Strands 18"
Bling Strands 25 Strands 18" are the ultimate hairstyle accessory. Sparkle, Shimmer and Shine with a simple knot! A great stocking stuffer for her to wear on Christmas Day and/or New Year's Eve!
Leopard Sequined Cap
Take a walk on the wild side. Our zebra- and leopard-print caps and sneakers are extra special—theyre crafted of glistening sequins. Theyre also available in classic black to go with any outfit or to mix and match. The cap features hundreds of sparkling sequins sewn onto 100 percent polyester with a cotton-twill lining and an extra-wide brim. The shoes have a 100 percent cotton lining, nonskid rubber soles, and bow accent. Imported.
Crystal Stickers, Symbols (5)
Perfect for decorating your phone, bag, or notebook! This set includes five individual crystal stickers in three different patterns (2 stars, 2 hearts, and 1 skull). Each sticker features a large number of tiny, faceted clear crystals and is very easy to apply.
Spider Web Apron
Walk into My Kitchen. Tempting cuisine becomes even more so, served in this spidery apron! Three layers of netting have silvery, foil webs and spangles. 100% polyester. This is the only apron I would ever wear!
Leopard Print iPad Case
Genuine Juicy Couture. Love it!
Tranquillity Pendant Necklace
The simple elegance of an oval crystal hung on a silver-plated with gold accents creates a casual tranquility that will become a center-piece in her wardrobe. Signature box included. MADE WITH SWAROVSKI® ELEMENTS
Hello Kitty Gold Bow Card Holder
This glam design is a must-have for fashionistas and Hello Kitty fans! Embellished in Jet Hematite Crystal Mesh, it shows an abstract interpretation of the iconic character™s face with a gold calfskin bow. Lined with the Swanflower® pattern, the inside reveals two flat pockets.
ASP Confetti Collection Kit - Nail Art
ASP Confetti Collection Kit is a professional acrylic glitter kit. Eight eye catching glitter/confetti colors. Easy to Use. Step by Step instructions
Litternere Jewelry Stand
A ladys maid so devoted, she serves from beyond tbe grave! Poised to assist, this skeletal, antiqued-pewter hand displays her favorite rings, pendants, and necklaces for easy selection. Handcrafted in UK. 6 high.
Couples Wine and Painting Class
Is your dating regiment stuck in a rut? Dinner? Movie? Why not experience something fun and different with a romantic wine & painting class for couples! Enjoy the calm of candles, wine, rose petals and creative expression with a romantic date night to remember. You and your date will be guided by an expert art instructor as you choose an image that is meaningful to both of you. You'll learn a variety of painting techniques such as color mixing, texture use, composition, and most importantly how to feel inspiration while you joyfully express yourselves together through art. So come relax, enjoy a bottle of wine and create a masterpiece together on a date night to remember.
Womens leopard print high heel pumps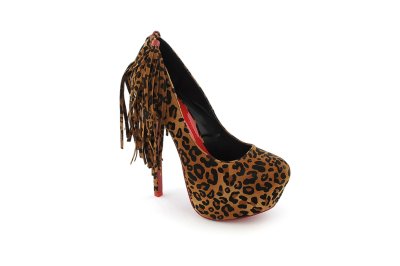 Add a dash of sass to any outfit in these leopard print high heel pumps from the Shiekh collection. Pair the 059 with a lace bodycon dress. Vegan suede Fringe detailing Almond toe front Cushioned insole Hidden platform Heel height: 5 ¾ in. Platform height: 1 ¾ in.
Blue Light Tutu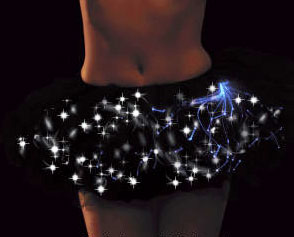 Tutu Much! Blue lights!? Absolutely! Sprinkled across this tutu, fascinating fiber optics put on a light show for dancing in the dark. Elasticized waist. Includes 2 AAA batteries. Concealed on/off switch. 100% polyester.
Sparkling Wine Charm
It's time to celebrate! This chic gold-plated charm sparkles beautifully in Crystal Golden Shadow and clear crystal pavÃ. Embellished with a delicate star, it evokes parties, friendship and special moments in life. The perfect gift for any occasion!
Undula Vase
Hand blown glass
Make The Kitcken More Fun!
Flirty Aprons
Their Women's Aprons are perfect to help today's woman accomplish her daily activities while keeping her clothes clean. But more than that these aprons have style, and make her feel beautiful. They offer vintage apron designs, classic sexy aprons in pink or floral patterned feminine aprons.
Check this out as a beautiful and fun gift!
Shop Today!
Blow Your Troubles Away Bubble Wand
Gift Tree
Help someone special to ''blow their troubles away'' with this solid pewter bubble wand that can be used to blow real bubbles. Each bubble wand is a beautiful, hand-crafted keepsake that the recipient can cherish forever. Inscribed with writing on either side, the bubble wand is the perfect gift for those who deserve a moment of carefree happiness and fantasy.
Motorcycle School
Cloud Nine Living
A professional training staff guide her to new levels of riding that she never thought were attainable. During this one day school she will learn all the basic skills necessary to ride on the track in the safest and most fun way possible.
Private Dance Lessons
Cloud Nine Living
Dancing encompasses so many essential elements of life from freedom and passion, to creativity and more! Embrace those musical moments and dance with confidence, style and a smile. With the professional guidance from our experienced dance instructors you will work on rhythm, body structure, foot placement and overall technique.
Fashion - Diamond 18K Gold Charm Ring
Orlandini's Fashion ring in 18K yellow and white gold features stunning diamond encrusted, petal-like dangling charms (0.61 ctw) for a glamourous and elegant look. Signature gift box and Certificate of Authenticity included, Made in Italy.
Venetian Carnival Mask Ring
Pyramid Collection
The Mask. Symbol of Italy''s yearly Carnival of Venice, the traditional festival mask assumes the form of an antiqued-pewter ring-richly enameled and sparkling with faceted Swarovski crystals. Crafted in UK.
The Royal Champagne Gift Basket
Celebrate any special occasion in regal style with the exquisite combination of fine Champagne and award-winning foods. Your choice of Moet & Chandon Imperial Champagne, Dom Perignon, or Louis Roederer Cristal Brut will arrive beautifully presented with rich Moonstruck Chocolate, Raspberry Tea Cookies, Godiva Chocolate Covered Pretzels, Spicy Snack Mix, Roasted Almonds with Sea Salt, and more in a stunning, handled tote. Simply divine. Please view the ''What's Inside'' tab for more information. This gift does not include Champagne flutes.
A Fun Fashion Statement
Tattoo Sales
Does she long to have a tattoo but doesn't link needles - or doesn't really know which type of tattoo she wants so steers away from a permanent tattoo? Temporary Tattoos
offer thousands of temporary tattoos that are completely safe, non-toxic and hypoallergenic.They feature a wide array of temporary tattoos including Marvel, Ed Hardy, Glitter and Henna. You can purchase instock tattoos or create your own custom tattoos as gifts. They also offer a selection of bellybutton rings, What a great fun gift for her! Free shipping too!!
Shop Now!
Arabian Nights VIP Dinner
Cloud Nine Living
Staged in a 140,000 sq. ft. dinner attraction with the world's largest indoor climate-controlled equestrian arena, this mesmerizing production is an oasis in the midst of animatronics and theme parks. Arabian Nights features 65 horse stars and 30 dazzling performers and was voted Orlando's No. 1 dinner attraction. During your VIP Experience enjoy a behind-the-scenes look at Arabian Nights. Pet the horses, tour the stables, and ask questions and get autographs from the performers. The VIP Experience also provides preferential seating in the first three rows and a free beverage in the VIP reception area.
I'd Love This
Monthly Dinner and a Movie Club

Gift!
Amazing Clubs
The Dinner & Movie of the Month Club is a gourmet gift she'll appreciate, and anticipate, month after month! Every month they deliver a delicious Italian-themed dinner including a premium pasta and specialty sauce. Then, to top it off, they include a Blockbuster gift card good for a free movie rental and a selection of gourmet popcorn to enjoy with the show! Their gourmet dinners will serve 2-4 people (depending on appetite) and each new delivery will also include an informative newsletter with recipe ideas created specifically for that month's meal. They offer 3, 6, and 12-month clubs and a Dinner & Movie of the Season Club with new selections each spring, summer, fall and winter.
They also offer many more monthly gift clubs. A fun gift that keeps on giving!
Shop Now!
Give Her Dazzle!
BodyCandy is one of the largest sellers of Body Jewelry on the Web. Their selections include premium items such as Gold & Titanium Jewelry, as well as being an authorized seller of licensed items such as Playboy and NFL Body Jewlery and Italian Charm Bracelets.
Bridge to Nowhere Bungee Jump
Cloud Nine Living
Imagine standing on the edge of a bridge with steep canyon walls rising above you. Looking down at the raging water ten stories below, your palms begin to sweat, your throat becomes dry and your heart beats so hard you feel it through your chest. This is Bungee Jumping.You'll start your day out with a scenic 5 mile hike along a sparkling mountain river as you wind through the beautiful Angeles National Forest. The hike is of moderate difficulty and takes approximately 2 hours in each direction. Once you reach the bridge, you'll relax for 15 minutes or so and then you'll go through "jump school" for about 30 minutes. Then it's on! Starting with the lighter weights, the bungee jumping begins! Once you've jumped you can head on out, or hang out and swim by the river. Join us for this all-day adventure that encompasses more than just bungee jumping, it is an incredible day to truly enjoy the outdoors
HipHop Bling
Hiphopbling has been a leader in online Hip Hop Jewelry for over 5 years. They offer over 1100 unique Hiphop jewelry products including grillz, watches, dogtags, pendants, rings, bracelets, earrings and more.
Shop Now!
If you are having trouble finding a gift for your woman who has everything drop me a note on live chat or if I am online you can ask me directly. You can also email me and I would happily help you find that perfect present!
Quick Links to Other Pages of Gifts For Women