Preakness Stakes
Just shy of a mile and a quarter, the Preakness Stakes thoroughbred race never disappoints. The world's top horses take center stage for a chance to be a part of history. Your Preakness packages includes:Two nights double occupancy hotel accommodationsTwo Clubhouse box seats to the Preakness StakesRound trip airport transfers and daily breakfastTwo Preakness Stakes gift bagsOn-site staff to facilitate all aspects of the trip
Amargosa Dune Adventure (for 4)
Amargosa means 'Big Dune' and they are so steep and so tall that you're not likely to get to the top of many of the larger dunes here, but we know you'll have fun trying!This is a free roaming adventure where, after learning how to drive the buggies and to properly navigate the sand dunes, you will given free reign to go for it and explore all on your own. Our staff stays on site and is there to assist whenever needed and to make sure you're having a safe adventure.With peaks of over 500 feet, these are the tallest dunes in North America! One of the best features are the huge 'bowls' formed between the peaks and valleys of the large dunes. Here you will find yourself speeding towards the top then racing towards the bottom only to race back up the other side, turn around and repeat!Go Big with this once in a lifetime adventure driving a dune buggy at Amargosa Dunes!
The Globus Scriptorium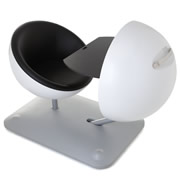 This is the desk and chair ensconced inside a pod, providing flexible yet unobtrusive working space. By Dutch innovator Michiel van der Kley, who took his inspiration from examining the eclectic designs conceptualized by 1930s futurists, the 2 1/2' diameter pod is comprised of two durable polyurethane hemispheres that, when opened with its built-in handle, forms a seat and a workspace. The foam-molded seat swivels 180\u00B0, and is padded and luxuriously upholstered in leather, placing users 1 1/2' from the base for comfortable, relaxed reclining while working. The workstation's sturdy volkern plastic desktop unfolds and extends from the front hemisphere, supported by a hidden steel bracket; small items may be stored underneath the work surface. Requiring a mere 8 3/4' sq. of floor space--roughly the size of a large ottoman--the 3 1/2' L x 2 1/2' W powder-coated aluminum platform supports the pod with two sturdy aluminum uprights that allow the pod to support up to 1,500 lbs. It moves silently on four double-casters equipped with soft rubber treads.
US Open Tennis
Not only is the US Open Tennis Championship tennis' final grand slam tournament of the season, it is also the sport's premiere hard-court event. Ask the locals, the US Open Tennis Championship is that much more exciting live!Your US Open Tennis Championship package includes:Three nights double occupancy accommodations at the Westin Times SquareTwo Loge tickets for each day to the women's and men's final Two tickets to the US Open Club restaurant both days Daily breakfast Two US Open commemorative gift bags On-site staff to facilitate all aspects of the trip This trip to the USTA Billie Jean King National Tennis Center's magnificent Arthur Ashe Stadium promises to be a tennis fan's experience of a lifetime!
Southern Africa Safari
Visit the very best of South Africa, Botswana and Zambia in two action-packed weeks. Whether from the bow of a boat or the back of an open 4x4, our experts will improve your chances of getting the shot. When on safari, our serviced tented camps are perfect for those who want the complete experience but prefer a more comfortable option you'll drift off to sleep to the soft calls of cranes and awake to the rustle of elephants grazing on nearby riverbanks. This trip isn't just about the wildlife its for those interested in cultural heritage, too. You'll experience a meal in a South African home, tour Soweto in Johannesburg and join in a drum session in Livingstone. Experience all Southern Africa has to offer!
Best of the USA Tour San Fran to San Fran
It is possible to capture the complex, diverse flavour of a country and its 300-million-strong people in a single trip? Short answer: Yup. This epic sojourn across America from sea to shining sea (and back again) is, quite possibly, the most ambitious road trip you'll ever take. Wide-open spaces, iconic monuments, sprawling national parks, quirky local slang, regional delicacies and the incredible cities you've always wanted to visit. Its all here. Welcome to the US of A, where the A stands for Amazing.
Peru & Galapagos Family Adventure
Experience the worlds of Charles Darwin, Amazon peoples and Incan warriors. At 19 days and including the wildlife of the Galapagos Islands, the wilderness of the Amazon and the world of the Incan Empire, this is one of our longest and most diverse family adventures. You'll meet turtles and other incredible animals in the Galapagos, take a boat upriver through the Amazon to our intimate and exclusive 'G Tambopata Ecolodge and witness Machu Picchuthe 'Lost City of the Incas'. This incredible journey is more than just a family holiday's an adventure!
Villa Aquamare - 5-Bedroom Villa package for 12 - 7 Nights
Virgin Gorda, British Virgin Islands. 35% off Includes: full kitchen, DVD movie library, infinity pool and so much more.
America's Cup Private Charter
Experience the thrill of sailing aboard your private America?s Cup sail boat! This private charter is the perfect way to spend a day with up to 20 of your closest friends and family or as a romantic excursion with the one you love. Sit back, relax and hold on to your hat as you glide quietly and effortlessly through San Diego Bay, breezing by popular landmarks and attractions including: America's Cup Harbor Coronado Bay Bridge North Island Naval Air Station Submarine Amphibious Base Aircraft Carriers (when in port)San Diego Convention Center Downtown San Diego Skyline Cabrillo National Monument The ultimate San Diego sailing experience!
Spirit of Shackleton
Experience vast penguin rookeries and seal colonies on this awe-inspiring voyage to Antarctica, South Georgia and the Falkland Islands. A 20-day voyage visiting historical sites of past explorers, and the wildlife rich island of South Georgia. Antarctica is beyond comprehension and sure to amaze any traveler seeking a true adventure to the world's most remote wilderness.
Antarctica Classic
Vivid emerald, violet tints, intense blue and crimson light the Antarctic is anything but a world of white desolation. Join us on a true adventure to a world of immense scale and visual splendour. Passing huge icebergs in the flat calm of a polar morning will reshape the way you look at your world. Encounter huge whales, enormous rookeries of penguins and stunning landscapes few have ever witnessed. This 11-day expedition will introduce you to the magic of the South Shetland Islands and the Antarctic Peninsula.
South America Highlights
Two weeks travel in wall-to-wall comfort with all of South America as your playground? Sign us up! This top-flight journey through the historical, cultural and natural treasures of this amazing continent is the perfect fit for time-crunched travellers desperate to conquer South America in grand style. Tremble at the incredible power of Iguassu Falls, trek the Inca Trail to Machu Picchu (or stay behind and meet up with the hikers at the top) and paint Rio red with our passionate and knowledgable CEOs. Anything is possible!
Fighter Pilot for a Day
Off we go into the wild blue yonder... His mission: is to work with his instructor to outsmart, outmaneuver, and outgun your opponents over the course of six "g-pulling" dogfights. He will be manning the controls of a real, fully aerobatic, high-performance aircraft.
Extreme Supercar Challenge

Shatter the 200 mph speed barrier in a jaw dropping event that puts you behind the wheel of some of the fastest super cars on the planet. Reach speeds that would make your mom faint in a safe and controlled environment, and discover the joy of driving some of the world's most lusted after cars.
Unleash your inner speed demon with this one-of-a-kind adventure that puts you in the driver's seat for more speed and super car thrills than you ever thought possible!
Learn More About The Extreme Supercar Challenge!
C. 1950 Vintage Sapphire and Diamond Ring in Platinum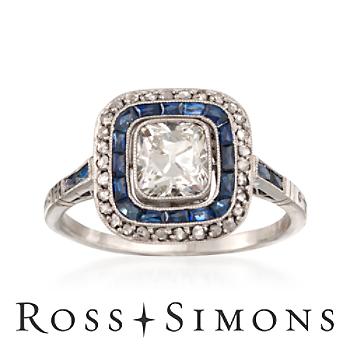 C. 1950. Gleaming and glistening, with vestiges of Art Deco charm, this .50 ct. t.w. sapphire and 1.15 ct t.w. diamond ring has a flair for getting noticed! Featuring cushion-cut and rose-cut diamonds and square sapphires which adorn the band. Platinum ring. Exclusive, one-of-a-kind Estate Jewelry.
5.6 Carats! Massively Huge Diamond Baguette and Round Flower 18k White Gold Ring
A flower's daintiness is unexpected in this 18kt white gold ring with a grand design of bright white round and baguette Diamonds. (R7801) 16,000 5.67 carats of Diamonds Weighs approx 20.6 grams G Color - VS Clarity Measures 1 1/8" wide!
2.547 ct Diamond & Yellow Gold Tri-Flower Bangle
Talk about true decadence! This 18K yellow gold piece is accented by three posy shaped arrangements that are prong-set with 21 round diamonds. Four rows of channel-set round diamonds (44 total) are flanking the center designs for a surprisingly demure piece. Total 2.547 ct.
Princess Cut Yellow Diamond Halo Ring in 18k White Gold
18kt white gold Yellow Diamond princess cut engagement ring bordered by beautiful bright White Diamonds. (348FD03R) a special price at just 4,950 5mm princess cut natural fancy Yellow Diamond - .70 carats .55 ctw round white Diamonds 18kt yellow gold prongs Measures approx 3/8" wide Weighs approx 5 grams Comes in a nice gift box
Agate and Diamond Snake Pendant Necklace
She will show off with this sophisticated agate and diamond snake pendant necklace. The black agate medallion is finely crafted with a border of shimmering white diamonds. On the face of the pendant; a 14k yellow gold textured snake with a polished
1.41 ct. Diamond & 18K White Gold Ring
Beautiful and brilliant, this dazzling diamond ring features 68 round accent diamonds and one center round diamonds perfectly hand-set in a unique and beautiful 18k white gold setting.
Gold Single Diamond Heart Bracelet
Showcase your love in style with this single diamond heart bracelet. The piece exudes glamour and elegance; featuring a thin band of hearts linked together. One particular heart is encrusted with small diamonds; providing a brilliant shine to this piece.
Fashion - Diamond 18K Gold Charm Ring
Orlandini's Fashion ring in 18K yellow and white gold features stunning diamond encrusted, petal-like dangling charms (0.61 ctw) for a glamorous and elegant look. Signature gift box and Certificate of Authenticity included, Made in Italy.
3.88 ctw White Gold Snake Ring
This shimmering snakes wraps itself charmingly around your finger to create an on-trend style bejeweled by a pavé of round cut diamonds. Diamond color: H; purity: VS. Made in Italy.
7.65 ct. t.w. Diamond Criss-Cross Bracelet in 18kt White Gold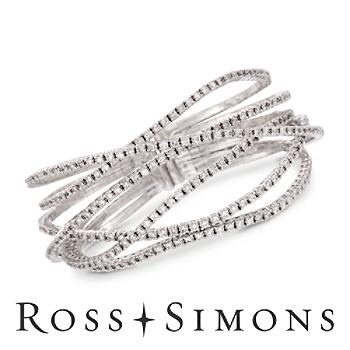 Wrap your wrist in complete glisten and glamour with this 7.65 ct. t.w. diamond criss-cross bracelet. Features six, sparkling rows of near-colorless diamond rounds. Polished 18kt white gold bracelet.
3.93 ctw White Gold Galaxy Ring
Enter the luxurious galaxy of Colucci with a spectacular swirl of round cut diamonds in an 18K white gold setting. Diamond color: H; purity: VS. Made in Italy.
7.75 ct. t.w. Multicolored Sapphire Bracelet in 14kt White Gold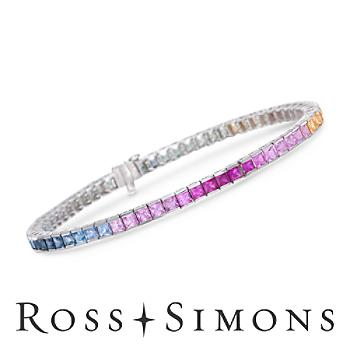 A rainbow of elegance, this 7.75 ct. t.w. multicolored sapphire line bracelet shimmers with exquisite beauty! 14kt white gold bracelet.
Zero - 18K Yellow Gold and Diamond Pave Cuff Bracelet
A unique handmade bracelet in 18K gold and 0.45 ctw diamond. Crafted with the ancient wax casting and chiseling technique and flamed with a semi-polished finish, ORO NATIVO. Gift box and Certificate of Origin included. Made in Italy.

Diamond Ring 1.25 Carat (ctw) in 18K White Gold and 14K Rose Gold (Certified)
A single solitaire brilliant round diamond sparkles while supported by 32 round diamonds on both sides for a total diamond weight of 1.25 carat (ctw). The diamonds are set in striking 18 karat pure white gold and accented by 14 karat pink gold in this unique and stunning premium diamond ring.
White Pillo Ceramic Chrono Diamonds De Luxe Watch
This incredibly luxe chronograph watch by Lancaster features an anti-scratch white ceramic band and white-gold case adorned with a stunning total of 517 diamonds (4.34 CTW). Signature gift case included, Made in Italy.
2.2 ctw Diamond 18K Gold Earrings
Sparkling diamonds in a flower-shaped setting glitter with sophisticated charm. Post back with hinged closure. 2.2 TCW; color: G; quality: VSI. Signature box included. Made in Italy.
3.65 ct. t.w. Black and White Diamond Ring In Rose Gold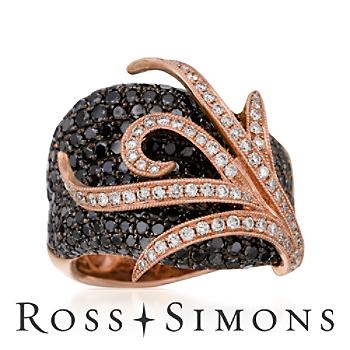 Hundreds of sensational enhanced black diamonds totaling 2.90 ct. t.w. kiss the band of this dazzling, unique and contemporary ring. Embellished with a swirl of contrasting .75 ct. t.w. white diamonds. Polished 18kt rose gold ring.
Gio' Gio' - Diamond Dial and Croco Strap Watch
Lancaster's luxurious chronograph watch features 289 dazzling diamonds (2.28 ctw) accenting the rose gold-plated case and white gold dial complete with mother of pearl counters set on a genuine crocodile leather band. Signature gift case included, Swiss Made.
1.57ct t.w. Certified Diamond Engagement Ring In Gold
The ultimate in elegance, this beautiful 1.57 ct. t.w. halo-styled certified diamond engagement ring conveys a sense of refinement and panache. A 1.02 carat certified center round brilliant cut diamond is the piece's central focal point, around which .55 ct. t.w. of diamonds form a magnificent display. With a dazzling halo of diamonds and diamonds dancing along the band, this piece is truly a treasure. GIA CERT#1122985718. 18kt white gold ring.
Galaxy - 18K White Gold Drop Earrings
Orlando Orlandini's Galaxy earrings handcrafted in 18K white gold and diamonds (0.34 ctw) offer unique and unparalleled craftsmanship with circular spring-like design and dazzling diamond posts with leverback closures. Signature gift box and Certificate of Authenticity included, Made in Italy
Iridescent Drusy Pyrite, Agate, Coin Pearl, Citrine, Smoky Quartz Sterling Silver Necklace Jewelry
Necklace Inner Circumference (closed): 18 up to 20 inches

Necklace Stone: 24 top-grade faceted authentic multi-gemstones (smoky quartz and citrine), 13 top-grade authentic crazy lace agate cabochon, 8 top-grade authentic drusy pyrite and 8 high-grade cultured freshwater gold enhanced pearl


View More Ultimate Diamond Jewelry Gifts For Her Here!
Black Limited Edition Matte Black And Gold Rolex Gmt Master I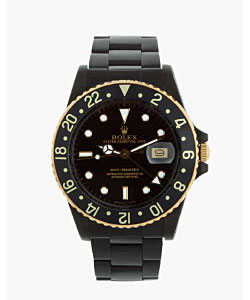 Refurbished vintage Rolex pilots watch in matte black and yellow gold. 904L stainless steel base with Physical Vapor Deposition PVD matte black carbon coating. Diamond_Like Coating DLC also applied to increase strength. Swiss Official Chronometer Testing Institute COSC_certified chronometer. Allows for the reading of two different time zones. High_contrast Chromalight display with glow lasting up to 8 hours. Bi_directional rotating 24_hour bezel. separate 24_hour hand. Oyster_style bracelet with flat three_piece links can fit a maximum approximate wrist circumference of 7.5. Swiss automatic self_winding movement. Screw_down crown. Acrylic crystal. Full 2_year warranty. Limited edition: 15_50. Approx. 40mm dial width. 50mm lug to lug.
14k Gold Diamond and Star Sapphire Ring
Prepare for compliments when you' re wearing this fabulous 10 ct oval Star Sapphire and Diamond (.40 ctw) ring, set in 14kt gold. Great ring! (R6264) 2,995. Ring weighs approx 19.5 grams Stone measures 12x10mm Overall size is a bit over 3/4" wide Comes in a nice gift box.
Men's 14k Two Tone Gold Greek Key Bracelet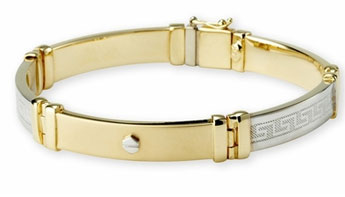 3 Bars of matte yellow gold with white gold screws match up perfectly with the 2 white gold Greek Key design bars to create this 14kt gold bracelet. (B5798) 8" 2,295. Measures 8" x 3/8" wide Weighs approx 24 grams Tongue and lock clasp with figure 8 safety catch Comes in a nice gift box
14k Yellow Gold Wave Diamond Cufflinks 0.44 cts.
Large diamond cufflinks are heavyweight 14k solid gold. and slide easily into shirt cuffs. Large Cufflinks are 7/8 " x 5/8 ". Hand made. The finest VS2-SI G-H Color Diamonds are used.

Men's Diamond Cluster Ring - 14k Two-Tone Gold Men's Cluster Ring 3/8 cts
9 brilliant round prong set diamonds set in a meticulously crafted, bright shiny finish men's ring. Diamonds are I1 clarity G-I color.
Breitling Men's Flying B Chronograph Watch
A specialist in technical watches, Brietling played a crucial role in the development of the modern chronograph, notably by inventing the first independent push pieces (1915), the second independent push pieces (1934) and the first self-winding chronograph (1969). Their obsession with quality has made it the privileged partner of world aviation. This exquisite timepiece is a result of a partnership between Brietling and Bentley. It is part of a Limited Edition that includes only 50 pieces worldwide. Embodying the perfect combination of technique and aesthetics, this series is designed to appeal to connoisseurs and to all those with a love of rare and exclusive watches. In solid 18k rose gold, this watch contains 16.99 ctw of diamonds. Not only is it an impressive timepiece, it is a marvel of jewelry craftsmanship.
Men's Diamond Ring
Men's Diamond Ring - 14k Diagonal Gold Men's Ring 5/8 cts
Iron and Crystal Limited Edition Atle III Statuary
Mats Jonasson's talent as a designer attracted attention early on, when he started work as an apprentice engraver at the glassworks in 1959. Over the next few decades he worked with many of the most respected contemporary glass artists in Sweden. During this period, he developed that natural style of his which he's since perfected. "Our forests have captured the hearts and minds of people since time immemorial," says Mats. Inspired by the natural world around him, he has opened his mind to create his distinctive masterpieces in the finest Swedish crystal. Nowadays, this son of the glassworks is represented all over the world. -Crystal and iron. Designed by Mats Jonasson.
1965 Mustang Pool Table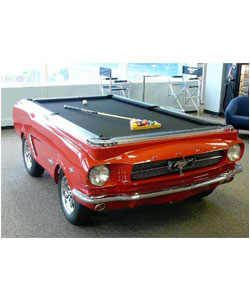 You have just found your brand new Collector's Edition 1965 Ford Mustang Pool table! Your awesome new pool table is entirely made in the USA and comes complete with working lights, real chrome bumpers, chrome hardware, real alloy rims and tires, and a professional 4' x 8' slate playing top. Though your "car" has been made a little shorter to fit in your home, both the front and rear of the table are the actual size and trimmed with real Ford Mustang parts. Plug it in, turn on the lights, and play away! Every inch of this table is beautiful and finished in an actual auto-body shop to showroom quality. It's even clear-coated with real automotive clear coat and buffed and polished by hand! The Mustang Pool Table is the only officially licensed Collector's Edition pool table for Ford Motor Company, your table will come complete with its own "VIN" number (Serial Number) and "Title" (Certificate of Authenticity). Please note that this is made from real car parts and the real rubber tires can leave marks on flooring or carpets. Shipping information: After your new Mustang Pooltable is ready for shipment it is carefully packaged in two large wooden crates built on wooden pallets for easier transport. Your new pool table is shipped by over-the-road trucking and delivered directly to your home, business, or game-room. Your new pooltable is completely insured against any damage during transport on any of our shipments. For US & Canadian customers, we include professional installation by one of our expert billiard installers who will come to your home or business, unpack, and set-up your new pooltable.
Flashwood Floor Lamp by Masiero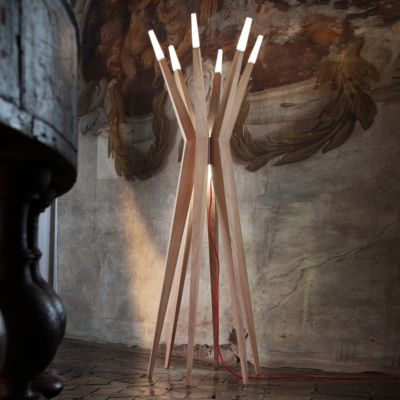 Available Exclusively at Lumens. There's no mistaking the crystalline design of the Masiero Flashwood Floor Lamp. Structurally unique, the Flashwood is designed to intrigue with a sharp, contemporary shape formed from natural oak. Truly, this piece is as much a work of art as it is a functioning light fixture. For more than 30 years, Masiero has used unexpected materials and design details to reimagine classic lighting forms. With roots firmly established in classic Italian design and craftsmanship, Masiero creates modern lighting that is altogether original, exquisitely crafted to intrigue and excite for generations to come. Every Masiero lighting fixture is designed and made in Consico di Casale sul Sile (Treviso), Italy.
The Mobile Blastmaster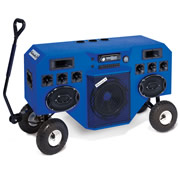 This is the portable stereo system that optimizes the 30 year-old concept of the portable audio player by blasting your music at backyard or tailgate parties. Built onto a steel chassis that rolls on four 10"-diam. pneumatic tires over any terrain, including sand and snow, it is pulled along and steered with an integrated wagon handle. Providing over 2,000 watts of sonorous symphony with eight PA-quality Piezo horn tweeters, two "6x9" mid-range speakers, and a 12" dual-voice coil subwoofer with dedicated crossover, it plays music from any Bluetooth-enabled smartphone or MP3 player from up to 30' away. Its CD player, AM/FM radio, USB port, and 3.5mm input provide additional play options, controlled with an included remote. Dedicated amplifiers installed into the MDF cabinet's vented rear drive the subwoofer and other speakers separately while its four-band equalizer provides precise control for optimal audio performance. Includes three recessed drink holders, radio antenna, bottle opener, and flagpole mount.
The Submarine Camcorder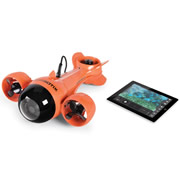 This is the remote operated submarine that sends live video to an iPad from 100' underwater. Ideal for viewing marine life or inspecting a boat below the waterline, the sub is tethered to its receiver on deck with a 100' video cable. Communicating with the receiver using Wi-Fi, an app installed onto an iPad or laptop remotely controls the sub's electric thrust and lift propellers for forward/backward (5 kts forward; 1 kt reverse), left/right, and up/down movement. A virtual dashboard (an iPad's motion sensors can also steer the sub) includes a joystick, camera controls, and displays depth, heading, battery level, and temperature data received from the sub's built-in sensors. Its marine-grade, hydrodynamic ABS housing provides a watertight seal to protect the included HD video camera, which captures 1280 x 720 resolution footage (1280 x 800 for still images). Auto and manual focus control combined with the camera's built-in timer allows you to take pictures at intervals while you steer the sub into optimal position. An array of eight adjustable-intensity LEDs illuminate underwater features. Videos are stored onto the sub's built-in 32GB memory while still images are stored directly onto an iPad or laptop (included software transfers videos to an iPad or laptop once the sub is topside).
Saint Laurent Medium Tan Leather Rock Sac Messenger Bag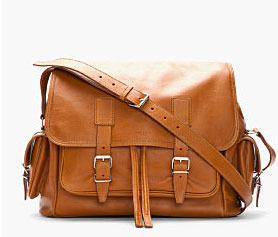 Leather rucksack_style messenger bag in tan. Silver tone hardware. Single adjustable leather shoulder strap with pin buckle. Foldover flap at main compartment with double belted pin buckle closure. Embossed logo at flap. Belted pin buckled cargo pockets at either side. Patch pocket under flap. Drawstring closure at main pocket with large grommets and leather string. Zip pocket at bag interior. Unlined. Tone on tone stitching. Approx 14.5 length x 11 height x 7.5 width.
The Sleep Inducing Massage Chair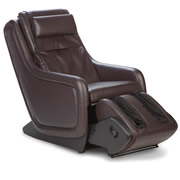 This is the massage chair with four preset programs that dispel stress and encourage a peaceful slumber. Controlled from a comprehensive remote that can target specific 6" wide zones of the body, each 15-minute program automatically combines four massage modes to relax tense, sore muscles, relieve spinal column pressure, and encourage improved circulation. One mode warms and loosens muscles, a second lifts and stretches muscles, a third gently flexes spinal joints, and a fourth combines both stretching and flexing modes. The chair's advanced massage engine simulates the expert movements of the chiropractors who designed it, providing three levels of intensity separately for the upper and lower back, kneading either side of the spine in small, circular motions, providing rapid-tapping strokes to simulate percussive massage techniques, and rolling gently up and down muscles the entire length of the spine. The remote also enables seven-minute, pinpoint treatments when individual areas of the body require attention. The chair elevates the feet above the heart, facilitating circulation while the leg rest rotates to reveal a calf and foot massager. Supports up to 285 lbs. Black, Brown, or Off-White synthetic leather exterior.
50 States One Union Wall Art
In this masterwork, the United States are formed from meticulously hand-cut vintage license plates shaped in the state it represents. This limited edition piece, by California artist and Home and Garden TV design host Aaron Foster, portrays America as a perfect union of rugged individualists. Each plate is affixed to a painted birch frame with small, vintage-style nails. Wooden background and frame. Ready to hang. Made in the USA. Some colors may vary.
Joe DiMaggio Autographed Jersey - with " x 44" Inscription
Joe DiMaggio Autographed Jersey - with " x 44" Inscription This Is an Absolutely Beautiful Autographed Joe DiMaggio New York Yankees Jersey. This Is a Gorgeous Piece of Framed Memorabilia Containing a Certified Autographed Jersey From One of the Greatest Players to Play the Game. This Piece Is Huge! It Measures 36" x 44". It Is Double Matted, Professionally Framed and Comes to You Ready to Hang on Your Wall. This Is an Absolutely Gorgeous Piece of Memorabilia for Your Home, Business, or Office. Impress Your Friends, Family, Employees and Colleagues with This Great Piece of Memorabilia Hanging on Your Wall.
The Autographed Authentic Yankee Stadium Seat Barstool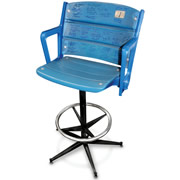 This is the autographed barstool with an actual seat from Old Yankee Stadium, where Yankees fans cheered Reggie Jackson, Derek Jeter, and other iconic Bronx Bombers onto six World Series titles. Removed from the stadium before it was razed, the classic light blue chair has the original fold-down plastic seat, backrest, and seat number that was used in The House That Ruth Built, along with the 39 certified autographs and years played hand-signed on the seatback, including current Bronx Bombers Derek Jeter, Alex Rodriguez, and Mariano Rivera as well as Cooperstown inductees Reggie Jackson, Yogi Berra, and Whitey Ford. To ensure its authenticity, the chair has a Major League Baseball hologram and comes with a signed letter from the New York Yankees and Steiner Sports Memorabilia. The armrests have been repainted and the seat is mounted to a bar-height four-legged metal frame that swivels
The Only Interactive Personal Trainer System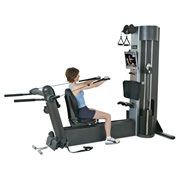 This is the only cable motion exercise machine that connects to the internet and downloads exercise routines from virtual fitness professionals demonstrating the correct exercise form and pace on a conveniently placed 17" LCD monitor. Eliminating the need for gym memberships, this system allows you to enjoy the benefits of exercise with the guidance of professional personal training in the comfort of your home. Once an exercise is selected from a library of 120 movements, the monitor shows the previous weight amount lifted for each exercise, ensuring a gradual increase in workout resistance, while the onscreen personal trainer allows you to mimic the correct movements as you workout. The LCD has a touchscreen that allows easy menu navigation, while the integrated computer suggests exercises based on your fitness goals (strength, muscle tone, basic conditioning, sports training, physical rehabilitation) or by specific body part, tracks the number of repetitions and sets, and graphs workout progress, ensuring maximum efficiency and effectiveness in your exercise routine. The leg press has 10- and 20 lbs. increments up to 460 lbs., the unilateral handgrips have 2 1/2- and 5 lbs. increments up to 115 lbs., and the bilateral handgrips have 5- and 10 lbs, increments up to 230 lbs.
Handwoven Grand Versailles Tapestry
The Handwoven Versailles features a lovely floral that rests under a garland of flowers and a palace in the distance. -Greens, reds, and golds are highlighted in the tapestry. -100% Wool.
Cream Embroidered Reptile Leather Louis Philippe Armchair
Combining lavish style and luxurious details, this Louis Philippe armchair gives you the best of both worlds. Crafted from genuine reptile leather with embroidery details, the intricately carved and hand-painted wood features 406 Swarovski crystals. Made in Italy.
Moda Square Lace Chrome Thirteen-Light 26-Inch Pendant with Swarovski Strass Clear Crystal
An exercise in technical perfection, Swarovski Strass crystal meets all standards of perfection. It is original, flawless and brilliant, possessing lead oxide in excess of 39%. Made in Austria, each facet is perfectly cut and polished by machine to maintain optical purity and consistency. An invisible coating is applied at the end of the process to make the crystal easier to clean. -All fixtures are recommended to be professionally hung and supported independently of the outlet box.
The Folding Electric Bicycle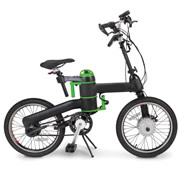 This is the electric bicycle that folds in half, ideal for commutes and storage at work or an apartment. Folding around its integrated battery compartment, its front half collapses against its rear half while its front unifork folds into the frame, creating a compact 30" H x 18" W x 12" D shape. Deployed for riding, its silent 250-watt electric motor assists up hills or powers across broad flats for smooth cruising on 20" tires up to 15 mph in full-power mode. When in assist mode, sensors in the pedals detect how hard you are pedaling, which prompts the motor to engage; three-speed control is located at the handlebars; the bicycle can also be pedaled without powered assistance.
The Virtual Mountain Bike Racing Simulator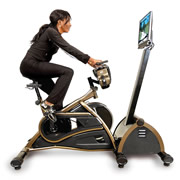 This is the exercise bike and video screen that simulate riding a mountain bike through outdoor courses. Users pedal and steer the bike to control a computer-generated cyclist on the 17" color LCD monitor and compete against other virtual cyclists on one of 80 outdoor courses, including a serpentine desert course and an undulating highland track. The bike's electronically controlled pedaling resistance automatically increases or decreases to replicate the terrain gradients shown on the screen and sensors in the bike saddle monitor whether the user is sitting or standing and the computer-generated cyclist assumes the same posture. Squeezing the bike's hand brakes or shifting its gears control the momentum of the bike on the monitor, simulating carving around a turn or braking to avoid a fallen competitor. Riders can develop their own exercise regimen or use the preprogrammed training mode and the LCD displays distance traveled, speed, calories burned, and exercise time for real-time reference.
The Heated Full Body Massage Chair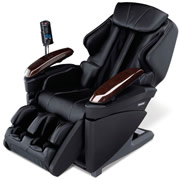 This is the only full-body massage chair that combines the invigorating touch of a massage therapist's hands with the restorative sensation of hot stone therapy. Thermal rollers in the chair's back deliver concentrated warmth that increases blood flow to help soothe and relax sore lumbar muscles. The rejuvenating rollers travel from the neck to the waist, replicating the gentle palm style of Swedish massage or the deep-tissue kneading of Shiatsu. Internal sensors make a virtual map of the body's contours so the rollers apply their efforts in the ideal locations along the back and spine. The chair also features hand and arm massagers in the arm rest, airbags around the midsection that massage hips, thighs and glutes, and a footrest with cushions that knead feet and calves for a realistic massage experience. The tethered remote comes with six pre-set massage programs, or allows manual operation to focus on desired areas. When not in use as a massager, this chair converts easily into an elegant recliner with leather-like upholstery that conceals its massage functions.
The Astronaut's Powered Recliner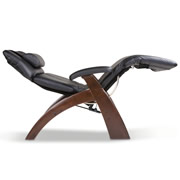 This leather recliner elevates your feet above your heart, a supine seating posture developed by NASA to reduce stress and facilitate oxygen and blood flow throughout astronauts' bodies during take-off. The fully reclined position alleviates spinal pressure and encourages proper spinal alignment and posture. A whisper quiet motor reclines the chair at the touch of a lever, allowing you to sit back and relax while the chair gracefully slides from upright to fully reclined in less than 15 seconds. The buttery-soft, genuine leather upholstery covers the entire chair (including the armrests), a 3" padded headrest provides ideal head and neck support, and the chair's 4"-thick high-density foam cushioning contours to the body for optimal comfort. The chair's base is hand-carved by skilled wood workers from 100% renewable parawood (one of the strongest woods on earth), and is hand-sanded and stained. A powder-coated steel frame ensures years of durable use, and the nickel-plated guide rails enable smooth reclining. Walnut, Dark Walnut, or Maple base and Black or Cognac upholstery.]]>
The Five Person Pedal Surrey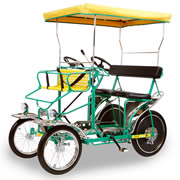 This is the environmentally friendly vehicle that leisurely transports three adults and two small children. Originally developed over 40 years ago, today these pedal vehicles represent a popular form of transportation in resort towns from the Adriatic to the Pacific coasts. Perfect for touring through neighborhoods or along the boardwalk, the stable, quad-wheel pedal car has two sets of pedals for multi-person cruising power. Rack-and-pinion steering ensures smooth and easy turns, while disc brakes provide gentle, confident stops. The basket seat securely holds two smaller children under 6 who can enjoy the distinction of riding up front, while the padded benches comfortably seat adults and older children. A yellow fabric canopy shades the riders or shields against rain. The frame is reinforced high-quality tubular steel with stainless steel components throughout for exceptional strength and lasting durability.
The Inflatable Outdoor Color Dot Game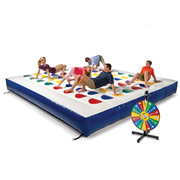 This is the inflatable outdoor game that challenges up to 10 players to touch different colored dots on a playing surface using only their hands and feet. Based on the popular game that originated in the 1960s, and built by a company that only manufactures products for the amusement industry, the inflatable 18 oz., double-stitched vinyl 15' x 15' playing mat is comprised of 64 colored dots arranged in eight rows of eight dots each. An included 24" diameter, 3'-high wheel spun at the beginning of each turn indicates which hand or foot players are to use and what color dot to touch. Contortions and human pretzel poses aside, no other part of the body may touch the playing surface; the last player to remain "standing" wins. A 1-hp air blower that keeps the playing surface inflated plugs into AC. Supports up to 1,500 lbs.
The Folding Electric Mini-Farthing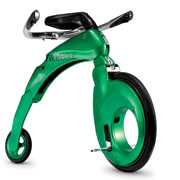 This is the folding electric bicycle inspired by the large-wheeled penny farthing popular in the late 19th century. The smallest folding electric bicycle in the world when measured by its 43-liter volume—the reason for which it holds the Guinness World Record—it compacts to 23 1/2" L x 6" W x 23 1/2" H in just 20 seconds for easy transport or storage. Providing a top speed of 14 mph, a 450-watt electric DC motor drives the 20" front wheel while the 8" rear wheel provides steering. A rider up to 220 lbs. sits in an upright position with the handlebars at the sides rather than in front—gentle leaning to either direction assists turns. Its short wheel base enables superior maneuverability while electronic anti-skid brakes provide smooth stops. High-visibility LED lights provide maximum visibility; built-in brake and turn lights allow you to keep your hands on the handlebars at all times. Its rechargeable battery provides a six-mile range from a two-hour charge using the included AC adapter.
The Snow Cycle
Designed in Oberndorf, Austria, this is the snow bicycle that set the Guinness World Record for the longest vertical drop of 107,400' in 11 hours. The latest version of the "sit-ski," first invented in 1949 by Engelbert Brenter, its in-line, twin-skis and powder-coated steel frame endured 62 consecutive descents that reached a top speed of 66 mph. The cycle's patented front elastomer/spring suspension assists riders in initiating turns with the front ski, controlled with an adjustable t-bar steering column, while the trailing ski's tip is held in-line with the steering fork's stem, enabling riders to execute masterful turns in powder as well as groomed snow. The padded saddle's integrated leaf spring cushions the ride while traversing moguls, assisting turns.
The English Channel Pedal Boat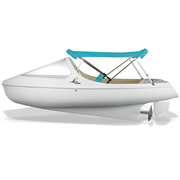 This is the water craft that set a Guinness World Record for the fastest pedal-powered crossing of the English Channel. Possessing superior nautical qualities that enabled navigation through the Channel's notoriously inhospitable waters, its ballasted keel provides superior stability in windy conditions for up to three passengers (for a total of 525 lbs.). Its self-righting, durable rotomolded polyethylene hull cuts through chop for a smooth ride. Drawing 1' 8" of water, allowing paddling into shallows, it is suitable as a tender for transportation to an offshore boat, or as a way to explore a calm bay or lake. The boat has a quiet, smooth pedal crank that drives a 16" two-bladed propeller, providing a hull speed of 5 1/4 mph. Stopping and reverse are accomplished by pedaling backward.
The Cockpit Flight Simulator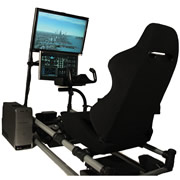 This is the flight simulator installed into a cockpit that equips players with the same flight controls found in actual aircraft. Fore/aft and left/right movement of the yoke controls pitch and roll just like real airplanes; its toggles and buttons provide authentic control of navigation and radio options. Thrust levers and dual rudder pedals control realistic throttle and yaw. The padded flight seat adjusts for optimal seat angle and distance to the rudder pedals while the sound system surrounds player in realistic audio using five speakers and a subwoofer beneath the seat. Microsoft's Flight Simulator X Gold, the world's pre-eminent flight simulation software for PCs, comes on the included Dell Studio XPS computer with Windows 7. The software includes 23 flyable aircraft ranging from the ubiquitous Piper Cub to the daunting Boeing 747-800, challenging players to complete over 70 simulated flight missions, all geographically and topographically correct. The missions range from dropping bags of flour onto waterborne targets from an ultralight to taking off from an aircraft carrier aboard an F/A-18 Hornet. Realistic graphics are displayed by a 28" wide-screen LCD monitor that provides 1080i high-definition resolution. A second 20" LCD monitor sits below, providing instrument panels that simulate a faithful flight experience. Ages 14 and up.
Original Song for Your Loved One
This is a unique opportunity to have established New York City songwriter Jordon Rothstein create an original song for you, or for someone you love, and be a part of that process! Your song will be professionally recorded in a downtown Manhattan music studio. Members of Jordon's experienced production team have worked with diverse clients such as Capital Records, Coca-Cola, Burger King, Kodak, Chuck Berry and the Albert Grossman organization - managers of Bob Dylan, Janis Joplin, The Band, Gordon Lightfoot and Todd Renaturing you're a closet lyricist and know what you want to say, Jordon can help you marry words to music. If you would like to give the gift of song, but do not know where to start, Jordon's sensitivity and experience can help you realize and interpret what you want to say, and how you can say it through music.
The Best Book Ever Written...
The Best Book Ever Written...is all about you! Your life is a story waiting to be told, and "My 10 Stories" is your chance to tell it. Commissioning a memoir for your family, friends and colleagues is a nice idea, but will anybody read it? They will if they're divided into the best 10 stories of your life and written by award-winning editors and writers. It's the ultimate gift. Work with a professional writer who will help you remember and relive stories that will make your readers laugh, cry and be inspired. Family, friends and colleagues will read your 10 stories knowing each chapter is its own short story. You'll receive a story-starter questionnaire to get you thinking: >Tell us a story of your parents or grandparents >Relive a defining event from your childhood >Reveal a hilarious mishap or embarrassing experience >Share a life lesson that came too late for you >Inspire us with that pivotal career or life event that set you on a winning path After the writer of your choice finishes a few interviews, done at your convenience, you'll be wrestling with which story to leave out. The process is as much fun as the final product! Nery Ynclan, a Pulitzer Prize-winning editor, will guide you every step of the way. The result will be a book you'll not only treasure, but be proud to share.
The Live Putting Miniature Golf Arcade Game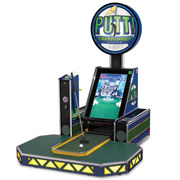 This is the same full-size miniature golf video game found in arcade parlors. Up to four competitors can play on two virtual courses using a real putter and real balls--you can explore the casino-themed Las Vegas course or the tiki torch-themed Paradise Island course on the large, high-definition 32" LCD. Just like real courses, you can shoot your ball through obstacles, such as a secret door at the base of an Egyptian pyramid for a one-way route directly to the hole... if you can time it correctly before it closes. Shot controls allow you to adjust your view left or right, providing overhead or ball view to plan the optimal path to the hole. The putting green allows left- and right-handers to play easily. Simply putt your ball at the base of the video screen; when the ball is detected by the game's computer, the virtual world takes over, calculating both the direction and speed of the ball, "shooting" it toward the hole; balls return automatically. Music and sound effects are delivered by three speakers.
The Electric Personal Transporter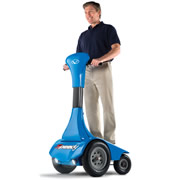 This is the stable, four-wheeled electric stand-up vehicle that provides effortless, smooth 15 mph transport on paved paths, driveways, or sidewalks. Ideal for quick, easy errands or leisurely rides through the park, it is powered by 500-watt electric motors in each of its 8" front wheels that rotate both forward and in reverse. Balance and steering are provided by two trailing 4" wheels. Speed and braking are controlled at the handlebars, providing smooth acceleration and confident stops. The steel-reinforced deck is covered by a rubber pad that ensures reliable footing and its steering column adjusts from 30" to 40" to suit a rider's height. Includes twin LED headlights, a rear brake light, and horn.
The 85 Foot Inflatable Military Obstacle Course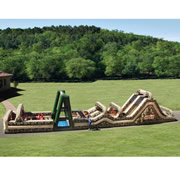 This is the inflatable course that challenges competitors to navigate a series of military-style obstacles befitting a first week of boot camp. A mammoth structure at 85'-long, the course begins with two portholes that must be jumped through--successful clearance positions runners in front of three horizontal hurdles that can be overcome from above or below. Three "hedgehog" obstacles slow momentum if poorly navigated, increasing the difficulty of clearing the ensuing obstacle--a 16'-high rope swing. Two knotted ropes enable two runners up to 250 lbs. to swing over an 6'-long x 12"-deep pit, which is sealed to accept water, plastic balls, or foam blocks (not included). Knocking aside three stanchions gains entry into a matrix of elastic bands that simulate a laser field. Runners complete the final challenge by climbing a hill and sliding the remaining 20' to victory and ultimate exhaustion
The Skier Controlled Tow Boat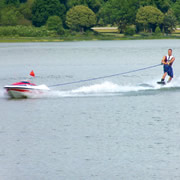 This is the unmanned water skiing boat that's controlled entirely by the skier. A six-button control panel on the tow rope handle sends signals to the boat, allowing skiers to start, accelerate, decelerate, turn, or stop the vessel with slight thumb movements. The nearly 8'-long boat has a three-cylinder, two-stroke 70 horsepower engine with jet pump and axial flow propulsion, generating speeds up to 40 MPH and creating wakes for jumps and other tricks. The jet propulsion engine is safer than propeller-powered crafts and provides superior acceleration and quicker planing--the time required to bring the skier and vessel level with the water surface. The tri-hull boat is made from durable fiberglass and molded plastic and it has a bilge pump that automatically removes water from the vessel. The boat has a six-gallon gas tank and it automatically stops when the skier lets go of the handle.
NASCAR Arcade Racing Game (Deluxe)
EA Sports and Global VR team up to give you this NASCAR Arcade Racing game. Choose your favorite driver and compete on legendary tracks like Texas Motor Speedway, Michigan International Speedway, Crag Canyon and more. Force feedback steering and a six speaker audio system respond to track and race conditions to give you the feeling you're actually there. NASCAR Arcade Racing game features a dynamic difficulty system that adjusts to your skill level and makes an evenly-matched challenge for beginners and pros alike. If you've been dying to experience the rumble of a NASCAR speedway, here's your chance.
The iTunes Jukebox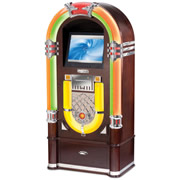 This is the 1950s-style jukebox updated with a fully integrated version of the world's most popular digital music player, iTunes. The 15" touchscreen provides complete control over the jukebox's music (an external keyboard and mouse are included). An internal 80 GB hard drive stores up to 2,000 hours of content you load from CDs, download from the internet, or copy using its Bluetooth interface. The CD player supports both CD-R/CD-RW media and can also burn CDs. Four speakers totaling 100 watts of output provide clear, powerful sound. Sturdy MDF, solid oak veneers, and chrome-coated trim construction. Two separate neon tubes provide the two-toned lighting effect on the jukebox's front--the classic percolating bubbles that rise within each lighted chamber.
Quick Links to Other Pages of Gifts For Someone Who Has Everything