Ultimate Gifts For The Man Who Has Everything
Here you will find hand picked ultimates for that special man. These are so unique that he would not have bought them for himself because he likely never knew any of these even existed. The ultimate!
Landscaping Robotic Lawnmower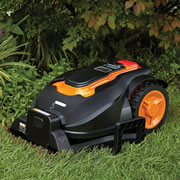 This is the robotic lawnmower that landscapes autonomously without any programming. Operating similar to household robot vacuum cleaners, the lawnmower cuts grass in a straight line and changes directions when it reaches an obstruction or virtual wall. Its sophisticated intelligent design enables the robot to generate random cut patterns, navigate narrow passages, and remember up to four outdoor areas.
Foldaway Stepper Bike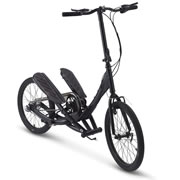 This is the bicycle propelled by stepping movements to provide a low-impact outdoor workout. Its footplate pedals move up and down like a standard step machine, toning one's quads, calves, hamstrings, and glutes while improving overall balance. The bicycle's three-gear system allows it to climb moderate grades and operate at a maximum speed of 21.75 mph. Unlike traditional bikes that force riders to pedal while hunched over (causing unnecessary back strain), this model encourages users to stand upright with correct spinal posture.
Beer Lover's Refrigerated Outdoor Tap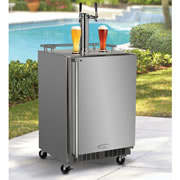 This is the commercial quality outdoor beer tap that delivers frosty drafts with creamy heads to please even the most discriminating craft connoisseur. The unit withstands summer heat up to 115\u00B0 F, uses an energy efficient refrigeration system, and features a sturdy stainless steel exterior that withstands rain, resists corrosion, and ensures years of reliable use.
Maximum Comfort Lambskin Neodymium Headphones (Wireless)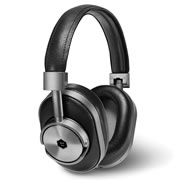 These are the premium wireless headphones with lambskin leather earcups that provide unparalleled comfort and 45mm neodymium drivers that deliver superior sound. The circum-aural extra-wide earcups provide optimal space for one's ears and feature plush earpads with removable magnetic memory foam padding. Buttery soft lambskin leather cocoons the earpads and lines the interior of the headband for a luxuriously smooth texture. Its 45mm drivers employ neodymium magnets that deliver resounding bass and crisp treble by maximizing mid- and low-range sounds without distortion.
Ferrari Carbon Fiber Electric Scooter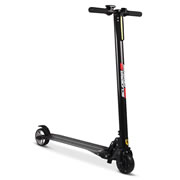 This is the lightest electric scooter, deserving of the classic Ferrari logo. Unlike other models that can weigh as much as 43 lbs., this scooter—designed for fans of the iconic Italian automaker—tips the scale at a mere 13.89 lbs. The body is constructed using lightweight carbon fiber and painted in either black or white with a "Scuderia Ferrari" decal set along the handlebar stem. Its high-torque 500-watt electric motor produces a max speed of 18 mph in five seconds with a twist of the throttle.
Easy Setup Audiophile's Surround Sound System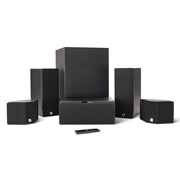 This is the wireless surround sound system that provides both easy, plug-and-play setup and superior audio performance without speaker cables. Unlike systems subject to WiFi dropouts or Bluetooth's latency, this model uses WiSA (Wireless Speaker & Audio)—an audio protocol that operates on the same interference-free 5.8GHz frequency as cordless phones—to create a closed wireless stereo network.
Reverse Gear Cruiser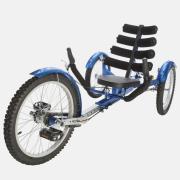 This is the only single-speed, three-wheeled cruiser with a reverse gear for easy backwards movement. Unlike other vehicles that require a wide turn or dismounting to reverse direction, this one has an easy-to-use gear shift that once engaged, requires only pedaling backwards. The cruiser has a dual-joystick steering mechanism that is responsive and exhilarating to use, providing smooth maneuverability.
Live Putting Miniature Golf Arcade Game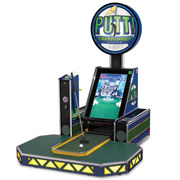 This is the same full-size miniature golf video game found in arcade parlors. Up to four competitors can play on two virtual courses using a real putter and real balls--you can explore the casino-themed Las Vegas course or the tiki torch-themed Paradise Island course on the large, high-definition 32" LCD.
Outdoor Billiards To Dining Table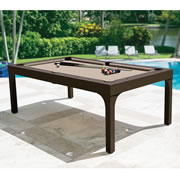 This is the billiards table that converts into a full size, eight-person dining table, providing a convenient switch from play time to dinner time.
Segway Hybrid Hoverboard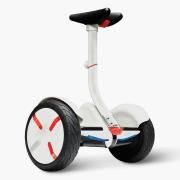 From Segway, the original inventor of personal transporters, this is the easy-balancing hoverboard that is steered using a patented ergonomic knee rest. Unlike standard flat hoverboards that rely solely on gyroscopic sensors and offer no apparatus for stability, this unit provides a safer ride with a polyurethane padded knee rest that assists in maintaining balance and improves steering maneuverability.
Sir Galahad Serveur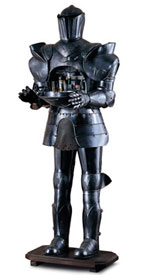 This is the bar service built into the breastplate of a full suit of Gothic plate armor. An homage to the 15th century style popular in Europe—fully transitioned from plate-reinforced mail hauberks but without the decorative flutings of Maximilian armour—this suit is comprised of over 50 pieces of handcrafted 2mm-thick aluminum.
King Of Rock Jukebox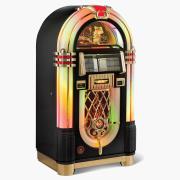 This is the classic jukebox that commemorates the 60th anniversary of Elvis Presley's first #1 hit, made by the company that gave Rock and Roll music its moniker. A virtual audio/visual shrine for devoted Elvis fans, the centerpiece of this CD-playing jukebox is an interior illuminated mural of The King performing on stage.
Backpack Golf Clubs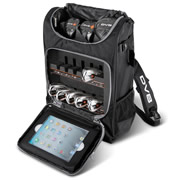 The set includes one shaft and 10 clubheads that simply slide into the shaft and lock into place in seconds via the patented stainless steel quick-coupling joint. The entire set is one-third lighter than a traditional set and all components have dedicated storage in the regular-sized backpack, allowing you to tote them around the course without needing a caddie or cart.
Hydro Powered Jetovator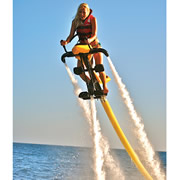 This is the flying, steerable seat that suspends its rider 25' in the air with three powerful jets of water. An easily installed and removable U-adapter re-directs 90% of the rearward thrust of an existing personal watercraft.
Skier Controlled Tow Boat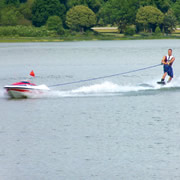 This is the unmanned water skiing boat that's controlled entirely by the skier. A six-button control panel on the tow rope handle sends signals to the boat, allowing skiers to start, accelerate, decelerate, turn, or stop the vessel with slight thumb movements.
Inflatable Windsurfer And Sailboat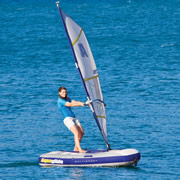 This is the inflatable watercraft that converts from a windsurfer to a sailboat. The 11 1/2'-tall aluminum mast supports its 33' sq. PVC sail, which is reinforced by three fiberglass battens that keep it taut during gusts for consistent powered gliding.
Climbing Wall Treadmill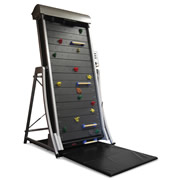 The face of the wall consists of hand- and foot-holds on individual panels that revolve like an upright treadmill, allowing climbers to scale to the height of Mt. Everest in their own home. The treadwall is motorless and powered solely by the climber's weight, allowing climbers of all skill levels to climb at their preferred pace and stop without pressing any buttons.
Traditional Cuban Lechon Asado Roaster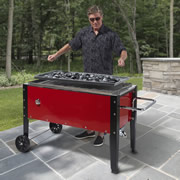 This is the roasting box that cooks traditional Cuban roast pig until the meat is moist and tender and the skin is crispy—the hallmarks of authentic lechon asado.
The Masters
Held every year at the historic Augusta National Country Club, The Masters is one of the most famous sporting events in the world. Sam Snead, Jack Nicklaus, Arnold Palmer and Tiger Woods have all put on the famous green jacket and now it's your turn to see history in the making!
3 Day Formula Racing School
This school is the cornerstone of formula 2000 racing programs. A comprehensive 3-day course providing the knowledge and practice to take your racing skills to the next level. No experience necessary!
College Football Playoff
Your premiere package includes: 3 nights double occupancy hotel accommodations Two upper level / end zone tickets to the College Football Playoff National Championship and two gift bags On-site staff to facilitate all aspects of the trip.
NCAA Final Four
Experience the best of college basketball at the culmination of the grueling month of March Madness. Twenty games are down to three, and you will be there to catch all the buzzer beating excitement.
Learn to Fly a Helicopter
His experience begins with a pre-flight briefing where his Certified Flight Instructor (CFI) will explain how the helicopter flies, and how the flight controls work. After the briefing, he will be taken out to a state of the art Robinson 22 or Robinson 44 helicopter where his instructor will explain the main components and strap him in for his first flying lesson.
NFL Pro Bowl
Here, the leading athletes of the NFL converge to compete in this "all-star" game. Come experience the fun yourself! Your package includes: Four nights deluxe double occupancy hotel accommodations at the Waikiki Beach Marriott resort Two lower club level tickets to the NFL Pro BowlAccess to the official NFL
Omni La Costa Golf Package
When you walk the fairways at La Costa Resort and Spa you are walking the same fairways that the legends of the game have walked for over 30 years. La Costa is currently the host of the World Golf Championships - Accenture Match Play Championship.The two PGA Championship 18 hole golf courses are both beautiful and traditional in design.
The Big Game
Aside from being the most anticipated game of the NFL season, this event features some of the biggest names in entertainment for its pre-game and halftime show and plays host to the hottest celebrities and parties of the year.This is your chance to be part of the action! Your package includes: Four nights double occupancy hotel accommodations
Daytona 500
It's stock car's biggest, most important and most anticipated race of the year. It is also the first race of the season which makes this a must-see-event!A nearly $2 million payday awaits the winner - but the fame and fortune are merely part of the race's mystique, there's also the heritage of the most prestigious race in NASCAR .
PGA National Golf Package
Celebrate Florida's grand golfing tradition at PGA National Resort & Spa, a mecca for players and fans alike since 1981 Home to the Professional Golfers Association of America and the annual host of the Honda Classic, our celebrated Florida golf vacation destination has a distinguished history of tournament play - including the 25th Ryder Cup, the 69th PGA Championship, and nearly two decades of PGA Seniors' Championships.
Ride & Drive a Stock Car
Can't decide whether you want to feel the rush of riding as a passenger with a professional driver pushing the limits of a 600 HP Sprint Cup style stock car, or if you want to get behind the wheel and experience the thrill of racing yourself? You don't have to! With this experience, you get the best of both worlds.
Ultimate Exotic Car Racing
Drive five of the world's most high performance exotic cars in a day you'll never forget. Push each car's limits on a road course designed to let you compare and contrast the power and handling of these amazing cars.
Here you will find personally picked ultimate gifts such as specialty sports, wild adventures, car driving thrills and so much more.
If you don't see what you think he will love here drop me a note on live chat or if I am online you can ask me directly. You can also email me and I would happily help you find that perfect present!