Personally Picked Music Gifts For Someone Who Has Everything
Music soothes the soul and creating music makes anyone feel fabulous. So a a music gift, in any form, is a lovely to give someone who is hard to buy for. Heck a music gift is a wonderful to give anyone! So whether it is a recording, a guitar, drums, dj equipment, studio equipment, a gift so they can learn to play an instrument, a music adventure and more, you can find a unique music present right here.
All of these are personally picked gifts - hope you like them! Since these are personally picked gifts be sure to check out more music gifts here.
If you are looking for a particular gift that you don't see here please use our search box or drop me and email and I will search the internet and find it for you. We are constantly updating our selection so please bookmark us and come back often!
Illuminated Dancing Water Speakers
Multicolored lights illuminate jets of water that "dance" to the beat and volume of your music! Set of 2 clear acrylic 3-watt speakers include built-in amplifier, 4 LED lights, connection cables, and installation guide. Lightweight and portable; no batteries needed. Easy plug & play set-up; compatible with iPod, MP3 & 4, and computer. 9" tall.
Remo Flower, Star & Heart Sound Shapes - 2 Hearts
All new pre-tuned drums are mounted in vibrantly colored Remo Acousticon frames. New Exciting Heart Sound Shapes! Great for anyone - especially kids!
Musical Notes Cylinder Lamp
Music definitely makes the world a brighter place, as does our cool lamp! Handsome silvertone lamp base with powder-coat finish pairs with a printed plastic shade for a striking look. UL®-listed and includes 60-watt bulb. 20.5" tall with on/off pull chain and 7" diameter shade. US made.
The Sound Enhancing Portable Bluetooth Speaker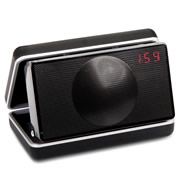 This is the travel-worthy speaker system that provides optimized, high-fidelity sound from any wireless source. When paired with a smartphone, tablet, or other wireless device, the Bluetooth speaker's digital signal processor analyzes the incoming signal and employs a patented algorithm to achieve the highest audio resolution possible. As a result, the 2 1/2-inch, 6-watt woofer, and the two 3-watt tweeters deliver ambient sound with a richness that belies their size. The speaker unfolds from a leather-covered hard-sided case that serves as its stand, delivering robust audio anywhere a traveler desires. It also acts as a travel alarm clock, and an extendable antenna allows it to receive FM radio signals. A 3.5mm line input lets you connect the speaker to a non-wireless source.
ZIK Touch-Activated Bluetooth Headphones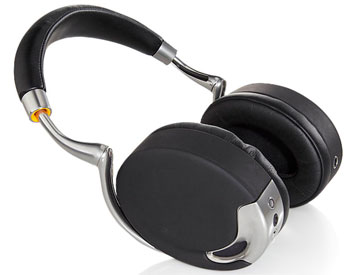 Parrot ZIK Headphones with Digital Active Noise Cancellation create the perfect listening environment for music and calls. One-touch wireless pairing with Bluetooth smartphones and players Earpiece touch controls let you change volume or advance songs with a swipe of your finger Frequency range 10HzG€"20kHz App-controlled Concert Hall sound customization Sleek, modern design by Philippe Starck Rechargeable via USB (cable included) Plush padded earcups are comfortable and enhance your listening environment Also connects via standard headphone cable (included)
Musical Notes Woven Silk Skinny Tie
Make a note of it with musical print stripes across a narrow silk tie. Signature envelope included. Made in Italy.
The iPhone Drumset
This is the drumpad that allows you to create and record percussion accompaniment to songs played from an iPhone, iPad, or iPod touch. Communicating by Bluetooth, a free app provides separate volume sliders for music and the drumset, allowing you to adjust the mix to the optimal levels. The app includes six music styles that adjust the sound of each drum: classic, rock, jazz, African, funky, or country. You can record a session in one style and then accompany it using another live; you can also record solo drum sessions without music.
The One Man Bluegrass Band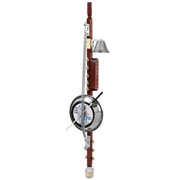 This is the Stumpf fiddle, a versatile folk music instrument that makes one musician sound like a five-piece bluegrass band. Like its European predecessor the rhythm stick, the Stumpf fiddle has a rubber ball at the base of its shaft that produces a foot-stomping, percussive beat as the player bounces it on the ground. In mid bounce musicians use the included drumstick to play melodious chimes, clangs, and twangs by striking the built-in pie tin cymbals, aluminum bell, or wood block, or by sliding it along the spring coils that run the length of the shaft. Six bells at the base of the shaft add tambourine-esque jingles to the fiddle's beat. Each fiddle is handcrafted by an artisan who carves the shaft from pine and cedar and affixes the aluminum bell and other sound makers by hand, ensuring the highest performance for years of foot-stomping hoedowns.
Braven 625s Bluetooth Speaker And SmartPhone Charger
Back in the day, you could go out with your boom box and cruise around on your bike or try to make mix tapes in your treehouse. Taking your tunes outside was easy and you could share the experience with your friends wherever you went. Unfortunately, most speakers designed to work with our smartphones or MP3 players are not designed for outdoor use. They're fragile little snowflakes that would melt in the great outdoors. Not Braven. Braven is a Bluetooth speaker and smartphone charger designed to fill nature with the sounds of your favorite band. Two custom HD audio drivers provide stereo audio amplified by left and right channel passive subwoofers. A 6w total output speaker will enable your audio to permeate the large open spaces around you. Your Braven Speaker can be used wirelessly with any Bluetooth device. If your device isn't Bluetooth compatible, you can still connect using the included 3.5mm audio cable. But that's not it. With a 1700 mAh portable USB power bank, the Braven 625s can play music, take calls, and provide a soundtrack for other media for up to 16 hours. This same power bank can be used to quickly recharge other USB mobile devices while you're exploring the outdoors. Charge your phone at your campsite while you're cooking a soup with those mushrooms you found in the woods? Sounds awesome (as long as you are a mushroom expert. If not, at least you'll die with great tunes playing).
The Sound Enhancing Ceramic Speakers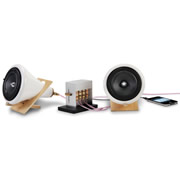 These are the speakers that reveal subtle details in music through a vibration-dampening ceramic bell. Handcrafted from artisanal-quality porcelain—an ideal acoustic medium because it doesn't distort sound waves—the gramophone-like horns resonate like the bell of a trumpet to guide crisp sound to the listener. The speakers deliver 15 watts per channel on 4" full-range drivers, and are particularly effective on vocal, acoustic, Classical and other types of music in which the delicate nuances of a performance can be brought to the fore. The minimalist stand is made of Baltic birch with cork enclosures that further dampen sound distortions. The streamlined amplifier, which showcases the cabling through its open construction, comes with stereo outputs for each speaker, a single stereo input, a volume slider and an on-off toggle. The 16-gauge speaker cables terminate in banana plugs, and connect directly to iPods, computers, TVs, turntables, and digital music players. Includes RCA and headphones jacks.
Gibson J-45 Standard Acoustic-Electric Guitar Vintage Sunburst
Gibson J-45 Standard Acoustic-Electric Guitar Vintage Sunburst
Calypso Steel Drum
Made exclusively for us in Trinidad and Tobago, this is a smaller version of the pan steel drums that are so famous there. Comes packaged with stand, mallets and songbook.
Eddy Table Clock by David Scherer
David Scherer is an American Artist who works in a variety of mediums, bring an intriguing, distinctive style and vibrancy, to all of his three dimensional works of art. Scherer's pioneering focus and innovative techniques, fuse the explosion of textures and colors to ignite energy evident in every creation. Scherer attributes his unique direction to the expansion of his cumulative experience of more than 30 years as an artist. David Scherer's work is sold all over the world and can be found in numerous private and corporate collections. -Each piece is hand crafted and hand painted. -Mixed media and or acrylic, medium density fiberboard ,metal. -Each piece is signed by the artist
Wood djembe drum, 'Ultimate' (Ghana)
Robert K. Ghartey finds inspiration in Ghanas musical and textile traditions for the elegant design of this djembe drum. It is carved by hand from tweneboa wood featuring the unique edwene asa patterns found in kente cloths. Meaning "ultimate," edwene asa appears under the drumhead and at the base. Ghartey uses cotton twine for the upper part, which includes a goat hide drumhead secured by iron rings.
Private DJ Lessons
What better way to learn DJ skills and produce beats than from by world-famous celebrity DJ's and producers? The roster of instructors includes innovators and icons of the art forms, accomplished club DJ's, decorated battle champions, experienced producers, and more. Their collective knowledge and varied perspectives provides an unmatched learning experience. You will literally learn from the best.
Sterling Silver Sax Florentine Handmade Cufflinks
Entirely unique and eternally cool, these exclusive handmade sterling silver saxophone cufflinks are perfect for music lovers and fine craftsmanship connoisseurs alike. Gift box included. Made in Italy.
Jazz: The Smithsonian Anthology
From early ragtime to international modernism, Jazz: The Smithsonian Anthology (a 2011 update of the milestone 1973 Smithsonian Collection of Classic Jazz) lets you enjoy this uniquely American musical genre through its legendary innovators, including Armstrong, Ellington, Basie, Gillespie, Fitzgerald, and Marsalis. Box Set; 6 CDs with 111 tracks; soft cover companion book, 200 pages.
The iPad Guitar Tutor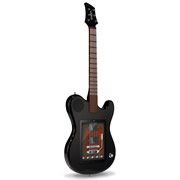 This is the guitar simulator that converts an iPad into an electric, acoustic, or bass guitar tutor. An iPad (not included) docks into the body of the full-size guitar simulator and a free app displays guitar strings that aspiring musicians can strum and fingerpick to generate resonating guitar sounds through the built-in speaker. The guitar simulator's stringless fret board has 84 LEDs that illuminate to show aspiring guitarists where to place their fingers to play proper notes and chords and the app allows musicians to add distortion, reverb, and flanger delay to their compositions. The app recreates sound from an acoustic, electric, or bass guitar, includes 10 practice songs, and allows musicians to play along to music in their iTunes library. The headphone input enables practice that won't disturb others and the unit adjusts to accommodate left- or right-handed guitarists. Compatible with iPad, iPhone, and iPod running iOS 5 or later.
Hello Kitty Guitar Charm
Let™s rock! Sparkling in clear crystal Pointiage®, this funky rhodium-plated charm features Hello Kitty playing an electric guitar with a dangling crystal star. It adds a touch of glamour to your charm jewelry.
eMedia Play Piano Pack Deluxe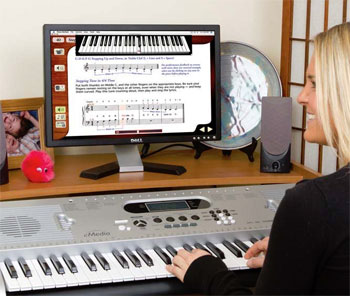 The Play Piano Pack Deluxe is for aspiring musicians who are serious about developing a mastery of the Piano. The Play Piano Pack Deluxe offers all the tools needed to play the piano like a professional right out of the box. In addition to a touch-sensitive electronic keyboard and a sheet music stand, this pack includes the most complete piano instruction eMedia has to offer.
Martin D-18 1937 Acoustic Guitar 1162901
This special edition D-18 acoustic guitar is Martin's loving recreation of the original 1937 guitar, now a highly sought-after collector's item. Crafted with mahogany back and sides, a solid Adirondack top with the X-brace and scalloped braces of the period, hide glue, vintage toner on top, ebony bridge with long saddle (2-5/16" string spacing), and a tortoise pickguard. The neck is also formed exactly as the original and reinforced with a traditional non-adjustable T-bar. Ebony fretboard (1-3/4" nut, 25.4" scale), small abalone position dots, fossil ivory nut and saddle, ebony bridge pins, 30's style hardshell case. The features and details add up to a true masterpiece of the luthier's art, with all the storied sound quality that graced the original pre-war guitar.
Pearl E Pro Live Electronic Drumset With E-Classic Cymbals Artisan Ii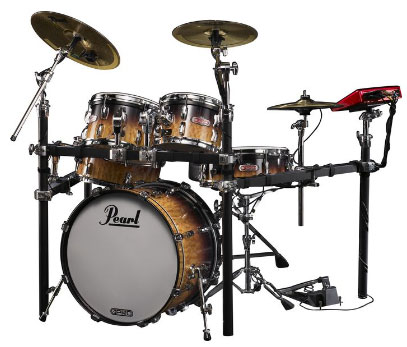 The Pearl e-Pro Hybrid electronic acoustic drum set includes brass cymbals, a 22" x 12" kick; 10" x 6-1/2", 12" x 7", and 14" x 8" rack toms; a 14" x 4-1/2" snare; 13" chokeable crash; 3-zone 16" chokeable ride; and a 12" hi-hat.Pearl e-Pro Live is a revolutionary electronic drum set that looks, feels, and sounds like real acoustic drums.
Never before have drummers been offered the limitless sonic capability and realistic feel of electronic drums on a drum set built with real drum shells, real brass cymbals, and real drum set hardware.Real lookPearl e-Pro Live looks like real drums because the appearance of your gear is important. It's a statement about who you are as a performer.
Most drummers would rather be seen playing real drums, and not a collection of practice pads.Real sizesNo more playing on small black 8" pads. e-Pro Live features 10" x 6-1/2", 12" x 7", and 14" x 8" rack toms with a 20" x 12" bass and 14" x 4-1/2" snare with white heads.Real hardwareThe foundation of Pearl e-Pro Live starts with the modified Icon Rack. The rack will accommodate adding more drums and cymbals.
The Learn To Play Violin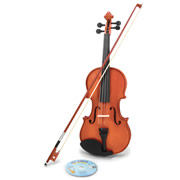 This hand-carved solid wood violin and instructional CD-ROM help aspiring virtuosos learn finger placement for proper play in real time. With the use of your computer's microphone, the software "listens" while you play and shows you correct finger placement using its animated fingerboard. The CD-ROM includes 160 lessons that teach the fundamentals of tuning, bow preparation, correct arm positioning, and how to play many songs. The violin is an authentic, full-size instrument with a spruce top and a maple neck, back, and ribs that produce rich, full sound. The maple bridge, solid ebony fingerboard and fittings, built-in fine tuners, and a precisely balanced Brazilwood bow with real, unbleached horsehair provide the feel of a professional violin while remaining manageable for novices. Includes automatic tuning software, adjustable shoulder rest, rosin cake, and a hard-sided carrying case. Ages 13 and up.
The Learn To Play Keyboard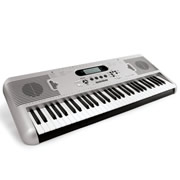 This is the keyboard that includes comprehensive instructional software lauded by The Wall Street Journal as "well-planned and effective." Exclusive to Hammacher Schlemmer, the software contains over 400 step-by-step, full-screen lessons and more than 70 video demonstrations, taught by two instructors from the renowned Juilliard School of Music. Instruction begins with basics such as clapping to teach rhythm, progressing to intermediate skills such as improvisations on the black keys, leading to simple songs with both hands. The keyboard plugs into a computer using the included 6 1/2' USB cable, allowing the software to "listen" as you play, providing instant feedback by highlighting correctly played and incorrectly played notes on its animated keyboard. Over 100 songs such as Joplin's The Entertainer, Beethoven's Ode To Joy, and Billy Joel's Piano Man are included, and you can slow any song to suit learning speed. The five-octave keyboard is fully loaded with 400 instrument voices and over 150 rhythms. All sounds are produced clearly by two 2-watt speakers; includes headphones jack.
Gibson Dove Modern Classic Dreadnought Acoustic-Electric Guitar Antique Cherry Nickel Hardware
The Gibson Dove Modern Classic Dreadnought Acoustic-Electric Guitar is a masterpiece to be savored by the ear and the eye. Features curly maple back and sides with a solid Sitka spruce top, bound fingerboard with pearl parallelogram markers, 25-1/2" scale, handmade dove-wing bridge with mother-of-pearl inlays, and a distinctive engraved pickguard with inlaid mother-of-pearl dove. Natural finish top with warm antique cherry finish on back, sides, and neck. L.R. Baggs transducer with soundhole mounted volume control. Nickel hardware. Gibson includes a deluxe hardshell guitar case with the Modern Classic Dove guitar.
The Complete Bird Songs Audio Book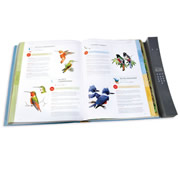 This oversized audio book plays the songs and calls of every breeding bird in North America--747 in all--recorded in the field by the renowned Macaulay Library at the Cornell Lab of Ornithology. The most comprehensive book of avian species ever published for North America, it helps dedicated birders or curious novices differentiate between songs and calls to identify each species' unique audible characteristics.
Roland V-Piano Digital Stage Piano with KS-V8 Stand Standard
New style keyboard and new sound generation technology for a unique digital piano experience.
The Roland V-Piano is a digital stage keyboard that soars above the limitations of past technologies with its revolutionary "living" piano core. Hear every note respond and evolve naturally, seamlessly, and perfectly without requiring samples. With the Roland V-Piano, there is no velocity switching, and the smooth, natural piano-style decay must be heard to be believed.

Quick Links to Other Pages of Gifts For Someone Who Has Everything