Party Gifts & Party Supplies
The big party season has started (does it ever end). Whether you looking for party gifts for someone or unique ones for yourself, you can find them here. We offer great party ideas such as costumes, masks, wigs, hats, collectibles, memorabilia, party supplies, and so much more. Who doesn't like a PARTY, or thanking someone for such a great time at a party?! I update often so do bookmark us and check back!
Check out Personally Picked Gift Ideas for you here!
Unusual Party Gifts & Supplies
Not only can you find fun gifts here but they also offer some unusual party items.
Check out their glasses, party plates, party picks, party napkins, party games and more.
Fun Party Gifts & Supplies
They offer over 34,000 party supplies, gifts, favors and more for every occasion from weddings, baby showers, birthdays, parties, special events, themed events, holidays, graduations and more. Their selection is so huge and diverse that it's hard to mention everything but here's a bit - decorations, banners, tableware, candy bars, balloons, party games, invitations - oh you have to check it out to see it all.
Shop Now!
Hottest Hollywood Party Gifts & Supplies
Their selection of Hollywood party supplies, decorations, memorabilia and movie stills are perfect for any movie lover or film enthusiast in search of themed party ideas. Roll out the red carpet and impress your friends, have an Awards Dinner Party with celebrity guest standups!
Give that special person a gift that's unique and collectible. Make it a customized gift with one of their Awards Statues or Walk of Fame Star replicas!
Shop Movie, Celebrity & TV Memorabilia & Gifts, 3000+ items!
Everything Party Gifts & Supplies
They offer an extensive selection of party favors, supplies and decorations for nearly every occasion that includes candy, costumes, crafts, decorations, favors, toys, stationery, supplies, tableware, gifts and gift bags. Check out their huge theme party collection that covers everything from Baby Showers to Hollywood awards night, with everything in between - plus all the holiday calendar events.
Tons of party supplies, favors and decorations now on sale. Hurry before they are gone forever! Ships same day Shop Now!
Fun Geeky Costumes
This is a one-stop shop for everything fun and geeky.
Shop ThinkGeek!
Personalized Party Candy Gifts & Supplies
Personalized MY M&M'S® Candies are great for gifts, party favors, weddings, birthdays, anniversaries, baby showers, graduations, holidays, corporate events, sporting events, tradeshows, corporate gifts and more.
Shop Now!
Gourmet Party Gifts
Looking for birthday gifts that are sure to please? Start the party with their delectable birthday gifts including gourmet birthday gift baskets and even award-winning wine gifts.
Shop Gourmet Treats, Cookie Gifts & Bakery Gifts
Kids Party Supplies
If you are looking to plan the perfect kids birthday then this is the right place. Their party supplies section offers the latest character themed birthday party supplies along with unique party favors.
FREE SHIPPING on orders over $99 - Shop Now!
Hostess Gift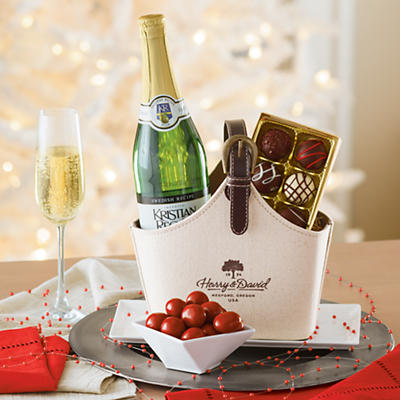 Bring the Hostess Gift with you to a party. Or send it in your place if you can't make it. It's a good way to score some points with the host or hostess. Branded with our Harry & David tree logo, this canvas tote bag is a great gourmet gift. Make a toast with a bottle of delicious pear sparkler. It's an effervescent non-alcoholic drink everyone can enjoy. Not everything in this gift has to be shared, though. Maybe our coveted chocolate truffles will stay in the tote until after the guests leave. We've been using our signature recipe for over 30 years to make these truffles, and the recipe hasn't changed for a reason. Our chocolate cherries are another gourmet treat in this gift. Bing cherries are cloaked in premium chocolate and then covered with sweet candy goodness. They're easily one of our favorites. And we can almost guarantee this Hostess Gift will get you invited back.
Happy Birthday Hand-Dipped Chocolate-Covered Strawberries - One Dozen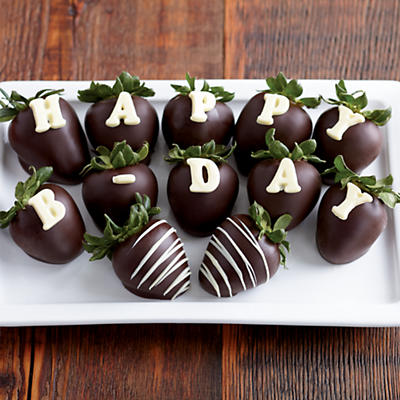 Wish someone an extra special happy birthday with a dozen fresh strawberries dipped in pure dark chocolate imported from Belgium. These Happy Birthday chocolate-covered strawberries, each of which is hand-dipped, actually spell out the special occasion in white chocolate lettering. These extra large berries arrive in an elegant gift box.
Personalized Anniversary Wine Crate
Honor their relationship with this one-of-a-kind anniversary gift. Your special message and a premium wine are elegantly presented in a sturdy Happy Anniversary wine crate. Choose your wine, then choose your inscription for a extra special touch. Gift Includes Your Choice of Wine: Tanner Ridge California Chardonnay: A fresh, lively Chardonnay with notes of green apple and sweet oak with a lingering finish. Tanner Ridge California Merlot: A delicious complex red with blackberry, chocolate, and sweet oak that delivers bold fruit from start to finish. Simi Alexander Valley Cabernet Sauvignon: With bold notes of black cherry and vanilla, this full-bodied wine boasts complexity and ripe, chewy tannins on the finish. Features: A sturdy wooden Happy Anniversary wine crate with your chosen inscription.
Wedding Cheesecake Pops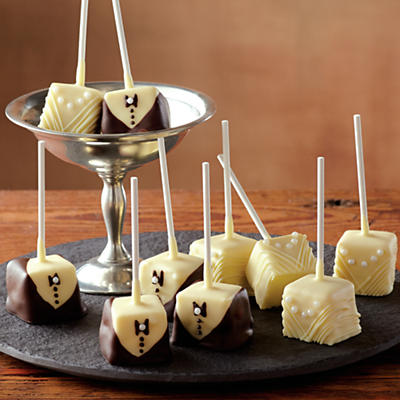 These Wedding Cheesecake Pops are elegant edible wedding favors, perfect for a grand wedding reception or as a gift to a recently engaged couple. Each pop is hand-dipped in decadent milk or white Belgian chocolate and then hand-decorated as tuxedos and wedding dresses. Every bite is filled with smooth, creamy cheesecake, making these a wonderful addition to the dessert table.
Bunch O' Beads Pkg/75
Our Bunch O' Beads is a bucket of beads featuring purple, green and gold beads in assorted styles that are perfect to celebrate Mardi Gras with! Each beaded necklace measures approximately 15 inches long. Hand these colorful beads out to your party guests as they arrive to your event or scatter them on tabletops for added color, definition and style!
Deluxe Thank You Wine and Gourmet Basket
Two bottles of select wines from award winning vineyards are the focus of this basket. Add your personal touch in this basket by selecting a wine option of two reds, two whites, one bottle of each, or one bottle of champagne. A variety of gourmet foods are included in the basket to enhance the flavor of the wines. Delicacies such as seasoned crackers, cheese, olives, nuts and other cocktail nibblers are artfully arranged with cookies and specialty confections in an attractive basket.
Chocolate Birthday Cake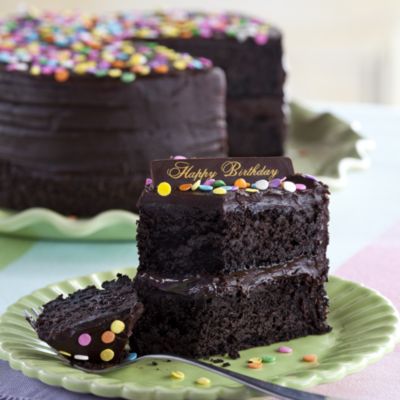 Hand-baked, assembled and decorated using an exclusive recipe, this two-layered, dark chocolate cake is frosted and filled with chocolate cream cheese frosting, adorned with colorful candy sprinkles and topped with an edible "Happy Birthday" medallion.
Tower of Treats Gift Grand Deluxe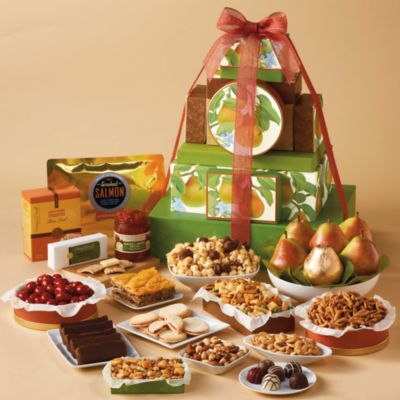 One box is a nice gift. Two boxes are even better. A whole stack of boxes, now that's something you don't get every day. From the exclusively designed artwork to the bows tied individually by hand, this gift took a lot of thought. So you can rip it open and tear into all the yummy treats inside. Go on, we don't mind. Really.
Grand Slam Party Kit For 100 Asst/100
When you celebrate the new year with everyone, the Grand Slam Party is the kit to get! The Grand Slam Party Kit for 100 includes 50 New Year's hats, 100 jumbo 9 inch foil horns, 50 tiaras, and 50 leis in assorted colors and designs.