Gifts For A Pet And The People Who Love Their Pets
We showcase fun pet toys, cute pet houses, unusual pet dishes, fun pet presents, pet sculptures and so many more goodies for your furry friends. Whether it's something for your pet, or a present for a pet lover, you will find cool items for them here.
Canine Splash Pool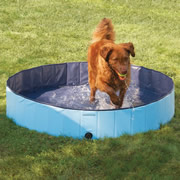 This is the splash pool made from rugged materials that can withstand a dog's rough paws and sharp claws.
The best gifts, for best friends!
They are the largest online retailer of pet clothing but they also offer over 20,000 products from toys, treats and beds, to bowls, collars, and leashes.
Free Shipping On Orders Over $49 - Check out Baxter Boo!
Personalized Pet'sTravel Bag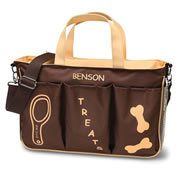 This is the personalized overnight bag that keeps a canine's essentials organized and accessible.
Animal lovers gift shop.
Offering items on specific animals, pets, dogs, cats, wildlife, etc. Over 9000 products. Huge dog breed section. Plus shirts, plush animals, calendars, mugs, address labels, mousepads & more.
Check out Animal Den!
Mouse Cave Pet Bed
Handcrafted by women's collectives in Nepal, the lanolin-rich blend of Tibetan and New Zealand wool keeps the bed naturally clean.
Pet supplies.
They offer a wide variety of pet supplies including flea & tick medication, joint care supplements, pet shampoos, pet toys & treats and much more for dogs, cats, horses, fish, birds and more.
Check out Entirely Pets!
Feline's Laser Chasing Scratch Post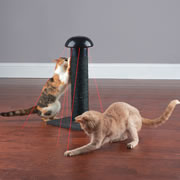 Projects a red laser dot that darts across a floor in unpredictable patterns, inciting even indifferent felines to engage in perpetual play.
Natural pet products.
Offering a selection of Organic and Eco-Friendly products like Organic Pet Superfood.As the leading natural pet product provider, they're committed to a sustainable future… for our pets and our planet. They've added all the best Treats, Toys, Collars and yes, even Doggie Sweaters.
Sale! Get $23 off $69 + Free Shipping with code SAVE23 - Ends 07/30 - Check out Only Natural Pet!
Unique Metal Cat Wine Bottle Stopper
Whiskered metal cat attached to heavy duty wine stopper with rubber seal preserves the grapey goodness.
Wild bird products.
They offer hundreds of the very best wild bird and nature-related gifts, birdfeeders, bird foods, backyard pest solutions and garden décor such as bird feeders, bird houses and bird baths.
Save up to 50% when you shop The Duncraft Wild Bird Superstore! Check it out!
Gold Accented Safari Glasses
Artistically depicts a zebra, elephant, giraffe, and lion. Tribal designs on the bottom.
Natural health pet products.
They offer a new line of natural pet health products from Dr. Goodpet. The line features 17 products for dogs and cats including homeopathic medicine, digestive enzymes, pure shampoo, natural flea control, and more.
Check out Botanic Choice!
Automatic Electronic Pet Door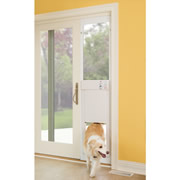 When a pet wearing the included ultrasonic collar comes within 1' to 10' (you select the distance) the pet door automatically opens. Once the pet passes through the door it closes automatically.
Fun Pet Carrier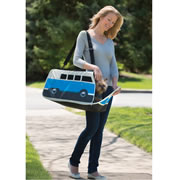 Ideal for a hepcat's hip cat—or dog, the carrier helps transport flower power pets to epic music festivals, peace-inspired protests, and other groovy get-togethers.
High Definition Birding Camera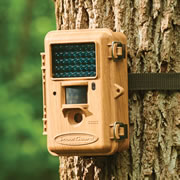 This is the high-definition digital birding camera that detects motion and automatically snaps pictures or records video using a lens designed for close ups.
Pain Soothing Memory Foam Pet Bed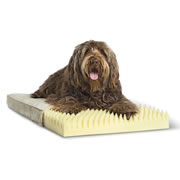 This is the pet bed with dimensional memory foam that helps ease the joints of a senior dog or cat. Creates a cozy place for aging pets to relax and slumber.
Feline's Litter Room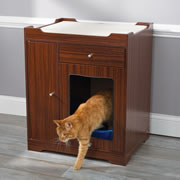 This is the wood bench that keeps an unsightly litterbox hidden in plain sight.
Cat Treat Jar & Food Bowl
Handmade in ceramic stoneware, each is decorated with cat delights—a "MEOW," bird, mouse, ball of yarn, cat, and fish bones (jar)—and will vary slightly.
Baltic Amber Bubble Fish Necklace
Polish artisans interpret an aquatic darling—the Banded Butterfly Fish—in genuine Baltic amber and sterling silver, including bubbles.
Wood sculpture, 'Kitty Meditates'
Assuming a human position, a Siamese cat meditates. With this carving, he communicates the cat's peacefulness and serenity.
Warming Cat Bed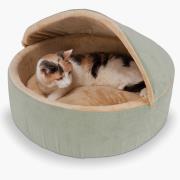 Recommended by veterinarians, this bed generates a gentle warmth to soothe older or arthritic pets.
Murano Cat on the Aquarium Necklace
The pendant of this mouthblown Murano glass necklace depicts a black cat in perpetual hope of landing the goldfish within the fishbowl.
Cat and Fishbowl Planter/Candleholder
This Cat and Fishbowl Planter/Candleholder is functional whimsy at its most delightful.
Digital Camera Binoculars - Great for bird watching and recording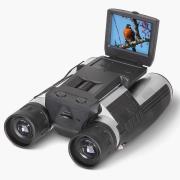 The Best model's fully coated 32 mm objective lenses and 8X magnification allowed an analyst to read seven lines of text from 100' away, working in concert with a 5 megapixel camera that provided the most accurate picture on its preview screen.
Tabby Tantalizing Tornado Toy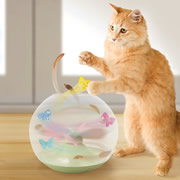 This is the bowl that draws and rivets a cat's attention with a spinning vortex of flying butterflies, feathers, and organic catnip.
Squirrel-Proof Bird Feeding Station
Features 3/8" square steel pole topper, three-piece sectional pole and galvanized steel squirrel guard to keep squirrels off.
Feline Tree House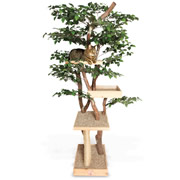 This is the hand-crafted natural treehouse that lets felines indulge their primeval jungle instincts.