Gifts For A Pet And The People Who Love Their Pets
Whether it's something for your pet, or a present for a pet lover, you will find cool items for them here. We showcase fun pet toys, cute pet houses, unusual pet dishes, fun pet presents, pet sculptures and so many more goodies for your furry friends.
Canine Splash Pool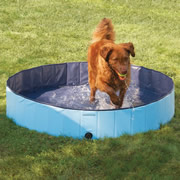 The best gifts, for best friends!
They are the largest online retailer of pet clothing but they also offer over 20,000 products from toys, treats and beds, to bowls, collars, and leashes.
Free Shipping On Orders Over $49 - Check out Baxter Boo!
Feline's Laser Chasing Scratch Post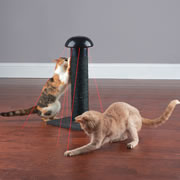 Dog behavior goodies.
World-renowned dog behavior expert, Cesar Millan. Cesar is the star of the National Geographic Channel hit TV series Dog Whisperer with Cesar Millan. Cesar's experience and understanding of dog behavior, specific to his philosophies and methods, empowering dog owners around the world to correct unwanted behaviors and build more fulfilling relationships with their dogs.
Bright Light Collar/Leash set adds safety to your nighttime walks by keeping your dog visible with the LED leash and collar. Go Here!
Shop now for Products and Training DVD's. They're a must-have for dog owners - Check out Cesars Way!
Magnificent Glass Ruby-Throated Hummingbird
Animal lovers gift shop.
Offering items on specific animals, pets, dogs, cats, wildlife, etc. Over 9000 products. Huge dog breed section. Plus shirts, plush animals, calendars, mugs, address labels, mousepads & more.
Check out Animal Den!
Mouse Cave Pet Bed
Pet supplies.
They offer a wide variety of pet supplies including flea & tick medication, joint care supplements, pet shampoos, pet toys & treats and much more for dogs, cats, horses, fish, birds and more.
Check out Entirely Pets!
Kitten and Leaf Birdfeeder
Natural pet products.
Offering a selection of Organic and Eco-Friendly products like Organic Pet Superfood.As the leading natural pet product provider, they're committed to a sustainable future… for our pets and our planet. They've added all the best Treats, Toys, Collars and yes, even Doggie Sweaters.
Sale! Save $25 + Free Shipping on orders of $125 or more with code AFPET25 - Ends June 30th - Check out Only Natural Pet!
Metal Cat Wine Bottle Stopper
Wild bird products.
They offer hundreds of the very best wild bird and nature-related gifts, birdfeeders, bird foods, backyard pest solutions and garden décor such as bird feeders, bird houses and bird baths.
Save up to 50% when you shop The Duncraft Wild Bird Superstore! Check it out!
Gold Accented Safari Glasses
Natural health pet products.
They offer a new line of natural pet health products from Dr. Goodpet. The line features 17 products for dogs and cats including homeopathic medicine, digestive enzymes, pure shampoo, natural flea control, and more.
Check out Botanic Choice!
Platinum & Gold Gilded Robin Figurine
Whether pet food, pet toys, pet training, pet houses, pet RX, pet GPS tracking, fun pet presents, pet sculptures and so many more, giving a present to a pet lover is truly special.
Cat Treat Jar & Food Bowl
Indulge your favorite feline with gourmet accessories—a Treat Jar with sealed lid and a microwave- and dishwasher-safe Water/Food Bowl. Handmade in ceramic stoneware, each is decorated with cat delights—a "MEOW," bird, mouse, ball of yarn, cat, and fish bones (jar)—and will vary slightly.
Baltic Amber Bubble Fish Necklace
Polish artisans interpret an aquatic darling—the Banded Butterfly Fish—in genuine Baltic amber and sterling silver, including bubbles. This Baltic Amber Bubble Fish Necklace has an 18"l. sterling silver omega chain and pendant. Lobster clasp.
Cesar Millan Funny Muzzle
Wood sculpture, 'Kitty Meditates' (Indonesia)
Assuming a human position, a Siamese cat meditates. Nengah Sudarsana shares his deep love of animals through his sculptures. With this carving, he communicates the cat's peacefulness and serenity.
Warming Cat Bed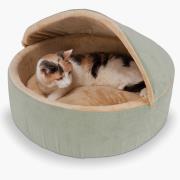 Recommended by veterinarians, this bed generates a gentle warmth to soothe older or arthritic pets. The soft microfleece-lined interior evenly distributes warmth and the foam cushion provides proper support.
Ornithologist's Song Bird Attractor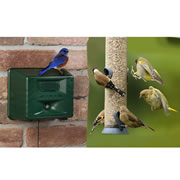 Designed in consultation with ornithologists, the device attracts birds using calls recorded in the field, not digitally synthesized, for maximum realism. Each song represents a number of individuals and plays at naturally occurring sound levels and intervals to give birds the impression others of their species are nearby.
Murano Cat on the Aquarium Necklace
The pendant of this mouthblown Murano glass necklace depicts a black cat in perpetual hope of landing the goldfish within the fishbowl. Seed beads, stationed hearts, and pendant are handmade on Murano.
Cat and Fishbowl Planter/Candleholder
This Cat and Fishbowl Planter/Candleholder is functional whimsy at its most delightful. A golden cat tries to understand why all the fish swimming in brazen bas-relief on the "fishbowl" exterior cannot be found inside. Handcrafted and hand-finished aluminum, with raised interior platform.
Digital Camera Binoculars - Great for bird watching and recording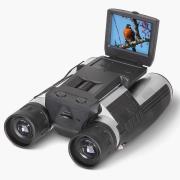 The Best model's fully coated 32 mm objective lenses and 8X magnification allowed an analyst to read seven lines of text from 100' away, working in concert with a 5 megapixel camera that provided the most accurate picture on its preview screen, unlike lesser models's screens that produced glare and displayed larger images but took smaller pictures.
Tabby Tantalizing Tornado Toy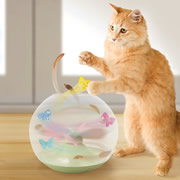 This is the bowl that draws and rivets a cat's attention with a spinning vortex of flying butterflies, feathers, and organic catnip.
Squirrel-Proof Bird Feeding Station
Each of the three arms holds up to 20 pound and extends 22" out to hold the widest feeders! Features 3/8" square steel pole topper, three-piece sectional pole and galvanized steel squirrel guard to keep squirrels off.
Automatic Cat Litter Box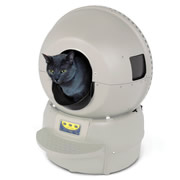 After its sensor had detected that a cat had used the box and exited, The Best model waited only seven minutes to begin self-cleaning. The Best model removed debris without the clumps and clogs that plagued other units, and its design is free of the standard rake mechanism that can injure cats and is prone to jamming.
Feline Tree House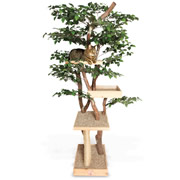 This is the hand-crafted natural treehouse that lets felines indulge their primeval jungle instincts. The tree is left in its natural state--gnarled branches, bark, lichen and all--and the 3/4" plywood platforms are custom-cut to fit its unique contours.
Tigrito - Cat Bowl
Your cat will purr with delight at the sight of this charming double bowl for food and water with removeable stainless steel inserts for easy cleaning.