Personally Picked Unique Flower, Plant, Vases, Candles And More Gifts For Someone Who Has Everything
Flowers, plants and candles are the gift you can give, no matter what the occasion, to someone who is hard to buy for. Actually these are the type of present to give for no occasion, other than to tell them you care. You will find unique flower gifts, silk flowers, organic flowers, flower gift clubs, Bonsai, unique plants, unique candles and more. Give them a gift of love to that special someone in your life for their birthday, anniversary, to say thank you, or just to let them know you are thinking of them gift.
If you are having trouble finding a gift for your someone who has everything drop me a note on live chat or if I am online you can ask me directly. You can also email me and I would happily help you find that perfect present!
FTD Sweet Devotion Flowers by Better Homes and Gardens - VASE INCLUDED
The FTD Sweet Devotion Bouquet by Better Homes and Gardens brings together roses and stock stems to design a wonderful wish for perfect happiness for your special recipient. Lavender roses and stock are accented with pink stock and lush greens to create an amazing flower bouquet. Lovingly arranged in a designer lavender etched glass vase, this flower arrangement offers them a beautiful expression of your sweetest sentiments to celebrate Mother's Day, extend your happy birthday wishes.
Royal Flower Bouquet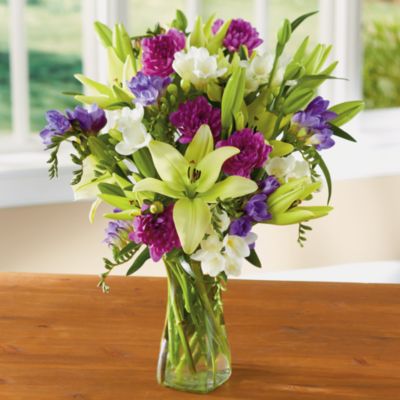 This beautiful long stemmed flower bouquet is an elegant way to celebrate any occasion. Like your mom's birthday, or your aunt's retirement. A balanced mix of rich purples, white and green, this fresh flower bouquet is hand assembled and comes in a glass vase. Green lilies, white and purple freesias, and purple dalias make up this full bouquet, giving it a light fragrance and a unique look.
Birdhouse with Succulents Gift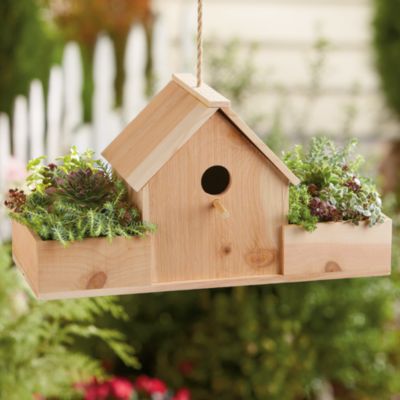 This unique birdhouse is made right here in Medford, Oregon, from American grown western cedar wood. With a tray of assorted succulents on either side, this unique birdhouse will be a hit. Especially with the birds. The roof of the house is removable for easy cleaning access and the succulents can be removed to keep inside if your birds have different landscaping ideas.
Glistening Grace Luxury Mini Cymbidium Orchid Flowers in Orrefors Crystal Tornado Vase
Sparkling sophistication set to impress at every turn, this bouquet of mini cymbidium orchids in an array of blushing hues offers your special recipient a blooming gift they will recall throughout the years. Paired with an Orrefors Crystal Tornado Vase, this bouquet has unmatched grace and modern magnitude that won't go unnoticed. This vase, designed by Jan Johansson, is the perfect gift for lovers of original design and craftsmanship in crystal. With the exterior surfaces appearing twisted while the interiors remain vertical to create captivating angles of refracted light, this bouquet brings them a keepsake piece they will unabashedly adore.
Rush Of Beauty Flower Bouquet With Baccarat Crystal Vase - 20 Stems
Exuding an elegant sophistication and charm, this bouquet speaks of your most heartfelt wishes. Gorgeous open cut white calla lilies and red mokara orchids combine with lush lily grass and red curly willow to create a fantastic display. Seated in a Baccarat Crystal Eye Vase, made of the finest full-lead French crystal, hand-crafted to attract and reflect light at every turn, this bouquet is a rush of beauty meant to get their attention with its eye-catching opulence.Includes 8 stems of open cut white calla lilies, 12 stems of red mokara orchids, lily grass, red curly willow and Baccarat Crystal Eye Vase.
Flowering Brazilian Raintree Bonsai Tree (pithecellobium tortum)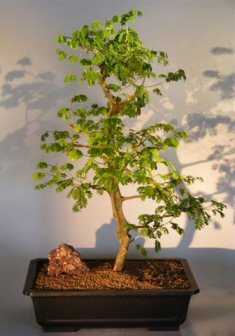 This hardwood flowering tree is native to Brazil and its rainforests. The rain tree has delicate branches, flowers are white with puffy blooms, tiny light-green compound leaves and is spiny. The leaves fold up at night or in subdued light and wakes up when we do. Easy indoor care.
Sweet Symphony Bouquet
A mix of premium flowers in pretty pastel shades creates a sweet symphony of color in this stunning bouquet that always impresses. Fresh-cut flowers such as oriental lilies, tulips, larkspur, gerberas, roses, hydrangea, ranunculus, Monte Cassino asters, and more are arranged in a clear glass hurricane vase. The resulting effect is a large and varied bouquet that simply radiates beauty.
FTD Smithsonian Hopeful Tomorrows Phalaenopsis Orchid
FTD, in collaboration with the Smithsonian Institution, proudly presents the Hopeful Tomorrows Phalaenopsis Orchid. With over 8,000 live orchid plants in its collection, Smithsonian seeks to educate, inspire and encourage the public to grow, enjoy and appreciate beautiful orchid plants. In doing so, we have chosen this stunning Phalaenopsis orchid for its incredible color and sunlit disposition. This striking yellow orchid features brilliant violet veining and arrives seated in a sleek designer fuchsia embossed braided ceramic container to offer an uplifting gift of spirited inspiration.
FTD Passion for Life Rose Flowers - 12 Stems of 20-inch Roses
The Passion for Life Rose Bouquet is an exquisite display of elegance and sophistication hailing from the esteemed Passion Growers . FTD has partnered with this particular rose grower because of their high quality standards and commitment to their community and environment, resulting in an exceptional bouquet that will exceed your special recipient's every expectation. This bouquet of Cayenne variety roses, known for their brilliantly bright coral petals, is accented with a variety of lush greens to shower your recipient with a spirited energy and endless inspiration. Approximately 12-inches in diameter.
Natural orchid gold plated stickpin, 'Orchid Fantasy' (Thailand)
A rock orchid (Dendrobium orchid) casts a spell of natural beauty in a stickpin by Thailand's Danai. He develops electroplating techniques that allow him to preserve the beauty of the orchid in a 24k gold-plated stickpin. Please note shape, size and color of the natural orchid may differ.
FTD Monthly Orchid Plan - She will love this!
This monthly Orchid program makes an impressive gift. They have selected only the best growers who take great pride in demanding only the finest orchids for you. Your recipient will receive their first bouquet with a classic glass vase on the delivery date you select. Future bouquets will be shipped via FedEx next day service in the third week of the following months. January - Candy Stripe, 10 stems (purple )February - Mokara, 7 stems (yellow) March - Jade, 10 stems (green) April - Calypso, 10 stems (fuchsia )May - Jaguar, 10 stems (pink) June - Wonder, 10 stems (white )July - Madame, 10 stems (purple) August - Red Lip, 10 stems (purple) September - Twilight, 7 stems (orange) October - Mistine, 10 stems (lavender) November - Annie Black, 10 stems (reddish-brown) December - Dendrobium, 10 stems (white)
FTD Pure Passion Flowers - VASE INCLUDED
The Pure Passion Bouquet by FTD is rich in romance and sweet sophistication. Red roses combine with white Oriental lilies artistically accented with lily grass blades for an incredible look. Wrapped in aspidistra leaves around the stems, this bouquet arrives seated in a clear glass vase to create the perfect atmosphere for love to bloom.
Phalaenopsis Orchid Plants
Two beautiful long-lasting phalaenopsis orchid plants arrive in a planter and are trimmed with ribbon. Due to availability, orchids and planter may vary.
FTD Wondrous Nature Flowers - BASKET INCLUDED
The Wondrous Nature Bouquet by FTD is bountifully bedecked with a dazzling display of color and beauty. Stargazer lilies stretch their fuchsia petals out amongst an arrangement of blue iris, white traditional daisies, orange mini carnations, purple statice and yellow solidago in a round whitewash handled basket, creating a delightful bouquet your special recipient will adore.
Queen for a Day Ultimate Rose - Single Stem 3.5-Foot Rose - VASE INCLUDED
The Queen for a Day Ultimate Rose is an impressive gift they will never forget! Standing 3.5 feet in height and having a large flower head that measures 5 to 6 inches across, this blushing pale pink single stem rose arrives in a tall sleek white tower vase to make displaying this rose both easy and enjoyable and is accented with a princess pendant that hangs off the stem of the rose as decoration. Create the perfect moment with the Ultimate Rose, a unique gift that stands apart from the traditional rose bouquet.
Large Cymbidium Silk Flower Arrangement
In taking just one look at this vibrant and lovely plant, you will see the energy radiating from the bright colors and perky blossoms. This plant will be a sure favorite among owners and visitors alike with its tall 36� stature; bold, sturdy planter; and bright, cheery presence. Couple that with its total ease of care, and it will ensure that it will remain a household fixture for years to come.
Bird of Paradise & Calla Lily - Silk Flowers
An intricate design of birds of paradise and calla lilies interwoven into the fingers of a large philodendron leaf. A centerpiece with amazing realism in color and texture. Tall grass and cymbidium orchid blooms add the finishing touches. It's designed in a shallow 9" diameter glass bowl with our clear acrylic water and natural pebbles.  It's a wonderful permanent floral design.
A Rainbow of Tulips
Spring's most popular and vibrant flower, the tulip, is beautifully showcased in this eye-catching arrangement, featuring three luscious tulip varieties in a fun Easter inspired vase. Gift Includes: Light Pink Tulips Yellow Tulips Dark Pink Tulips Features: A free gift card with personal message Arrives in a multicolored pastel vase Hand delivered to the recipient's home or office A plush teddy bear, balloons, wine, champagne, or chocolates may be added to your order based on availability. Please contact customer service for more information. Measures 13.5'' x 15.5''. During checkout, please be sure to indicate your preferred occasion when you choose a gift card. Exact flowers and vase may vary depending upon location and availability.
Wire Bonsai Tree Sculpture - Dogwood on Lawn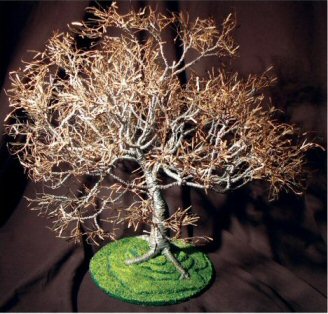 The main trunk and branches of this sculpture are made of 20 and 26 gauge steel galvanized wire, giving the surface a matte gray finish. The outer twigs and hundreds of hammered leaves are created of 26 gauge brass wire. The combination of the two types of wire gives the sculpture a lifelike and very full appearance. In contrast to the multi colors of the tree, the sculpture is planted into a simple round grass covered base. The grass is created by using several types of sand which is painted in green, yellow and white and which will not fade.
Murano handblown vase, 'Rainbow Tulip' (Brazil)
Shaped like a blossoming bud, this vase is alive with the colors of dusk. Bright red and orange converge into the last sunray under a sapphire blue sky. Captured within a glass frame, the illusion is sublime. Murano artisans craft this vase with ancestral blown glass techniques, enabling them to recreate the beauty of a sunset. The presence of air bubbles accentuates the nature of the traditional hand blown crafting process, making each piece unique.
Trillium Vase
Inspired by Ancient Asian Ceramics. The Asian aesthetic of this new Trillium Vase from century-old Pewabic Pottery is inspired by one of the company's original designs, which in turn was encouraged by the Asian pot fragments supplied to the pottery's founder by patron Charles Lang Freer. Named for him, our Freer Gallery of Art curates a number of Pewabic Pottery pieces. Crafted entirely by hand from Pewabic's own clay and one of its arts-and-crafts-era glazes.
Antique Brass Curled Leg Floating Vase
Antique Brass - 22"H
Desert Storm Vase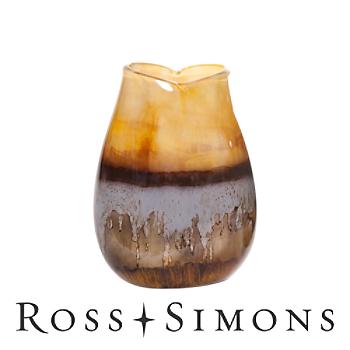 Abstract and compelling, the Desert Storm Vase is an amazing piece. Featuring a completely new and unique design, it is composed of mouth-blown and hand-painted glass so that no two pieces are alike. Each piece tells a story through a kaleidoscope of colors and artistic interpretation, whether it's a tranquil landscape, or a playful, abstract explosion of color.
Crystalline Candleholder
Candleholder with fully faceted clear crystal top and base element. Middle part filled with clear crystal chatons.
Gomitolo Small Wax Candles Set
A set of lime, fuchsia, liquorice blue, and lemon add bold punches of colors to any space. A playful design that mimics balls of yarn will warm you up while you spin a conversation. Signature box included. Made in Italy.
Orchid Flower Vase Candle
Let Romance Blossom. An elegant addition to any room, this large and beautiful Orchid Flower Vase Candle floats a detailed wax orchid blossom atop a column of fine, orchid-fragranced wax. Burn time: up to 120 hours. Glass vase. Made in the U.S.A.
Driftwood Candelabra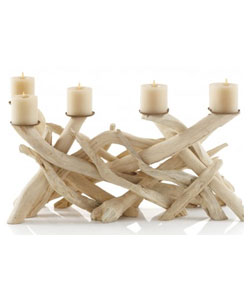 Naturally sculpted and worn smooth by wind and churning seawater,entwined pieces of driftwood are joined at cross angles to form adramatic candelabra centerpiece. They arch up like whitecap waves toelevate metal discs that hold pillar candles. No two are preciselyalike, which is another reason we're enamored of this stunning piece.
Huamanga stone candleholder, 'Ying and Yang' (Peru)
In an admirable demonstration of cultural syncretism, artisans from Nio Rumi de Chuschi Association in Peru interpret the Chinese Ying and Yang symbol. They carve it from Huamanga stone, a type of alabaster unique to the Andean region that possesses a translucent sheen. Working with white and black Huamanga, they carve a fabulous candleholder. This legendary symbol represents the interconnected forces of nature, and how one gives rise to the other.
Black Dahlia Diffuser
Inspired by the romance of the Black Dahlia, a legendary Hollywood temptress, this sensual and dramatic combination of black pepper, jasmine absolute, amber, and Mysore sandalwood pits the sweetness of jasmine against the fire of pepper.
Iron candleholder, 'Light of Guatemala' (Guatemala)
This stylish iron candleholder celebrates Guatemala's traditional elegance. The Godoy Family designs the holder for five candles as they forge it by hand featuring flowing lines. They contrast gracefully with iron's strong, sturdy nature.
Quick Links to Other Pages of Gifts For Someone Who Has Everything