Sweet Gourmet Gifts For Someone Who Has Everything
Sweet goodies that will melt in their mouth and delight and surprise your special someone, that's what you will find here. We showcase unique gourmet sweets, artisan made sweets, unique chocolate, luxury chocolate, chocolate clubs and all sorts of yummy bakery, candy and delicious fruits that anyone in your life would love and make a great present.
Champagne Fruit Gourmet Gift Basket
Filled with fruit and gourmet items that may include apples, pears, bananas, gourmet cheese, crackers, summer sausage, or candies and champagne.
Luxury chocolates.
Their signature Z through 15 chocolates are available with a variety of couvertures (dark, white, and milk chocolate) and delightful fillings, from raspberry ganache and passion fruit caramel to pistachio-almond marzipan, coriander praline, and coffee ganache. Individual chocolates are packaged in packs of 4, 9, 15 or more.
zChocolat in Spanish

zChocolat in French
Unique romantic chocolate gifts - Go Here
Check out zChocolat!
Chocolatier Collection Gift Basket
Included - Dark Chocolate Raspberry Chocoiste, Milk Chocolate Pearls. Chocolate Covered Cashews, Dark Chocolate Covered Almonds. Milk Chocolate Caramel Chocoiste, Milk Chocolate Tablet, and more.
Gourmet chocolate club.
Every month your recipient will receive exceptional hand-crafted creations from pure, premium ingredients. It's easy to customize a gift announcement for printing or emailing.
Check out Monthly Clubs!
Definitive Cookie Classics Tower
One box after another is brimming with huge, fresh baked cookies definitively favorite flavors such as chocolate chip, oatmeal raisin, peanut butter and fudge rainbow.
Gourmet chocolate goodies & more.
Offering gourmet goodies such as decadent cake pops, luxurious chocolates, freshly baked cakes and gift baskets.
They have chocolate covered just about everything! Where to start - chocolate covered truffles, caramels, marshmallows, and even pretzels. Believe me the list goes on! Their chocolate dipped strawberries look incredible as well as their cherries. Plus they offer caramel apples - yum!
Check out Shari's Berries!
Ghirardelli Chocolate Company Tower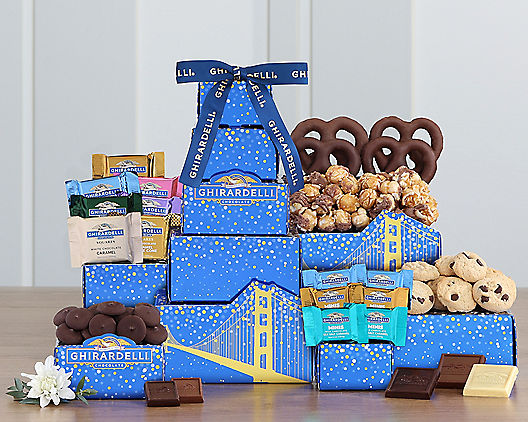 An assortment of milk and dark chocolate, chocolate chip cookies, dark chocolate caramel corn, a large caramel milk chocolate bar and more
Personalized candy.
Who doesn't know M&M'S® candy?! They offer personalized M&M'S® with words, colors, faces, logos and more to make a great gift for your special someone for any occassion! They also offer special packs, bags, bottles, boxes and more.
Sale! 10% Off purchases of $50 or more with code MYSAVINGS10 - Check out My M&M's!
Chocolate Abundance
An expertly curated collection of gourmet chocolates such as Ghirardelli Bars, Lindt Sea Salt Truffles, and Brown and Haley's Almond Roca, complemented by a few savory companions.
Chocolate of the month club.
This is perfect for anyone who loves chocolate! Each month they deliver a new, 1-pound selection of gourmet chocolates made with only the finest, all-natural ingredients and shipped fresh from specialty chocolate makers nationwide.
Get Gourmet Chocolate Delivered Every Month!
Summer Celebration Tower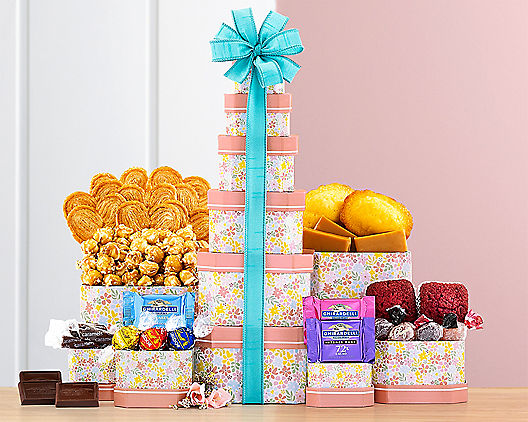 Perugina fruit candy, butterscotch, cookies and cream wafers, almond cookies, chocolate chip brownie brittle, caramel corn and more.
Chocolate gift baskets.
They offer a wide selection of unique baskets premium chocolate & sweet baskets and so many more goodies. You will find theme baskets for a birthday, anniversary, baby shower and more. Check them out for unique yummy baskets.
Check out Gift Tree!
Chocolate Indulgence
Rich milk chocolate caramel pecan clusters. Hand dipped real white chocolate and milk chocolate covered Oreos. Extra large dark, milk and white covered pretzels. Milk chocolate covered Graham Crackers.
As Good As Gold
Included in this Gift Crisp Pineapple Slices, Lemon Dolcetto Wafer Rolls. Almond Biscotti, Gourmet Sweet Popcorn, Candies. Snack Mixes, Lemon Tea Cookies and more.
Encore Gourmet Gift Basket
Gourmet chocolates and premium confections are paired with savory fare, neatly arranged in this elegant keepsake leather container with contrasting trim.
Oregon Blossom Honey Gift
Two jars - one a single origin Willamette Valley honey, and the other a single origin honey gathered from hives placed around the lush farmland near Mt. Hood.
California Crisps Dried Fruit Collection
Strawberries, oranges, pears, peaches, persimmons and more are dried to a crisp perfection and presented in a snowy white gift box.
Italian Roast Coffee Chest
A full sized bag of Lavazza Italian roast coffee is joined by a collection of imported almond biscotti, Ghirardelli chocolates, truffles and a copper lidded stainless steel travel mug.
Chocolate, Desserts & Wine Tour
Discover some of the newest and most hip eateries, shops & restaurants of Manhattan's Upper West Side or Downtown's SoHo and NoLIta neighborhoods.Enjoy tastings from 3 - 5 eateries, shops, and restaurants. You will also visit a wine shop for a wine tasting of 3 wines.