Sweet Gourmet Gifts For Someone Who Has Everything
Sweet goodies that will melt in their mouth and delight and surprise your special someone, that's what you will find here. We showcase unique gourmet sweets, artisan made sweets, unique chocolate, luxury chocolate, chocolate clubs and all sorts of yummy bakery and candy that anyone in your life would love and make a great present.
Mother's Day Gift Basket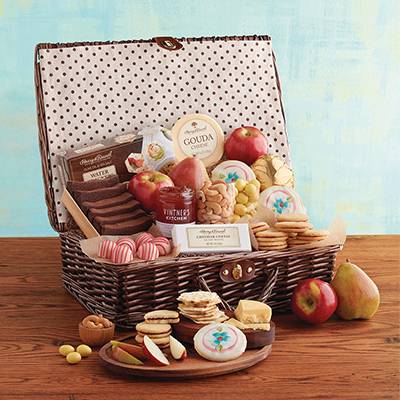 Sweet bakery treats.
Offering yummy bakery treats and English Muffins in gift baskets, totes, boxes, as well as custom gifts and assortments of their famous English Muffins, scones, crumpets and other worldly breads. Check out their breakfast clubs.
Special Offer! Enjoy $15% OFF $49+ - Check out Wolferman's
Mother's Day Keepsake Box with Chocolate Truffles
Delicious gourmet treats.
Offering specialty chocolates and bakery gifts for all occasions and any taste. From gourmet truffles and hand-dipped chocolate pears, chocolate dipped strawberries and grapes, to cookies, pies and cakes, towers & baskets, these chocolate & bakery gifts will be sure to please your special someone. The assortment from their confectionary makes for a decadently delicious surprise.
Free Shipping Sitewide - Valid to 5/8 - Shop Harry & David!
20% Off Orders no min - Valid to 5/13 - Shop the Sale!
Mother's Day Orchid Gift Tower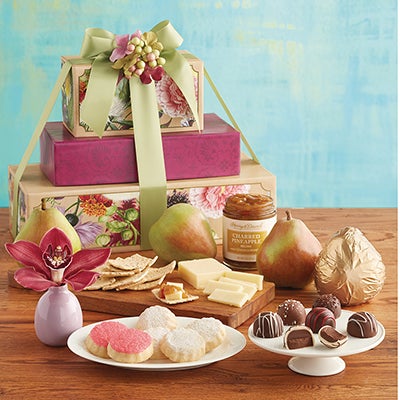 Luxury chocolates.
Their signature Z through 15 chocolates are available with a variety of couvertures (dark, white, and milk chocolate) and delightful fillings, from raspberry ganache and passion fruit caramel to pistachio-almond marzipan, coriander praline, and coffee ganache. Individual chocolates are packaged in packs of 4, 9, 15 or more.
zChocolat in Spanish

zChocolat in French
Unique romantic chocolate gifts - Go Here
Check out zChocolat!
Classic Mother's Day Tower of Treats Gift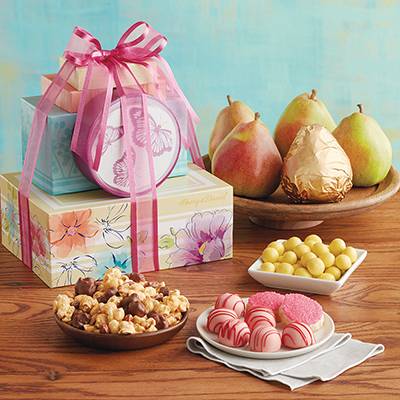 Gourmet chocolate club.
Every month your recipient will receive exceptional hand-crafted creations from pure, premium ingredients. It's easy to customize a gift announcement for printing or emailing.
Special offer! Get $10 off any 12 month prepaid order with code GMC$10 - Check out Monthly Clubs!
Mother's Day Cookie Gift Box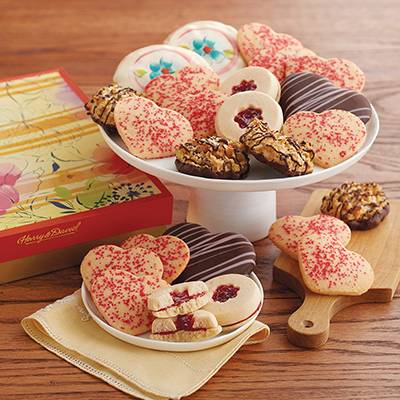 Gourmet chocolate goodies & more.
Offering gourmet goodies such as decadent cake pops, luxurious chocolates, freshly baked cakes and gift baskets.
They have chocolate covered just about everything! Where to start - chocolate covered truffles, caramels, marshmallows, and even pretzels. Believe me the list goes on! Their chocolate dipped strawberries look incredible as well as their cherries. Plus they offer caramel apples - yum!
Mother's Day Strawberries & Gourmet Gifts from only $19.99 - Valid to May 12th - Shop here!
Check out Shari's Berries!
Mother's Day Mini Cheesecake Duo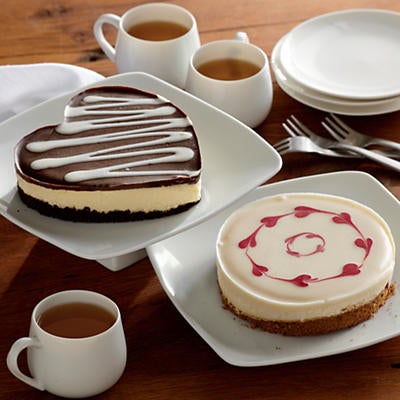 Personalized candy.
Who doesn't know M&M'S® candy?! They offer personalized M&M'S® with words, colors, faces, logos and more to make a great gift for your special someone for any occassion! They also offer special packs, bags, bottles, boxes and more.
Sale! 10% Off purchases of $50 or more with code MYSAVINGS10 - Check out My M&M's!
Chocolate Truffle Cheesecake Cupcakes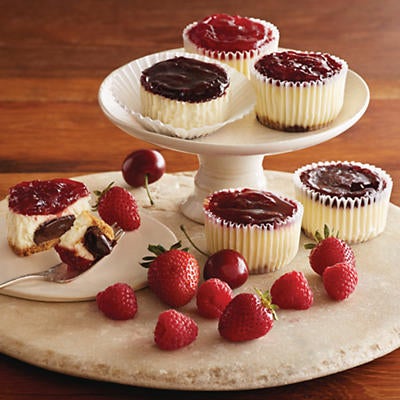 Chocolate of the month club.
This is perfect for anyone who loves chocolate! Each month they deliver a new, 1-pound selection of gourmet chocolates made with only the finest, all-natural ingredients and shipped fresh from specialty chocolate makers nationwide.
Get Gourmet Chocolate Delivered Every Month!
Spring Celebration Tower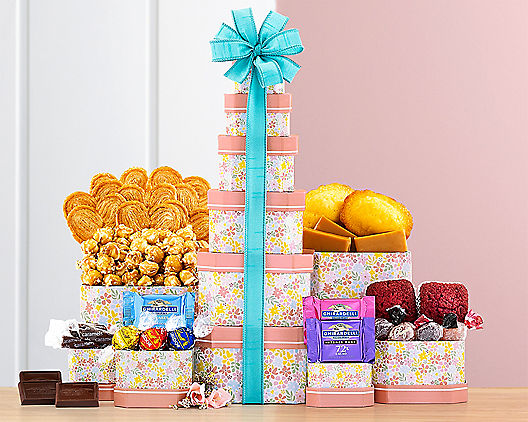 Chocolate gift baskets.
They offer a wide selection of unique baskets premium chocolate & sweet baskets and so many more goodies. You will find theme baskets for a birthday, anniversary, baby shower and more. Check them out for unique yummy baskets.
Spend More, Save More Event! Save $10 when you spend $50 or more - Save $20 when you spend $100 or more - Save $50 when you spend $200 or more - Valid to May 1st - Check out Gift Tree!
Rocky Mountain Chocolate Factory Tower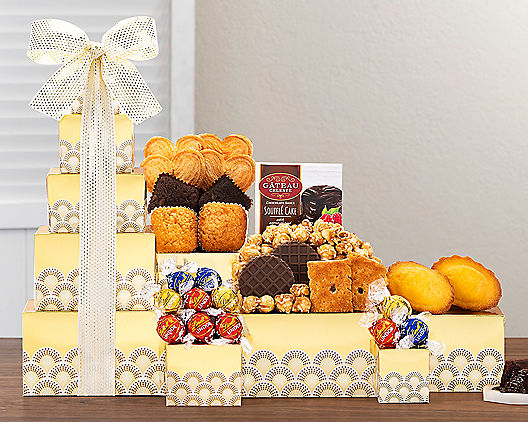 Chocolate fountains & more.
Their home fountains are unequaled in quality and are designed to provide hours of enjoyment over the years. The flow of chocolate in their fountains is perfect, creating a full curtain of chocolate cascading over the tiers. The chocolate fountain quickly becomes the gathering place for memories to be shared and made. Sephra chocolate fountain chocolate and fondue chocolates are made just for them by the world's finest chocolate manufacturers using their own exclusive recipes.
Get free shipping on Sephra products. Shop now and save more! Check out Sephra!
You will find unique gourmet sweets, artisan made sweets, unique chocolate, luxury chocolate, chocolate clubs and all sorts of yummy bakery and candy.
Deluxe Moose Munch Gourmet Popcorn Tin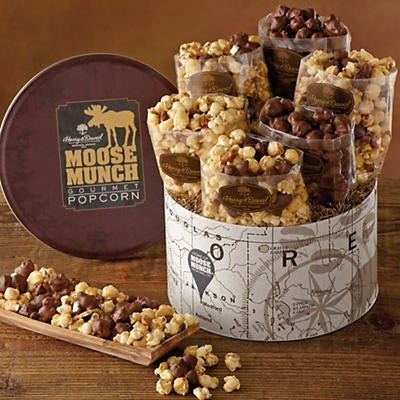 Moose Munch Gourmet Popcorn is not your average caramel popcorn. Every detail of the recipe went through intense scrutiny, from the type of corn we use to how the caramel coats each popped kernel. It took over 160 attempts to get the original recipe absolutely perfect, and that dedication and effort can be tasted in each sweet and crunchy bite of our gourmet popcorn.
Ghirardelli Chocolate Company Tower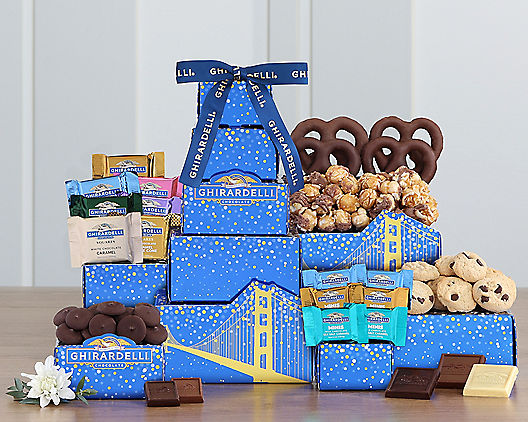 This is now available all summer long with free, temperature-controlled shipping! Milk chocolate, dark chocolate wafers, milk and dark chocolate covered Bavarian pretzels, dark chocolate with sea salt and caramel, double chocolate hot cocoa, Twilight Delight dark chocolate and dark chocolate with caramel, chocolate chip cookies, white mocha coffee drink mix and a gourmet milk chocolate caramel bar and square are hand-packed in five elegant boxes.
Sea Salt Caramels Gift Tin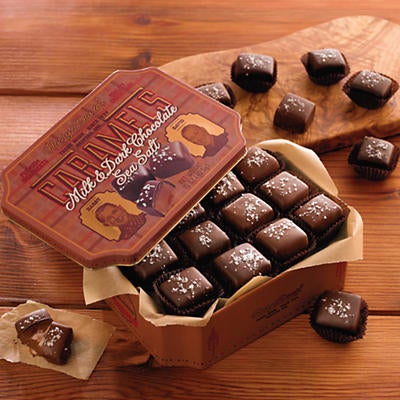 A truly nostalgic collectible gift, our Sea Salt Caramel Tin features images of our founders, Harry and David. This sea salt caramel gift tin comes filled with 18 chewy, rich caramels covered in premium dark and silky milk chocolates. And it doesn't stop there. The perfect amount of sea salt is sprinkled on top, putting these salted chocolate caramels a step above any other. The combination of the creamy, sweet caramel; rich chocolate; and sea salt makes for the perfect mouthful of deliciousness.
Birthday Basket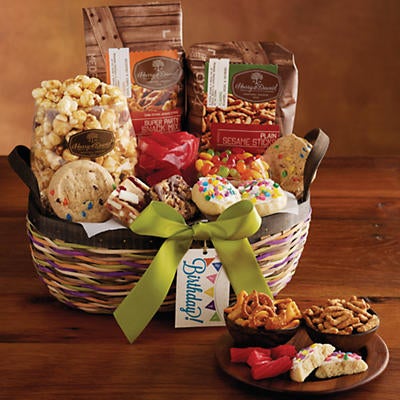 Wish someone special a very happy birthday with a gourmet gift of sweet and savory gourmet snacks, like our original Moose Munch Gourmet Popcorn, vanilla shortbread cookies covered in edible confetti, birthday cookies, two kinds of gourmet snack mixes, and more.
12 Signature Chocolate Truffle Samplers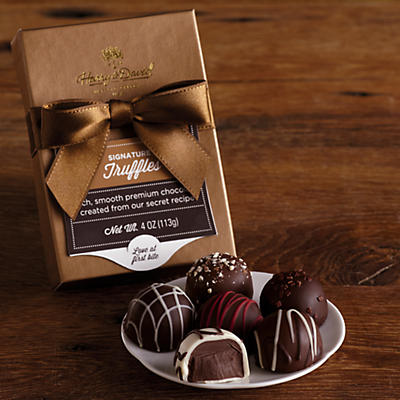 Add a sweet touch to client and colleague interactions with these gourmet truffle samplers. Each of the dozen boxes contains six of our classic flavors: milk chocolate, dark chocolate, raspberry, white coffee, cherry, and almond. Elevate your corporate and business gifts with rich, handcrafted chocolate truffles.
Oregon Distillers 12-Piece Truffle Collection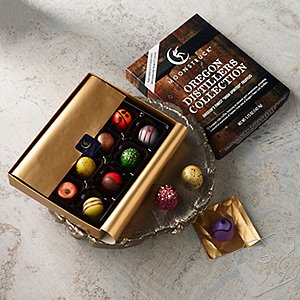 A 12 piece collection of artisan truffles featuring spirits from nine of Oregons finest distilleries. Contains approximately 5% alcohol.
Bon Appetit Gourmet Gift Basket
A vintage style picnic suitcase is the charming touch of this gift, especially when it opens to reveal an impressive assortment of gourmet chocolates, sweets and savory fare. Included in this Gift Truffles and Chocolates from Lindt, Godiva and more. Gourmet Savory Popcorn, Premium Smoked Salmon. Mixed Vegetables Antipasti, Almond Biscotti, Lemon Tea Cookies.
The Luxury Chocolate Collection Gift
This stylish leather tray is filled with exclusives from Lindt, Ghirardelli, Marich Premium chocolates. Paired with savory snacks and roasted almonds, our expert gourmands have created this rich, luxurious menu to be savored and remembered. Each gourmet item inside this soft brown leather tray has been hand-selected and carefully assembled.
Encore Gourmet Gift Basket
World-famous gourmet confections and premium snacking selections are neatly arranged in this elegant, fabric-lined keepsake container with handsome leather trim. Savory Gourmet Popcorn, Candied Berries, Ghirardelli Chocolates, White Chocolate Amaretto Cookies, Godiva Milk Chocolate, Pecan Nougat Caramels and more will leave them with an impression that's sure to demand an encore!
The Chocolatier Collection Gift Basket
Filled to the brim with the world's finest chocolates and cookies, this one-of-a-kind creation is one of our most popular gifts and a joy to receive. A keepsake book replica holds your choice of Godiva Chocolates or World-Famous Chocolates.
Italian Roast Coffee Chest
A full sized bag of Lavazza Italian roast coffee is joined by a collection of imported almond biscotti, Ghirardelli chocolates, truffles and a copper lidded stainless steel travel mug, vacuum insulated to enjoy Italy's favorite coffee on the go. It's the perfect gift for friends, family, coffee lovers and colleagues. Included in this Gift 17oz Vacuum Insulated Stainless Steel Travel Mug. Full-Sized Bag of Lavazza Italian Roasted Coffee. Italian Almond Biscotti, Ghirardelli Chocolates and more.
New York Coffee Chocolate Lover Flavored Coffee Beans Gift Box
New York Coffee Chocolate Lover Flavored Coffee Beans Gift Box is a variety of chocolate, mocha, and cocoa themed cake and coffees. For Chocolate Lovers only.
The Allann Bros Simply Organic Coffee Gift Box
The Allann Bros Simply Organic Coffee Gift Box contains aesthetically arranged coffee, tea, and chocolates in sure-to-be-appreciated Chocolate Gift Baskets.
Chocolate, Desserts & Wine Tour
Discover some of the newest and most hip eateries, shops & restaurants of Manhattan's Upper West Side or Downtown's SoHo and NoLIta neighborhoods.Enjoy tastings from 3 - 5 eateries, shops, and restaurants. You will also visit a wine shop for a wine tasting of 3 wines.