Life Experience Gifts For Someone Who Has Everything
A life experience present is totally unique. Whether it's a trip to an exotic location, cycle through a beautiful countryside, hike new trails, raft new rivers, discover new cultures, experience the beauty of a glide ride and so much more that your someone who is hard to buy for. These are what memories are made of and will last a lifetime. Check out our listings to find a unique present! These are all hand picked. We are constantly updating so be sure to bookmark us and come back often!
Guy Experiences
Gift Ideas for the Woman in Your Life
The Las Vegas Exotic Car Tour is a great opportunity to drive exotic cars on a thrilling public road course right off the Las Vegas Strip! During this exotic car driving experience, you'll compare performance and handling between exotic cars such as Ferrari, Lamborghini, Bentley, Jaguar, and more; discovering for yourself what makes them so unique. You'll probably discover a new favorite!
Horse Carriage Tour. During this grand horse & carriage tour you will enjoy a wonderful time in Austin, TX. Experience breathtaking views of our nation's largest and tallest Capitol as you travel along historic Congress Ave, and then visit one of the last remaining Victorian blocks in the nation, Bremond Block, home to exquisite 19th architecture.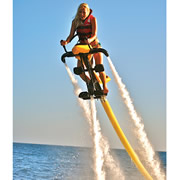 The Hydro Powered Jetovator. This is the flying, steerable seat that suspends its rider 25' in the air with three powerful jets of water. An easily installed and removable U-adapter re-directs 90% of the rearward thrust of an existing personal watercraft. A 40' hose connects the PWC to the flying seat's rear and "feeds" the seat's three water jet nozzles with high-volume, low-pressure water for speeds up to 25 mph.
Ride & Drive a Stock Car. Can't decide whether you want to feel the rush of riding as a passenger with a professional driver pushing the limits of a 600 HP Sprint Cup style stock car, or if you want to get behind the wheel and experience the thrill of racing yourself? You don't have to! With this experience, you get the best of both worlds. Start out by riding as a passenger with a professional driver, exceeding speeds of 120 mph on one of racing's legendary tracks, Dover International Speedway.
Dive with Great White Sharks. During this 5 day excursion, you will travel to Isla Guadalupe from San Diego where you will have the opportunity of a lifetime to see these amazing predators in their own environment. Join us as we discover huge Great White Sharks with our upscale shark vessel in the industry's largest shark cages. One of the most important considerations in providing these amazing experiences is cage design, and safety. We have ensured you'll have the best cages available to dive with, so you can feel comfortable and confident.
Tanker Surfing Charter. Does the crowd of surfers at you local surf spot got your down? No worries, come spend a day with Captain James and experience the next frontier in surfing - Tanker Surfing! Tanker Surfing expeditions usually start early in the morning (pre-dawn) and last about 6-8 hours. You, one friend and Captain James will launch from Galveston, TX into the Gulf of Mexico aboard a 23' Gulf Coast and head to the ship channel. Once you arrive in the ship channel, you'll wait for the first ship of the day.
Private Hot Air Balloon Ride. Enjoy one of the most romantic experiences available, a private hot air balloon ride over the serene New Jersey countryside.Your flight begins either at sunrise or before sunset. You'll rise gently above the earth on board in our FAA certified hot air balloon, piloted by a highly experienced commercial pilot, for the romantic experience of a lifetime!Hot air ballooning is magical. The feeling of being as free as the wind. . . that is what ballooning is about!

Super Car Challenge. Shatter the 200 mph speed barrier in a jaw dropping event that puts you behind the wheel of some of the fastest super cars on the planet. Reach speeds that would make your mom faint in a safe and controlled environment, and discover the joy of driving some of the world's most lusted after cars.
More Details
The Super Spectacular Aerobatic Ride is not for the timid! Climb into the cockpit alongside an experienced aerobatic pilot and take a look at the world from a whole new perspective, up-side down! On this 25 minute acrobatic ride, you will experience loops, rolls, inverted flight and other air show-like maneuvers.
Miami Sunset Yacht Cruise. Prepare to experience the ultimate in South Florida luxury - a private sunset yacht cruise!
Barton Creek Golf Package. .Experience the #1 and #2 rated Texas golf courses at the luxury golf resort that boasts 4 challenging courses, quality service, and breathtaking scenery. Designed by the masters of the game, Barton Creek's 4 championship courses are a tribute to the game of golf and the rugged beauty of the Hill Country in Austin, Texas.
Life experience gifts are what memories are made of and will last a lifetime. Whether it's a trip to an exotic location, cycle through a beautiful countryside, hike new trails, raft new rivers, discover new cultures, experience the beauty of a glide ride, a hot air baloon ride and so much more.
If you don't see what you think they will love here drop me a note on live chat or if I am online you can ask me directly. You can also email me and I would happily help you find that perfect present!